/ Source: The Associated Press
With the Celebrity Solstice cruise ship anchored just offshore this beautiful expanse of white sand Friday, vacationers stretched out on beach chairs in the sun, sipped cold beer and pina coladas with pineapple slices on the rim and listened to Haitian folk music.
The beach resort of Labadee is just 60 miles (100 kilometers) from Port-au-Prince, but it's a world away from the devastation of the Haitian capital, where some 200,000 people are believed dead in an earthquake.
The cruise ships that stop here have become the center of a controversy: Should vacationers relax and have fun with so much suffering elsewhere on the island? Or would it be worse to halt the port calls and deprive locals of what they earn from tourism?
Jameson Charitable, 20, stood near the pier with a sign offering tours. "Without this," he said, motioning toward the boat, "we don't eat." He said he makes $15 every time a ship comes in.
About 200 people work here, and a few hundred more vendors and service providers are allowed in whenever ships arrive. The resort enclave, which has a beach, a zipline in the mountains and other activities, is leased by the Haitian government to Royal Caribbean International, which also owns the Celebrity cruise line.
Royal Caribbean allowed a team of journalists from The Associated Press to visit Labadee on Friday, but the cruise company's spokeswoman, Tracy Quan, would not allow them to interview or photograph cruise passengers.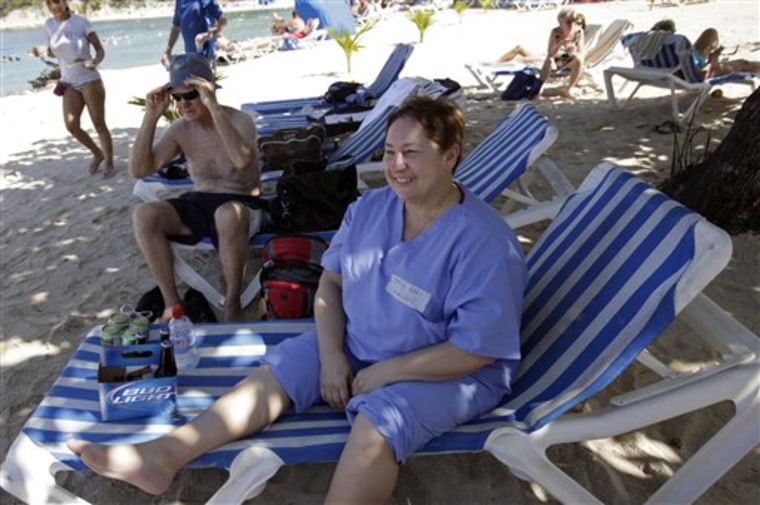 Carol Myers, 53, a nurse from New Jersey, was not on the cruise ship but was enjoying the beach. She had spent an intense week tending to earthquake victims in a hospital in the nearby town of Milo, and was decompressing for a few hours before her scheduled return to the U.S. on Saturday.
"I almost feel guilty for being here after what happened," Myers said, sitting in a beach chair in blue scrubs. "But the people need a job, the people need to eat."
Royal Caribbean President and CEO Adam Goldstein said the decision to continue with scheduled stops in Labadee was an easy one. The site sustained no damage, and he said the Haitian government welcomed the ship. The country reaps a fixed cost per passenger, plus annual fees and the cash tourists spend on local goods at a marketplace where artisans and artists sell trinkets and crafts.
Royal Caribbean is also donating $1 million, delivering food and water on every call and pledging net revenue from Labadee to the relief effort. Maryse Kedar, president of Royal Caribbean's Haitian subsidiary, SOLANO, said the cruise visits are "the only substantial commerce taking place in northern Haiti."
But the cruise line found itself on the defensive after criticism spread online. Melissa Bacchus, a Brooklyn, N.Y., teacher, was among several veteran cruisers to dominate message boards on sites like Cruisecritic.com with the debate.
"I do think morally it is wrong to go (to Labadee), where less than 60 miles away people are suffering," Bacchus said in an interview. "And because we have the resources, we have the wealth, we can frolic using the beauty of their island?"
Bacchus suggested Royal Caribbean pay Haiti its regular port fees, but not actually stop there. She said they could also give local artisans money to go back home and assist in the relief effort.
Public relations experts quoted by AdAge.com said Royal Caribbean had made a mistake by mixing leisure business with humanitarian efforts. "The brand will take a hit," Paul Gallagher, managing director of WPP's Burson Marsteller's issues and advocacy practice, was quoted as saying.
Haiti shares the island of Hispaniola with the Dominican Republic. The Dominican Republic suffered no damage from the earthquake, but the government is clearly worried that vacationers may cancel trips there because of the disaster on the other side of the border.
The Dominican Ministry of Tourism has issued repeated statements that it was unaffected by the quake, including pointing out that Port-au-Prince is hundreds of miles (kilometers) and several mountain ranges away.
That message was lost on travelers like Debbie Ulin, a 39-year-old mother of two in Hillsdale, N.J., whose family and two others canceled a group trip planned to the Dominican beach resort of Punta Cana for February.
"With everything happening as it did, we sort of all came to the realization that it's probably not the best time to be traveling to the Dominican right now," Ulin said. "As selfish as I feel when I say that, it's not so important, my vacation. We didn't feel like it would be the safe place to go with the families this soon after the devastation has occurred."
Arthur Applbaum, a Harvard University professor of ethics and public policy, said that while it shows "moral sensitivity to be disturbed by the thought that one is vacationing on the beach when others are suffering nearby ... it also shows insufficient moral reflection to think that proximity makes a moral difference.
"The people of Haiti are suffering whether you take your beach vacation in the Dominican Republic or in Hawaii," he said, "and it is a failure of the moral imagination not to be equally troubled in Waikiki."