/ Source: The Associated Press
Apple Inc. rocketed to its most profitable quarter ever over the holidays, as huge sales of the iPhone — and a new way the company accounts for the device — led to a nearly 50 percent jump in net income.
The company offered no clues about what it plans to unveil Wednesday in San Francisco, although analysts expect the new product to be a tablet-style computer. CEO Steve Jobs indicated that investors should expect a significant event.
"The new products we are planning to release this year are very strong, starting this week with a major new product that we're really excited about," he said in a statement.
Apple also offered a profit and revenue forecast above Wall Street forecasts.
The iPhone's rollout in several major new markets, including China and South Korea, helped Apple double sales of the hot phone. Apple also got a boost because now it puts iPhone revenue and profit on its books when the gadget is sold, rather than deferring those results over the presumed life of the device.
Apple said Monday it earned $3.4 billion, or $3.67 per share, in the latest quarter, which ended Dec. 26. In the same period of 2008 it earned $2.3 billion, or $2.50 per share, when it was still deferring iPhone revenue.
Revenue was $15.7 billion, a 32 percent jump from $11.9 billion in the same period last year.
Apple's report reflected the company's ability to allure shoppers without deep cuts to its premium prices. Apple's reputation as a luxury brand hasn't dented its ability to put up better numbers even as many computer buyers gravitate toward cheaper options.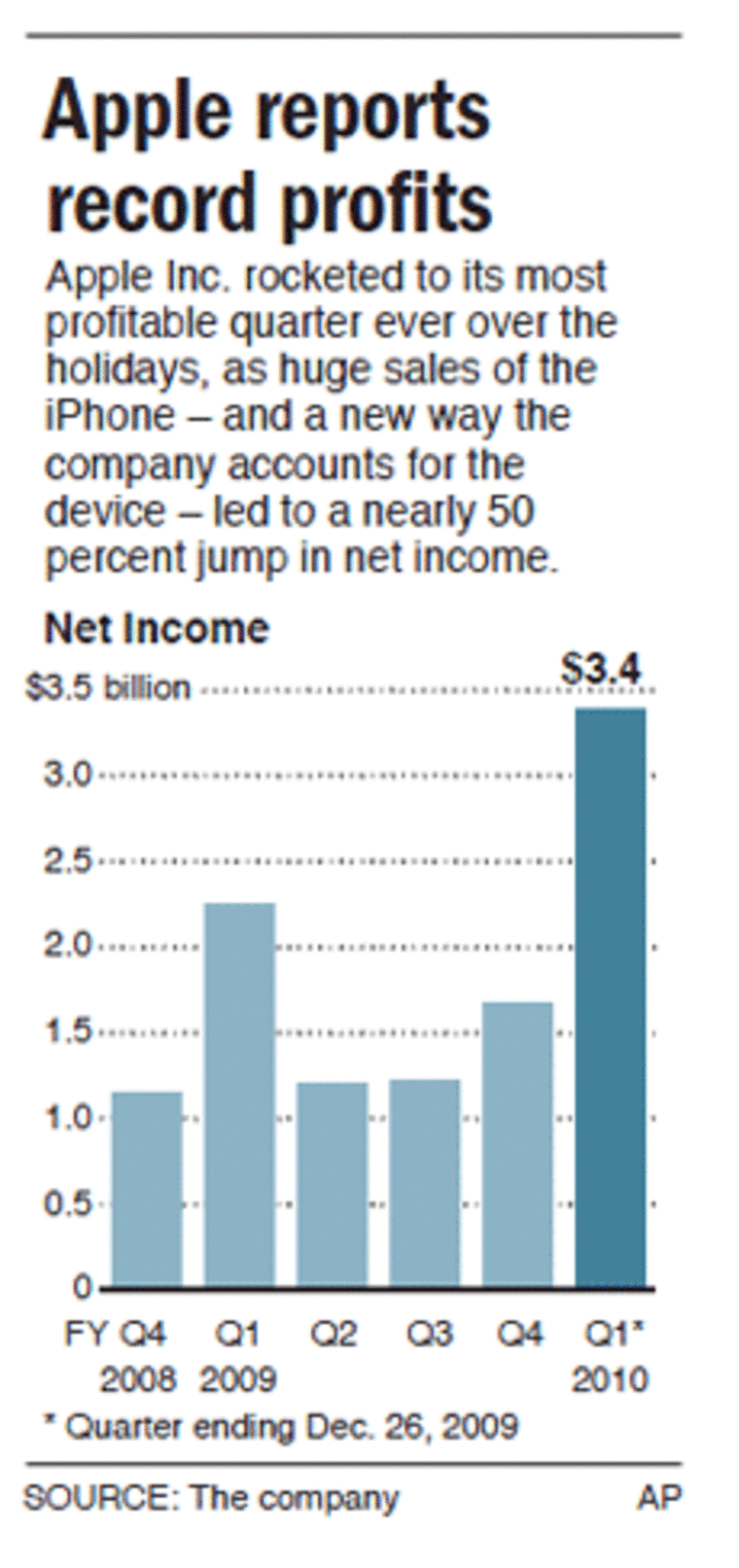 Apple sold 8.7 million iPhones in the quarter, double what it sold in the same period the year before. And its sales of Macintosh computers rose 33 percent.
But the 21 million iPods it sold marked an 8 percent decline. Although Apple refreshed its iPod Nano with new colors and a video camera last fall, sales of the iPod have suffered as the iPhone, which has iPod features built in, has grown in popularity.
The earnings report was released after Apple shares gained $5.32, 2.7 percent, to close at $203.07. In extended trading the shares rose 61 cents to $203.68.
Apple said it expects the current quarter, the second in its fiscal year, to yield earnings of $2.06 to $2.18 per share, with revenue of $11.0 billion to $11.4 billion.
Analysts had been predicting profit of $1.77 per share and revenue of $10.4 billion in the current quarter, according to Thomson Reuters.