/ Source: msnbc.com staff and news service reports
A jury decided Monday that John Allen Muhammad should be executed for randomly choosing who should live and who should die during three weeks of sniper shootings that terrorized the Washington area last year.
AS THE VERDICT was read, Muhammad, a 42-year-old former Army sergeant, maintained the same unflinching demeanor he showed through most of the trial. He then shook hands with his attorneys before being led away.
The jury's recommendation is not final. Circuit Judge LeRoy Millette Jr. can reduce the punishment to life in prison without parole when Muhammad is formally sentenced on Feb. 12, but Virginia judges rarely take such action.
Jurors deliberated five hours over two days before reaching their decision that Muhammad should be put to death by lethal injection even though prosecutors presented no evidence that he was the triggerman in the shootings.
"As we said from the get-go, the death penalty is reserved for the worst of the worst," prosecutor Paul Ebert said outside court. "We think Mr. Muhammad fell into that category and we think the jury agreed."
Muhammad "took pleasure in killing people and that's the kind of man that doesn't deserve to be in society," he added.
Jonathan Shapiro, one of Muhammad's attorneys, said the defense team had no problem with the jurors, "who applied the law as it was given to them." But he added: "We have deep disagreement with any system that sanctions killing."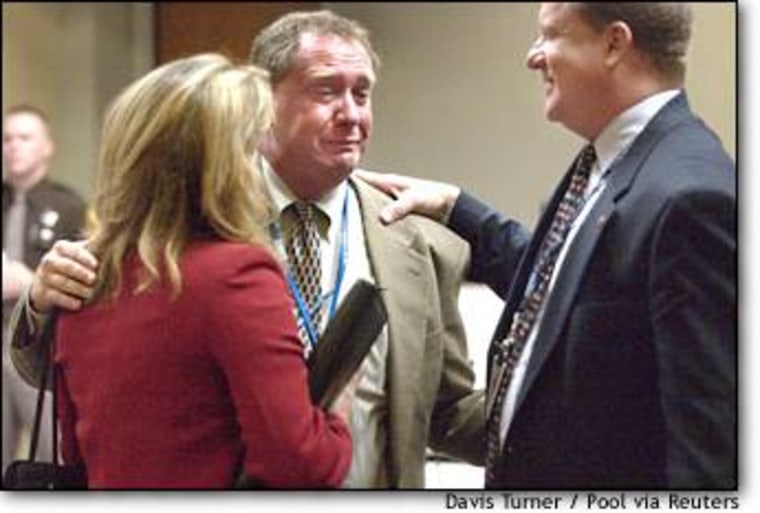 RELIEF AT VERDICT IS TEMPERED
Marion Lewis, 51, the father of sniper victim Lori Ann Lewis-Rivera, 25, said that his relief at the jury's verdict was tempered.
"Now I have to wait 10 or 15 years for the execution to happen," he said. He added: "I don't believe there ever can be any total closure for something like this."
Paul LaRuffa, who was wounded in the sniper attacks, said he's not a fan of the death penalty, but in this case he believed it was "the right decision."
Muhammad was found guilty of a single killing: that of Dean Harold Meyers, a 53-year-old Vietnam veteran who was cut down by a single bullet to the head on Oct. 9, 2002, as he filled his tank at a Manassas-area gas station.
In imposing the death penalty, the jury concluded that prosecutors proved both aggravating factors: that Muhammad would pose a danger in the future or that his crimes were wantonly vile. He was sentenced to death on both counts he was convicted of last Monday: multiple murders within three years and murder as part of a terrorist plot. Muhammad is the first person convicted under the terrorism law, which was signed into law after the Sept. 11, 2001, attacks.
It also imposed maximum 10-year sentences for conspiracy to commit murder and use of a firearm in a felony.
"It has been a little bit of a relief today when we finally reached our decision and ... we knew we had made the right one," juror Heather Best-Teague said. She said the hardest part about imposing the death penalty was "the fact that he has children. I know what it would be like to not ever see mine again."
Another juror, Dennis Bowman, said he initially voted for a sentence of life in prison, but changed his mind after reflecting over the weekend on the victims of the sniper rampage and recalling Muhammad's stony demeanor in court.
'CAPTAIN OF A KILLING TEAM'
During the trial, prosecutors depicted Muhammad as a ruthless murderer who was "captain of a killing team," and presented evidence that he was involved in 16 shootings, including 10 deaths, in Maryland, Virginia, Alabama, Louisiana and the District of Columbia.
They offered no proof that showed Muhammad was the triggerman, but they presented a mountain of circumstantial evidence linking him to the crimes. His DNA was found on the .223-caliber rifle used in the killings, and prosecutors said a laptop computer found in his car included maps of six shooting scenes, each marked with skull-and-crossbones icons.
At the height of the killings, the Washington, D.C., area was so terrified that sports teams practiced indoors and people ducked down while fueling their cars. Some Virginia school systems closed for several days after police found a note at one shooting scene: "Your children are not safe anywhere, at any time."
When Muhammad and his alleged partner in crime, 18-year-old Lee Boyd Malvo, were arrested on Oct. 24, 2002, various jurisdictions scrambled to prosecute them. Ultimately, Attorney General John Ashcroft sent the two to Virginia to stand trial, citing the state's ability to impose "the ultimate sanction."
Only Texas has executed more people than Virginia since the death penalty was reinstated in 1976 - 310 to 89. Virginia is one of 21 states that allow the execution of inmates who committed capital crimes as 16- and 17-year-olds. Malvo was 17 at the time of the shootings.
PORTRAYED AS CARING FATHER
During the sentencing phase of the trial, defense lawyers sought to portray Muhammad as a caring family man, showing jurors a home movie in which he plays with his children and encourages them to take their first steps. Several witnesses also testified he had a loving relationship with his kids.
But prosecutor James Willett said, "(Muhammad) doesn't care about children, human life or anything else God put on this earth except himself," in urging jurors to give Muhammad a death sentence.
Willett said Muhammad may have been a good father once, but "that person no longer exists. ... That person was murdered by this individual just as viciously and just as completely as everybody else."
The defense was barred from presenting any mental health evidence on Muhammad's behalf, because Muhammad refused to be interviewed by the prosecutors' psychiatrist. The defense had previously suggested Muhammad may have suffered from Gulf War syndrome, and his ex-wife said that Muhammad's behavior was much different after he returned from Operation Desert Storm.
Meanwhile, in a court in nearby Chesapeake, a judge ruled Monday that jurors in Malvo's trial will be allowed to hear the remainder of a recorded interview with police in which the teenager bragged about his marksmanship.
MALVO JURY TO HEAR TAPE
Jurors on Friday had heard four audiotapes of the interview, conducted by a Fairfax homicide detective, but defense attorneys objected to a fifth tape of the end of the interview, contending the sound quality was so poor that the transcript was inaccurate.
Circuit Judge Jane Marum Roush said Monday she listened to the tape "many, many times" during the weekend and was satisfied that the transcript is accurate. She said prosecutors could play the tape and let the jury read the transcript.
In the interviews, Malvo admitted pulling the trigger in all the shootings, bragged about his shooting prowess and explained the sniper plan by weaving together the philosophical, logistical and nonsensical.
In the tapes played for Malvo's jury Friday, he at times sounded childlike and vulnerable, as when he asks police about the whereabouts of his "father," Muhammad, and if he could have raisins. At other times he sounded maniacal and savvy, as when he imitated a lawnmower noise while describing the deadly shooting of a landscaper, and later chided detectives for asking him a "leading question."
The Associated Press and Reuters contributed to this report.