/ Source: The Associated Press
Trade ministers from across the Americas gave final approval Thursday to a framework for the world's largest free trade bloc as police in riot gear clashed with hundreds of demonstrators protesting the talks.
Although the trade ministers' meeting was scheduled to end Friday, ministers sped up negotiations and reached agreement on an outline for the proposed Free Trade Area of the Americas, according to a spokesman for the U.S. and Caribbean delegations.
The agreement, due to be formalized by January 2005, will likely change what food consumers buy in supermarkets as well as help dictate the future jobs of the hemisphere's workers. The declaration will be turned over to negotiators to solidify the details.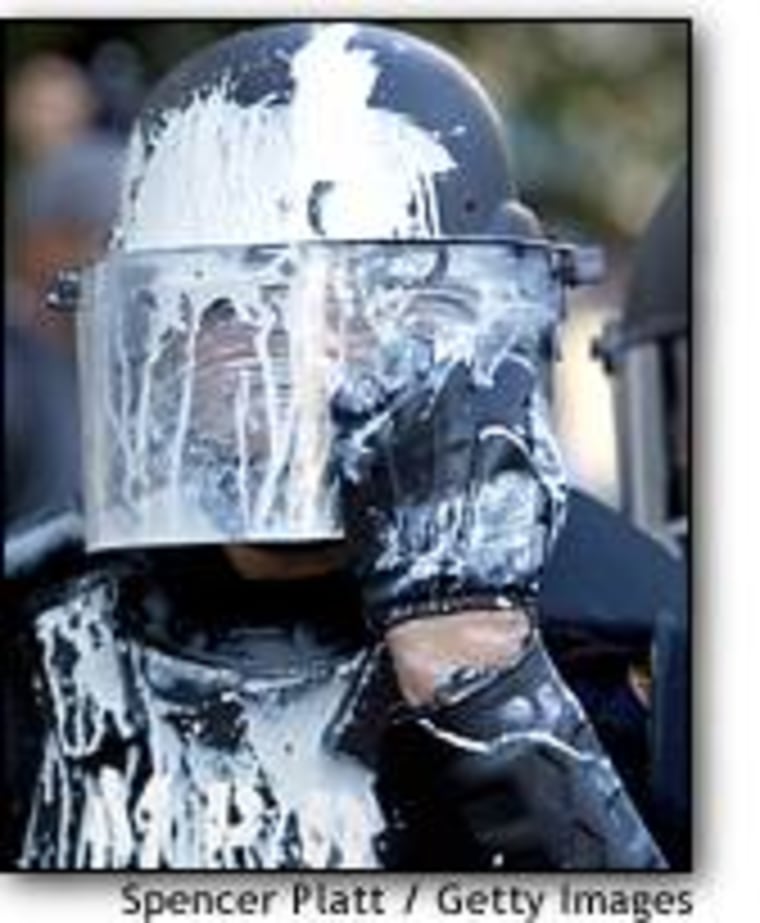 As ministers debated inside their hotel, outside police fired rubber bullets and tear gas and used batons, plastic shields, concussion grenades and stun guns to quell sometimes violent protests before and after a union march of 8,000 to 10,000 people.
Protesters say the proposed free trade zone will siphon thousands of jobs to other countries, reduce workers' rights by exploiting cheap labor and harm the environment.
More than three dozen demonstrators were arrested, and 15 people were taken to the hospital for treatment, including three police officers.
"As the level of confrontation escalated, so did the level of presence by our police officers," police spokesman Jorge Pino said. "We are employing different kinds of techniques ... and are willing and able to take whatever action is necessary to keep the city and our community safe."
Lance Stelzer, a Miami lawyer who works on police-related issues, said authorities overreacted because of rioting outside the 1999 World Trade Organization meetings in Seattle and at other free-trade meetings worldwide.
"When you have that kind of police presence dressed up in storm trooper garb and a mentality of 'Let's close off the entire city because we had rowdies in another city' ... it has a tendency to incite problems that might not otherwise exist," Stelzer said.
Protester Alonzo Mendez was bleeding from an abrasion he said was caused when a rubber bullet struck his chest.
"I was just taking pictures and they fired at me," he said. Several others said they were also struck by rubber bullets in the head and chest without provocation.
At their meeting, trade ministers made no major changes to a draft text handed over by deputy ministers Wednesday. The draft addressed controversial issues like agricultural subsidies and patent protection, and allowed nations latitude in choosing which provisions they would comply with.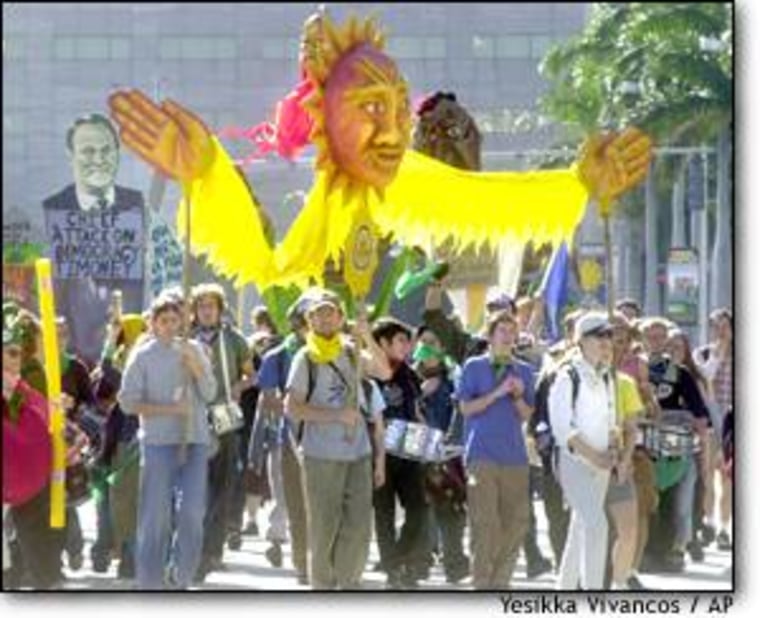 "There's still some ways to go ... but at least we are moving in the right direction," said Richard Bernal, lead negotiator for the 15-member Caribbean Community.
In a speech to business leaders Thursday, U.S. Commerce Secretary Don Evans said after nearly a decade of talks on an FTAA, it was time to have an agreement, but promised to protect U.S. employees from unfair practices.
"We have to be able to look our workers in the eyes and tell them they are on a level playing field," he said.