/ Source: The Associated Press
A purported first-century inscription naming Jesus may or may not be the real thing, but Israel's labeling of the find as a fake is premature, scientists and scholars said at a panel discussion Sunday.
At issue is a limestone burial box, or ossuary, with the inscription "James, son of Joseph, brother of Jesus," that emerged on Israel's antiquities market last year.
If authentic, the ossuary would offer a rare physical link to the life of Jesus, but Israel's Antiquities Authority declared the inscription a fraud in June.
Panelists, speaking in Atlanta at the annual joint conference of the American Academy of Religion and the Society of Biblical Literature, said the authority should examine the box more closely before passing judgment.
"I don't know for sure whether this is a forged inscription, and I'm sort of cast as a defender of the inscription. I'm not," said moderator Hershel Shanks, editor of the Biblical Archeology Review, which published the initial findings. "What I do know is, Israeli authorities have badly managed the affair."
Was inscription added later?
The antiquities authority, which has yet to release a full report on its findings, said the ossuary itself is ancient but oxygen isotope analysis suggested the words on it were inscribed in modern times.
The hard, brown patina that covers the box could not be found on the inscription, where a soft, grayish chalk-and-water paste had been applied instead to imitate weathering, the authority said.
James Harrell, a geologist at the University of Toledo and member of the Association for the Study of Marble and Other Stones in Antiquity, said his analysis of the inscription suggests the missing patina could simply be the result of overcleaning — not forgery.
Shanks said experts from the antiquities authority declined to speak at the forum.
Oded Golan, the collector who came forward with the ossuary in October 2002 and has since been accused of being the forger, said it had been "undoubtedly cleaned" while in his family's possession but did not know how.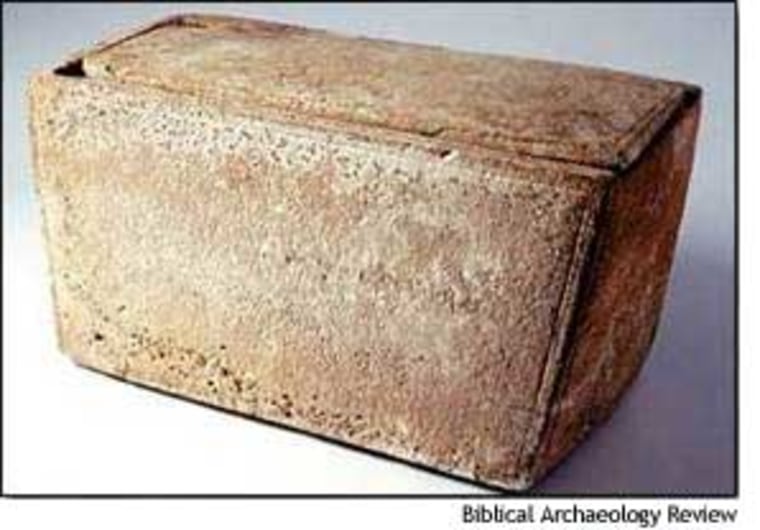 Further research sought
Panelists said that while oxygen isotope analysis found most of the inscription showed some sort of modern influence, the last part of it was consistent with the ancient patina — specifically the part that names Jesus.
Some of the scientists called on the antiquities authority to compare the box with more samples of that era and possibly conduct radiocarbon dating on the inscription.
The ossuary had been valued at up to $2 million because of the claimed link with Jesus. According to biblical accounts, Jesus' brother James led the early church in Jerusalem and was stoned to death as a Jewish heretic in A.D. 62.
The oldest confirmed surviving artifact that mentions Jesus is a fragment of chapter 18 in John's Gospel from a manuscript dating to A.D. 125.