/ Source: msnbc.com staff and news service reports
"If you're reading this, you're no doubt asking yourself, 'Why did this have to happen?' The simple truth is that it is complicated and has been coming for a long time."
So began a lengthy, rambling anti-government Web message believed posted by a Texas man suspected of crashing his small plane into an office building housing IRS employees.
The man, identified by federal law enforcement officials as Joseph Stack, 53, was a software engineer who had a long-running grudge with the Internal Revenue Service, whom he referred to in the screed as "thugs and plunderers."
The Web message was dated Thursday and signed "Joe Stack (1956-2010)."
Hours after posting it, Stack set fire to his home, drove to a municipal airport, got into his single-engine Piper Cherokee and deliberately crashed it into a multistory office building, authorities said.
Stack was presumed to have died in the crash, federal law enforcement officials said.
The Fire Department Thursday night said in a statement that it "has concluded its search of the building and located the remains of two victims. Identities have not been confirmed. AFD will have ongoing operations at the site throughout the night, putting out hot spots and watching for any fire flare-ups."
At least two people were seriously injured and a third person — a federal employee who worked in the building — was unaccounted for, fire officials said.
The crash caused a raging fire that sent black smoke billowing from the seven-story Echelon Building. The fire was extinguished hours later.
At an afternoon news conference, Austin police Chief Art Acevedo said the crash "appears to be an intentional act."
"It would appear to be by a sole individual, and it appears this individual was targeting federal offices inside that building," Acevedo said.
Rep. Lloyd Doggett, D-Texas, said in a statement that the crash was "a cowardly act of domestic terrorism." The police chief, however, said he preferred to describe it as "a criminal act by a lone individual."
The FBI was taking over the investigation.
About 190 IRS employees work in the building, and IRS spokesman Richard C. Sanford the agency was trying to account for all of its workers.
Violence 'the only answer'
The pilot, listed in FAA and property records as Andrew Joseph Stack III of Austin and identified by law enforcement sources as Joseph Stack, apparently had a long-running dispute with the IRS.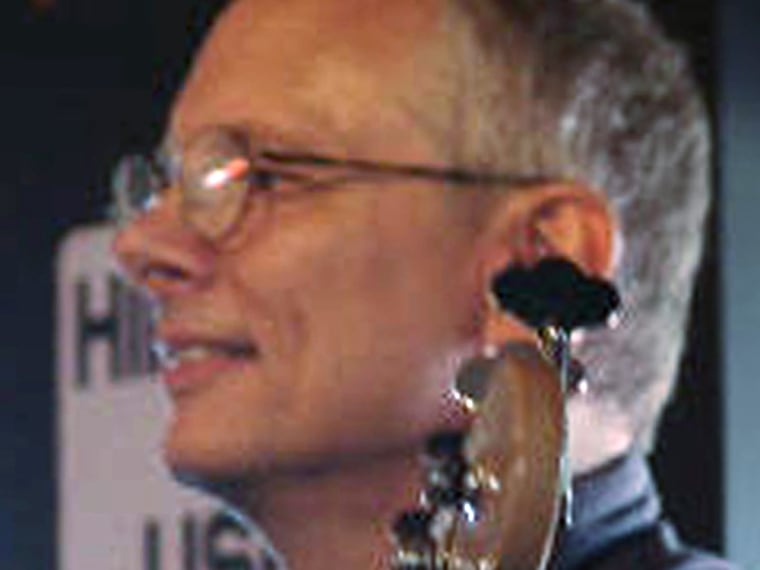 A long message posted on a Web site registered to Stack outlined a litany of problems with the IRS and said violence "is the only answer."
The Web site was taken offline Thursday afternoon by the hosting company at the request of the FBI.
A senior law enforcement official told NBC the saga began Thursday morning, when police received a domestic disturbance call at Stack's house, about six miles from the crash site. When they responded, they discovered that the man had lit a fire in his house and fled. They said he went to the Georgetown Municipal Airport, got into his small plane and took off.
A short time later, the plane crashed into the office building about 30 miles away. Federal authorities said they did not know whether the man crashed the plane intentionally, though they said it was a distinct possibility, the official told NBC.
House fire
Elbert Hutchins, who lives one house away from Stack's home in a quiet, tree-lined middle-class neighborhood, said the house caught fire about 9:15 a.m. He said a woman and her teenage daughter drove up before firefighters arrived.
"They both were very, very distraught," said Hutchins, a retiree who said he didn't know the family well. "'That's our house!' they cried 'That's our house!' "
Red Cross spokeswoman Marty McKellips said the agency was treating two people who live in the house and that the family had no comment Thursday. McKellips said the family would "give information and answer questions" on Friday.
The pilot of the plane belonging to Stack which took off from the airport in Georgetown didn't file a flight plan, Federal Aviation Administration spokesman Lynn Lunsford said.
The Echelon Building is next to a major highway in north Austin, and the crash started fires on several floors of the hulking black building. Dozens of windows were blown out and vehicles traveling on a nearby highway paused to look.
Thirteen people were treated at the scene and two people were taken to a hospital with serious injuries, Austin fire officials said. Their condition wasn't immediately known.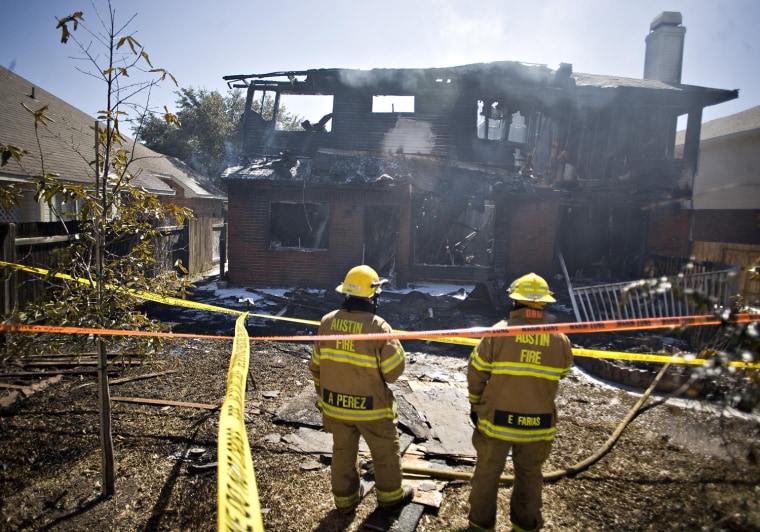 Pilot's backgroundAccording to California Secretary of State records, Stack had a troubled business history, twice starting software companies that ultimately were suspended by the state's Franchise Tax Board.
He started Software Systems Service Corp. in Lincoln, Calif., but that business license was suspended in 2004 for nonpayment of back taxes totaling $1,153, KCRA-TV in Sacramento reported. Another company, Prowless Engineering Inc. was suspended in 2000 for failure to file a 1994 tax return, according to KCRA.
Stack listed himself as chief executive officer of both companies.
According to records, Stackapparently moved to the Austin area around 2003 and ran Embedded Art, a small, independent software firm specializing in "process control and automation" and "complex software engineering development tasks."

In his 3,200-word statement posted on the company's Web site early Thursday morning and later taken down, Stack appeared to blame the IRS for the loss of tens of thousands in savings and retirement money over the years.
Administrative records show the Web site was registered to Joe Stack of San Marcos, Texas, in 2006.
'Unthinkable atrocities'
Stack said his "nightmare" with the federal government dated to the early 1980s.
In one passage, Stack writes: "That little lesson in patriotism cost me $40,000+, 10 years of my life, and set my retirement plans back to 0. It made me realize for the first time that I live in a country with an ideology that is based on a total and complete lie. It also made me realize, not only how naive I had been, but also the incredible stupidity of the American public; that they buy, hook, line, and sinker, the crap about their 'freedom' … and that they continue to do so with eyes closed in the face of overwhelming evidence and all that keeps happening in front of them."
He also wrote: "Why is it that a handful of thugs and plunderers can commit unthinkable atrocities (and in the case of the GM executives, for scores of years) and when it's time for their gravy train to crash under the weight of their gluttony and overwhelming stupidity, the force of the full federal government has no difficulty coming to their aid within days if not hours?
Toward the end, he wrote, "I saw it written once that the definition of insanity is repeating the same process over and over and expecting the outcome to suddenly be different.  I am finally ready to stop this insanity.  Well, Mr. Big Brother IRS man, let's try something different; take my pound of flesh and sleep well."
The IRS, CIA and FBI all have offices in the complex where the building that was struck is located, though it was not clear if they are all in the building that was hit.
The IRS Web site said an office of its EP Team Audit Program is located in the building where the plane crashed. The group, known as EPTA, examines employee benefit plans with 2,500 or more participants, according to the Web site.
The FBI said its office was not in the building.
In Washington, White House spokesman Robert Gibbs said President Barack Obama was briefed on the crash. The Homeland Security Department was investigating all angles but the case does not appear to involve international terrorism, Gibbs said.
Played in country bandFriends of Stark were surprised at news of the crash.
Stack lived in a 2,500-square-foot house in North Austin with wife Sheryl and her daughter, who is about 12, the Austin American-Statesman reported, citing friends, neighbors and county records.
He played bass in the Billy Eli Band, an Austin alt-country band, according to friends.
Michael Cerza, who played drums in the band with Stack, told the Statesman, "My impression of Joe was a kind, quiet, not at all brooding or taciturn person."
"I didn't sense anything boiling under the surface. There was no indication in his actions or his words that he would harm anyone."
Jim Hemphill, also a member of the band, said he was in shock.
"I never saw anything like this in Joe," he said.
Stack's wife and daughter were believed to be in a neighbor's house being assisted by the Red Cross. When reporters went to the door, an FBI agent answered, the newspaper reported.
'Huge fireball'Witnesses to the crash recalled a scene of chaos and destruction.
Peggy Walker, an IRS officer who works in the building, said she was sitting at her desk when the plane crashed.
"It felt like a bomb blew off. The ceiling caved in and windows blew in. We got up and ran," she said.
Matt Farney, 39, who was in the parking lot of a nearby Home Depot, said he saw a low-flying private plane near some apartments and the office building just before it crashed.
"I figured he was going to buzz the apartments or he was showing off," Farney said, adding that the plane dipped down. "It was a ball of flames that was high or higher than the apartments. It was surreal. It was insane. ... It didn't look like he was out of control or anything."
Tucker Thurman was driving to work when he said he saw a small plane flying very low over the highway. He said he saw it then bank heavily to the right before heading into the building.
"There was a huge fireball. It's right into the building," Thurman told the Statesman.