/ Source: The Associated Press
A man accused of wounding two middle school students in a community still haunted by the Columbine massacre often talked to himself and imaginary friends — and that talk recently turned to yelling, his father said.
Bruco Strong Eagle Eastwood, 32, would unplug the refrigerator and not eat macaroni and cheese because they were too loud, War Eagle Eastwood said.
Though the younger Eastwood was struggling with bills and getting his high school equivalency degree, his father said he couldn't pinpoint anything that would lead his son to open fire Tuesday at Deer Creek Middle School.
"It would be nice to find somebody or something to blame it on, but you can't," War Eagle Eastwood said Wednesday at his ranch in Hudson, about 55 miles northeast of the school.
"He has problems, but I never thought he'd go to the extent to hurt somebody," Eastwood said.
"You can say you're sorry, but you can't replace the fear and hurt he's put in innocent people. He's put a hole inside of me."
Investigators were reviewing Bruco Eastwood's journals as they tried to figure out why the unemployed ranch hand allegedly showed up at his old school and started firing at students in the parking lot before being tackled by a math teacher.
The teacher, David Benke, was hailed as a hero. And officials said his response was further proof that the Littleton-area community had learned the lessons of Columbine, when law enforcement was criticized for not moving quickly enough in the 1999 incident in which two teenagers killed 12 students and a teacher before killing themselves.
Missed chance to stop shooting?Still, there was growing evidence the Deer Creek Middle School may have missed a chance to head off the attack.
Investigators said Eastwood entered the school earlier in the day, indicated he was a former student and chatted with teachers, apparently without drawing much suspicion.
Later he went outside and opened fire with his father's bolt-action hunting rifle.
Sheriff's department spokeswoman Jacki Kelley said Eastwood left the building without being asked to do so. She said a school security officer was not at Deer Creek at the time. The officer also has duties at another school, but it hasn't been determined where he was when the shootings happened, Kelley said.
Jefferson County schools Superintendent Cindy Stevenson said there is a sign-in sheet that requires visitors to state their name and the purpose of their visit. She said school officials did not have access to the sheet because the school was closed as a crime scene.
Eastwood was jailed on $1 million bail on suspicion of attempted murder.
Residents were stunned by the thought of a gunman opening fire at a school less than three miles from Columbine High, the site of the nation's deadliest high school shooting. Parents rushed to the middle school, many unnerved by the sight of youngsters running for their lives just like on that day in 1999.
"We thought all of that was behind us," resident Betty Makr said.
Benke, a 57-year-old teacher and father of three, said he heard one shot and saw the gunman squeeze off a second round before he tackled the man and subdued him with another teacher.
Benke said he told the gunman: "Look, bud, I'm 6-5. ... You're not going anywhere, so let's kind of relax till the sheriff's people get here."
Schools in Jefferson County have gone through extensive emergency drills since the Columbine tragedy, and Benke said he always thought about what he would do if a shooting broke out. "I said, 'I hope that I'm capable of doing something about it,'" he recalled.
At a news conference, Benke choked up when he said it bothered him that he didn't stop the gunman before he shot the second student.
Student Reagan Webber was treated at a hospital and released. The mother of the other victim, Matt Thieu, said he was doing well at a hospital.
A Facebook page called "Dr. David Benke is a Hero!!!!" quickly grew to more than 26,000 members, and his actions were hailed on the floor of the Colorado Legislature.
"Sometimes that's just what we need. We need someone to be a hero for us," said state Sen. Mike Kopp of Littleton, who lives in Benke's neighborhood.
Authorities acknowledged emergency plans don't call for teachers to pounce on gunmen.
Security precautions taken Stevenson said Deer Creek's security precautions include using a button in a secretary's office that automatically locks down the school if there is a shooting. If something happens inside, teachers are to lock doors, get students out of hallways, keep them quiet so as not to tip off any gunmen and stay out of the line of sight, she said. All of that was done Tuesday, Stevenson said.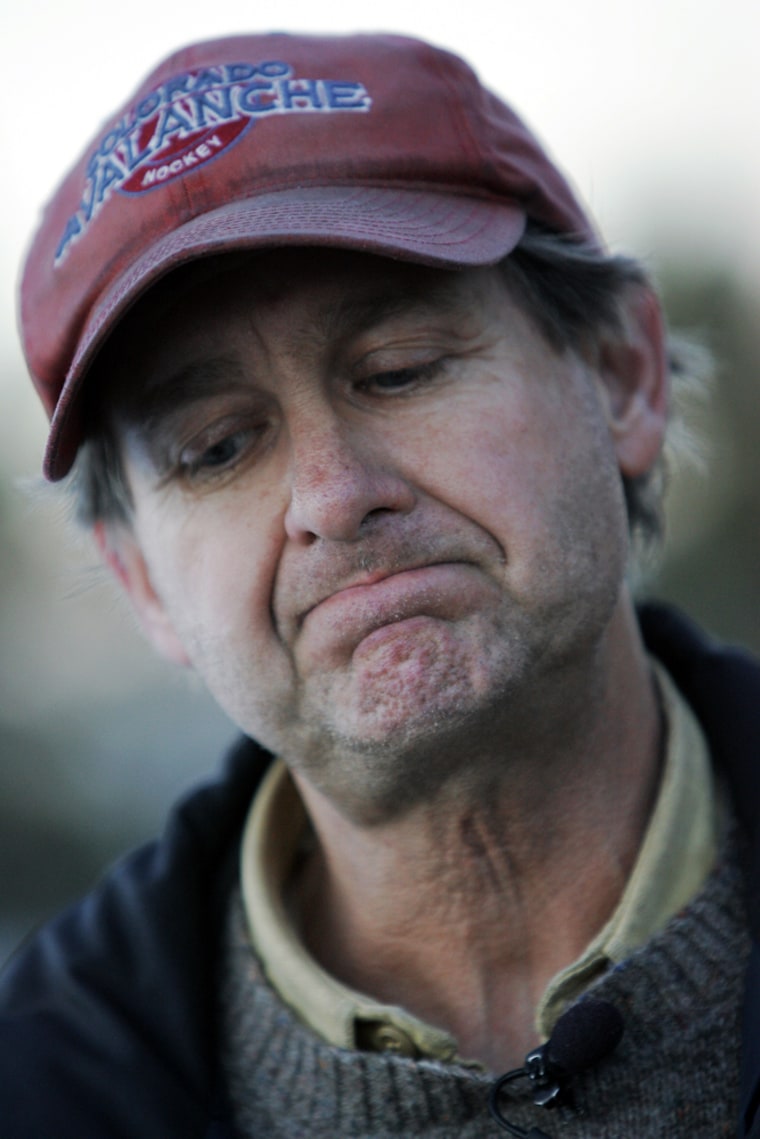 Eastwood has an arrest record in Colorado dating back to 1996 on suspicion of menacing, assault, domestic violence and driving under the influence.
Carla Wrisk, a cashier at the Barn Store gas station-convenience store in Hudson, said Eastwood would bring change to buy cigarettes but was often short 20 or 30 cents, and she would make up the difference. He would grab a newspaper, look at the sports page and mumble to himself. "Just a very odd, strange guy," she said.
The son of an Apache father and Irish mother, Bruco Eastwood had many friends as a child and liked basketball and football, his father said.
He lived with his mother as a teen. Five years ago, after he lost a job at a King Soopers grocery, he took his father's offer of a place to stay and work feeding horses on the ranch.
Shelves filling a wall of Bruco's basement bedroom hold DVDs, videotapes, CDs, magazines, three Denver Broncos baseball hats, a Broncos team photo, a few GI Joe action figures in original packaging. A blank job application for a movie theater was on a mattress on the floor. A clock shaped like the cartoon character Garfield's head sat on a dresser.
In 2005, Eastwood participated in a NASA-funded study in which he spent 10 days in a hospital bed so scientists could study muscle wasting, an affliction experienced by astronauts during long flights, according to a story in the Rocky Mountain News at the time.
He told the newspaper that he had a lifelong dream of being an astronaut and described his occupation to the newspaper as horse trainer working at his father's ranch. He pocketed $2,200 from the study and was able to spend a week and a half watching DVDs and playing video games in bed.
War Eagle Eastwood said his son would bristle when asked what was wrong. He said his son had tried to seek medical help but couldn't pay. War Eagle Eastwood does not have health insurance either.
War Eagle said he was speaking out in hopes of helping other families and changing the system "so you don't have to be a rich person to get help."
"Sleeping is not an easy thing to do," he said. "This is hard. No matter what, they're always your kid."