/ Source: The Associated Press
Haiti's rice farmers are dismayed. It's nearly harvest time in this fertile valley where the bulk of Haiti's food is grown, and they're competing once again with cheap U.S. imported rice.
Just down the road, vendors are undercutting them, selling the far less expensive grain. Subsidized U.S. rice has flooded Haiti for decades. Now, after the Jan. 12 quake, 15,000 metric tons of donated U.S. rice have arrived.
"I can't make any money off my rice with all the foreign rice there is now," said Renan Reynold, a 37-year-old farmer who makes an average of about $600 a year. "If I can't make any money, I can't feed my family."
Last month's catastrophic earthquake that killed an estimated 200,000 people and spurred emergency food needs for more than 4 million has raised a familiar predicament for aid organizations — how to help without undermining Haiti's fragile economy.
This nation born nearly 200 years out of a slave revolt hasn't been able to feed itself for more than two decades and now imports most of its food.
Since the quake, aid groups have spearheaded cash-for-work programs, some of which intend to help struggling farmers pay for seed. They're also helping with irrigation and crop diversification projects and working with Haiti's government to analyze soil.
But little is being done to change endemic problems, according to Jean Andre Victor, a Haitian agronomist. He is among analysts who believe Haiti needs radical agricultural reforms — not constant food aid.
U.S. imports eclipse Haitian production
"There's a long history in Haiti of groups like USAID flooding the market with rice and other imports," said Victor. "This is not what we need. We need real help and that means completely changing the agricultural system."
Agricultural production accounted for nearly half of gross domestic product in the 1970s. It now amounts to less than a third.
And U.S. rice imports have long eclipsed Haitian production, due in part to smaller local yields because of environmental degradation and the lowest rice import tariffs in the Caribbean community.
The earthquake has only exacerbated needs in farming provinces. The government says more than a half-million people have fled the capital for provinces, which lack the infrastructure and food to sustain such a population surge. The coming rains will only make things worse.
When the earthquake hit, Haiti was recovering from about $1 billion in crop damage from 2008 tropical storms. Now, farmers lack cash to buy seeds for the planting season that begins in two weeks, and food prices have already risen 10 percent since the quake.
Aid organizations say families caring for displaced people are spending their savings to feed new arrivals and consuming food stocks.
"Rural areas experiencing the highest levels of displacement from Port-au-Prince and surrounding areas are the most affected," said Dick Trenchard, Assessments Coordinator for the U.N.'s Food and Agriculture Organization in Haiti.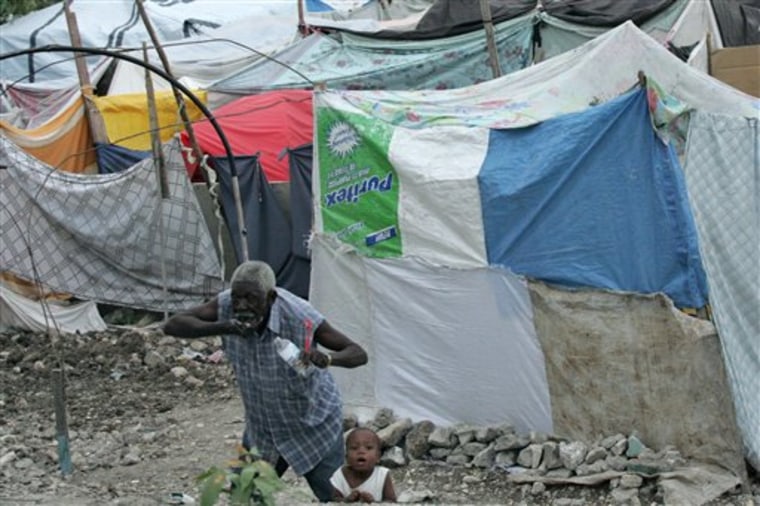 The U.S. Agency for International Development, which has been working in Haiti for decades, is providing more than $400 million in earthquake aid with U.S. taxpayers set to give some $113 million in food aid alone this year.
But U.S. farmers also stand to benefit from the earthquake.
Last year, Washington paid farmers some $12.9 billion in subsidies, which critics say have unfairly deflated international prices. That makes it harder for poorer nations to develop their economies by expanding markets abroad.
Paul O'Brien of Oxfam America says the lessons of the harm of flooding a country like Haiti with subsidized rice should have been learned a long time ago.
"The days are gone when we can throw up our hands in terms of unintended consequences; we know now what these injections can do to markets," he said. "The question we want asked is what is being done to guarantee long-term food security for Haitians."
Haiti's 2008 food price riots prompted President Rene Preval to announce subsidies that would lower the price of rice. And still, there is plenty of malnutrition.
Some 2.4 million Haitians — out of a population of nearly 10 million — cannot afford the minimum daily calories recommended by the World Health Organization.
With planting season just weeks away for crops including beans and spinach, the Haitian government is looking at ways to boost agricultural production.
But donors often sink more money into emergency aid than such long-term projects.
The U.N. Food and Agriculture Organization has warned only 8 percent of a $23 million appeal to help Haiti revive food production has been funded.
U.S. policies hurting Haitian markets?
James Woolley, a senior agronomist working with USAID in Haiti, said the multiple challenges that must be addressed in order to boost production include the country's small farming plots and persistent litany of natural disasters.
One way of attacking the problem of getting Haiti to be able to feed itself again is to focus on diet.
Before the 1970s, Haitians only ate rice once or twice a week, getting starch from other local staples like sorghum and manioc, Woolley said.
Today, rice is a staple but often U.S.-subsidized rice costs less than locally grown crops. On Friday, a 55-pound bag of US rice cost about $36, compared with $60 for the same size sack of Haitian rice.
USAID said it is investigating reports that bags of donated rice are being sold on the black market and studying whether its policies in Haiti are having adverse effects on local markets.
"USAID conducts regular analyses in Haiti and across the world to make sure that our food aid does not serve as a disincentive to local production," Moira Whelan, a spokeswoman for USAID in Washington, D.C., said in an interview Thursday.
Whelan would not respond, however, when asked what the analyses had determined in Haiti.
U.S. intervention in Haitian agricultural policy is not without precedent.
In the 1970s, fearing indigenous pigs could spread swine fever, the United States — in conjunction with USAID — moved to replace all of Haiti's hearty Creole pigs with pigs from Iowa. The end result was the fragile U.S. pigs often became sick, preferred expensive feed and had fewer litters.
Reynold, meanwhile, stands hunched over the small rice paddy he rents from a property owner and hopes opportunity will come out of Haiti's latest crisis.
He needs cheap credit, cheaper fertilizer and more government aid, he said.
"Each year, it gets harder to survive."