/ Source: The Associated Press
The Miami property developer, volunteering after Haiti's earthquake, was horrified to see children sleeping in the dirt under makeshift tents of bed sheets propped up on sticks. A global, billion-dollar aid effort should be able to do better, he thought.
He decided he could do better himself.
Michael Capponi flew home, collected donated tents, flew them back to Haiti and persuaded a mayor to let him build a proper camp for hundreds of families on the soccer field of a gated community of luxury villas. It took him three days and less than $5,000.
"I didn't put this together to get a pat on the back, but to show the world it can be done rather quickly, and with limited funds," said Capponi, 37.
Haiti has two relief campaigns under way: a massive, lumbering international operation comprising U.N. agencies, foreign military and hundreds of private aid organizations; and the collective efforts of individuals acting on their own in frustration at what they see as shortcomings in the international response.
The do-it-yourself aid workers say the bigger operation is inefficient and confused, and brag about their ability to get things done quickly, on the cheap. Officials with governments and more established relief groups applaud the smaller operations, but say such efforts will never be enough to meet Haiti's enormous needs.
The story of shelter is a case in point.
Desperately seeking shelter
The United Nations says nearly 1.3 million people — 762,708 of them in metropolitan Port-au-Prince, the devastated capital — don't have anywhere to live, and officials have said for weeks that shelter is their most urgent priority as the rainy season approaches.
But seven weeks after the Jan. 12 catastrophe, the international rescue operation has managed to distribute 23,000 tents and 131,000 tarps, reaching just a third of those in need.
Capponi, who came to Haiti after the quake as a volunteer with the University of Miami-affiliated Project Medishare, could not understand what was so difficult about getting tents to people in need.
First he called ShelterBoxUSA, the American affiliate of a British-based private aid group that the Haitian government has designated as the lead agency for tents, and which has distributed 8,200 tents in Haiti. Capponi was startled to hear that a tent kit for a 10-member family costs $1,000.
Capponi found a Miami company offering a waterproof tent for five, the average size of a family in Haiti, for $90 including ground sheets, poles and mosquito nets. Then he found another that asked $37.05 per tent — including shipping to Haiti — if he'd buy 50,000 of them.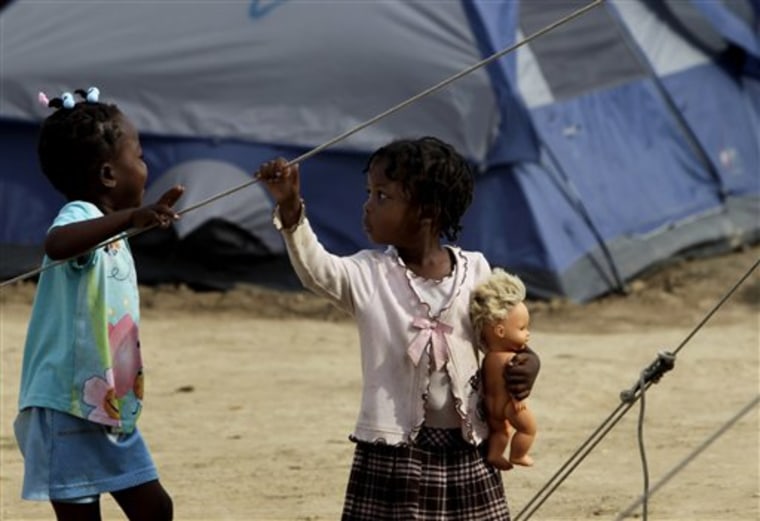 Veronica Miller, president of ShelterBoxUSA, said their kit includes a multipurpose blanket, water purification kit, stove and cooking pots — as well as the cost of securing permission to use land and coordinating who gets help first.
She said ShelterBox tents are designed to last for years.
"Other tents that are out there may help for a few months, but then what?" she asked. "The weather and elements that they endure will leave them without shelter and they are back to the same situation."
Size and scale
GuideStar USA, which monitors nonprofit organizations, said the magnitude of Haiti's crisis and the logistical difficulties involved in getting the aid to the people who need it most means it's a job for established organizations.
"I respect and appreciate people's passion and enthusiasm and energy," GuideStar President Bob Ottenhoff said. "But this is one of those moments where, in order to do this on a massive scale, I think we have to rely on the experts."
Many independent operators disagree.
Shaun King, lead pastor of The Courageous Church in Atlanta, set up a Web site for people to donate money and tents priced from $55 to $800. Working with 200 volunteers, Haitian orphanages and a makeshift camp in Port-au-Prince, King has collected 1,505 tents to shelter 7,525 people and $24,185.
"We pledge that 100 percent of the funds we raise will go directly (and only) to tents," the Web site promises, a swipe at the overhead costs at big humanitarian organizations.
While Red Cross shelter experts were "working against the clock" to finish a blueprint for a temporary wood-frame house, a Latin American charity already had volunteers busy with nails and hammers showing homeless Haitians how to build them themselves.
The Chile-based group, Un Techo Para Mi Pais — "a roof for my country" — worked with 150 foreign volunteers to erect 20 wood cabins with corrugated metal roofs in three days, said project leader Luis Bonilla of El Salvador.
"I'm going back to the Dominican Republic to buy more wood, and we will have 100 more houses up in two weeks," Bonilla said. He said the longer-term goal is to build 10,000 houses in Haiti.
Follow the money
Capponi, meanwhile, took two days to set up a camp of 70 tents with two water tanks and two portable toilets that is sheltering hundreds of families.
He went back to Miami to buy and beg more tents, and returned this week with enough tents to give decent shelter to 1,500 of the people camping on a soccer field in Port-au-Prince's posh Belleville neighborhood. (Another $10,000 worth of tents disappeared at the Port-au-Prince airport, he said.)
Capponi, who didn't want to single out any aid group to avoid making enemies, questioned why relief workers need all the new white SUVs that have suddenly appeared in Port-au-Prince.
"People need to learn to be efficient with funds here," he said. "I have seen too many big NGOs (non-governmental organizations) waste too much money and I am fed up."
Capponi recalled the joy with which people receive their tents.
"People started chanting and praying. One woman was so overjoyed, she kissed the flap of her tent," he said.
One the front of one tent, a grateful family has written "Dieu est grand" — "God is great."