/ Source: msnbc.com news services
The killers showed no mercy: They didn't spare women and children, or even a 4-day-old baby, from their machetes. On Monday, women wailed in the streets as a dump truck carried dozens of bodies past burned-out homes toward a mass grave.
Rubber-gloved workers pulled ever-smaller bodies from the dump truck and tossed them into the mass grave. A crowd began singing a hymn with the refrain, "Jesus said I am the way to heaven." As the grave filled, the grieving crowd sang: "Jesus, show me the way."
At least 200 people, most of them Christians, were slaughtered on Sunday, according to residents, aid groups and journalists. The local government gave a figure more than twice that amount, but offered no casualty list or other information to substantiate it.
An Associated Press reporter counted 61 corpses, 32 of them children, being buried in the mass grave in the village of Dogo Nahawa on Monday. Other victims were being buried elsewhere.
The violence in three mostly Christian villages on Sunday appeared to be reprisal attacks — when some 300 people, most of them Muslims, were killed, Red Cross spokesman Robin Waubo said. State officials did not comment on the cause of the latest attacks.
Plateau State spokesman Gregory Yenlong said Sunday's toll could be much higher. "Soldiers are patrolling and everywhere remains calm ... We are estimating 500 people killed but I think it should be a little bit above that," he said.
Death tolls have been highly politicized in previous outbreaks of unrest in central Nigeria, with various factions accused of either exaggerating the figures for political ends or downplaying them to try to douse the risk of reprisals.
Severed handsOn Sunday, the bodies of children tangled with each other in a local morgue, including a diaper-clad toddler. Another young victim appeared to have been scalped, while others had severed hands and feet. One woman victim in the morgue appeared to have been stripped below the waist, but later covered by a strip of black cloth.
Jos has been under a dusk-til-dawn curfew enforced by the military since January's religious-based violence. It was not clear how the attackers managed to elude the military curfew early Sunday.
Acting President Goodluck Jonathan said security agencies would be stationed along Plateau state's borders to keep outsiders from coming in with more weapons and fighters.
"(We will) undertake strategic initiatives to confront and defeat these roving bands of killers," he said in a statement.
On Monday, an Associated Press reporter saw nearly 100 soldiers in tan military fatigues and bulletproof vests standing near armored cars at an entrance into Jos. The street was mostly deserted but soldiers appeared tense, holding Kalashnikov rifles at their hips and pointing them at passing cars.
More than 600 people fled to a makeshift camp that still held victims from January's violence, said Red Cross official Adamu Abubakar. He expected more to come, putting an even bigger strain on the already limited humanitarian aid for those fleeing the violence.
The latest unrest in the center of Africa's most populous nation comes at a difficult time for Jonathan, who is trying to assert his authority while ailing President Umaru Yar'Adua remains too sick to govern.
Plateau state lies at the crossroads of Nigeria's Muslim north and Christian south and fierce competition for control of fertile farmlands between indigenous groups and settlers from the north have repeatedly triggered unrest over the past decade.
Once a tourist destinationThe killings represent the latest religious violence in an area once known as Nigeria's top tourist destination, adding to the tally of thousands already killed in the last decade in the name of religious and political ambitions.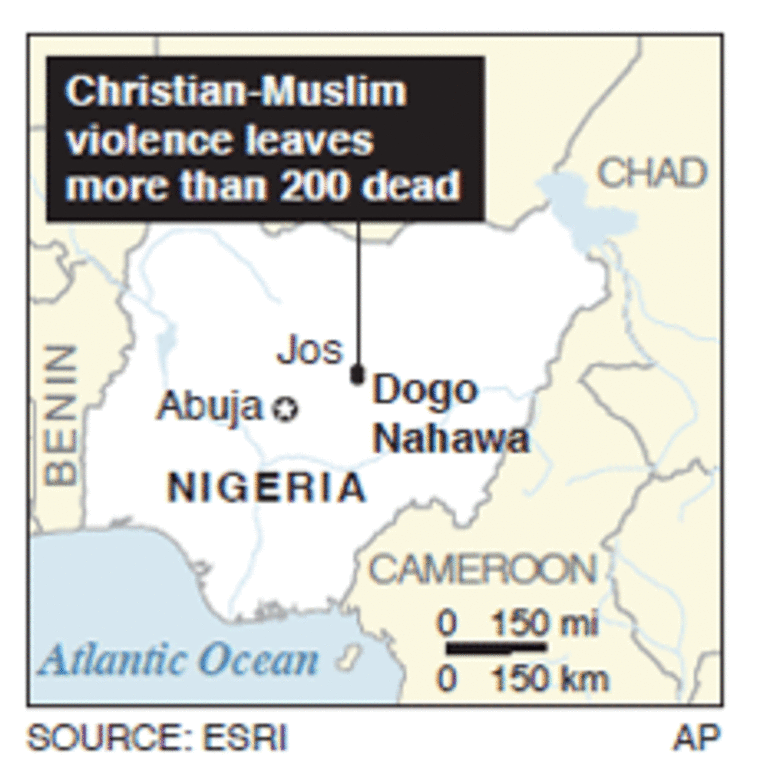 Rioting in September 2001 killed more than 1,000 people and Muslim-Christian battles killed up to 700 people in 2004. More than 300 residents died during a similar uprising in 2008.
In Jos, Muslims have complained about being denied jobs and other benefits by the Christian-dominated government. However, many Muslims also operate shops and businesses in a nearby town where the tourist trade has dried up and the surrounding tin mines have been abandoned, stoking fears for Christians about retaliation from Muslim neighbors.
In Dogo Nahawa, a village three miles south of Jos, residents said the dead included a 4-day-old infant. Those who survived claimed their attackers shouted at them in Hausa and Fulani — two local languages used by Muslims.
Chuwanga Gyang said he heard a gunshot early Sunday. He said he left his house through the back door but stopped when he realized that the attackers were shooting to herd fleeing villagers toward another group of attackers carrying machetes.
He said he climbed into a tree and hid, watching as villagers were killed and the attackers set homes alight over the course of 90 minutes.
He said the attackers asked people "Who are you?" in Fulani, a language used mostly by Muslims, and killed those who did not answer back in Fulani, he said.
Yenlong, the state government spokesman, said police were seeking to arrest Saleh Bayari, the regional leader of the Fulanis, alleging that Bayari made comments that incited the attack. He offered no other details.
The chairman of the local Fulani organization denied that his people were involved in the attack.