/ Source: msnbc.com staff and news service reports
U.S. highway deaths have fallen to their lowest levels since the 1950s, as more motorists bought into buckling up and embraced safety innovations. A sour economy that dampened traveling instincts also was a contributor.
The Transportation Department said Thursday that its projections show total traffic deaths declined nearly 9 percent in 2009 — to 33,963. That's the lowest toll since 1954. In 2008, an estimated 37,261 people died on the highway.
Highway safety officials also reported a record low fatality rate, the number of deaths per 100 million vehicle miles traveled. It fell to 1.15 in 2009, compared with a record low — at the time — of 1.25 in 2008.
Highway deaths have dropped steadily since 2005, when an estimated 43,510 people were killed.
Transportation Secretary Ray LaHood said he was encouraged by the data but said there were "far too many people dying in traffic accidents. Drivers need to keep their hands on the steering wheel and their focus on the road in order to stay safe."
Safety experts attribute the reductions to increased seat belt use, progress in targeting drunken driving and more enforcement of traffic laws. Others point to the sluggish economy, which typically leads fewer people to drive.
Speaking on ABC's "Good Morning America," LaHood agreed part of the decline was linked to changing drivers' habits.
"Part of it is that people are driving less," he said. "And I think people are not in their car as often as they once were because of the economy."
The preliminary data did not break out fatal wrecks by type of vehicle.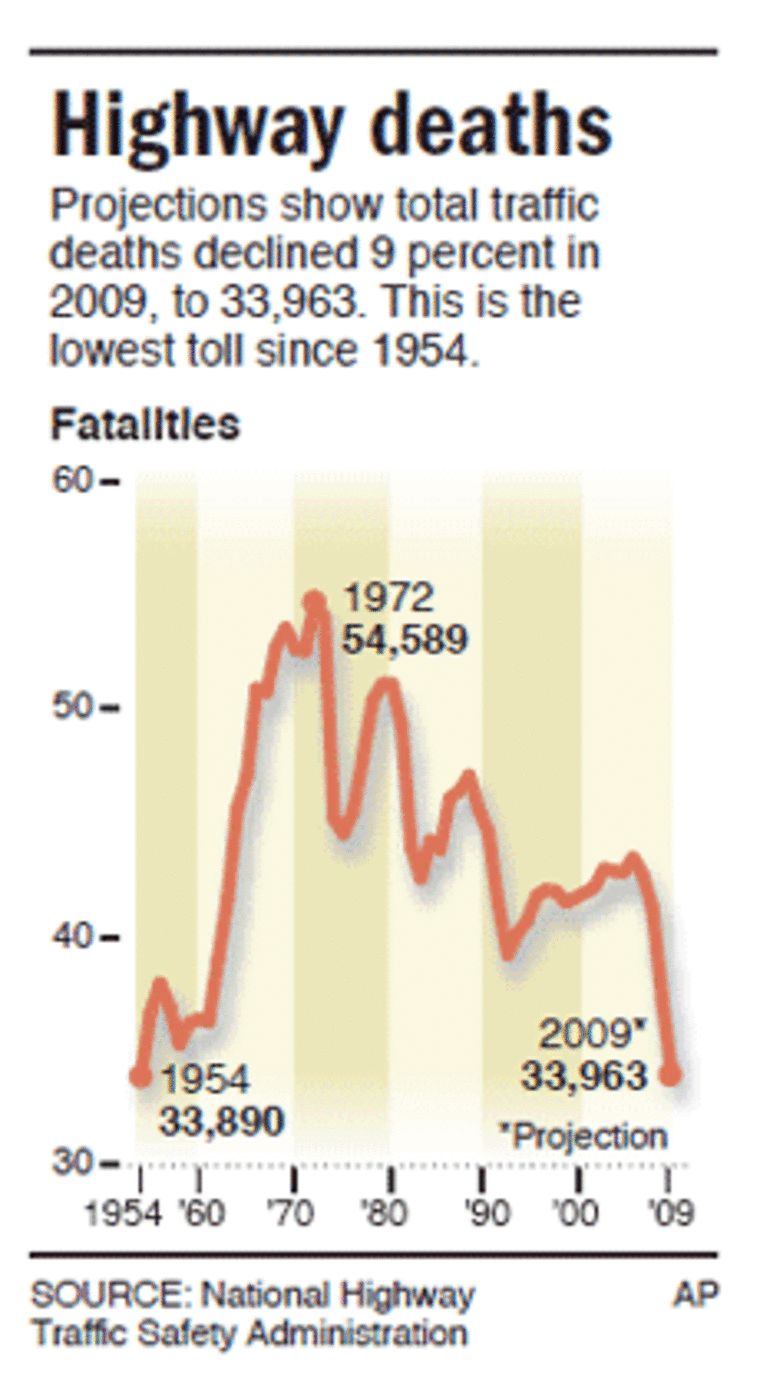 The decline in roadway deaths follow similar patterns formed during the early 1980s and early 1990s, when difficult economic conditions led many drivers to cut back on discretionary travel.
But the reductions also come in the wake of years of safety improvements. Seat belt use climbed to 84 percent in 2009, helped by efforts in states to let police stop a vehicle for a seat belt violation, even if this is the only violation an officer observes.
Side air bags that protect the head and midsection are becoming standard equipment on many new vehicles and electronic stability control, which helps motorists avoid rollover crashes, is more common on new cars and trucks.
Additionally, states have pushed tough laws to reduce drunken driving and the federal government has urged states to adopt more stringent laws against distracted driving and drivers who type out text messages from behind the wheel.