Cathy Hinz is really into "FarmVille." But she swears she's not obsessed. 
"I can, you know, walk away and say, 'I'm not going to worry about it.' I don't worry about it, but I will plan my farm around my life," she says.
Hinz, a 50-year old mom and grandmother, manages an apartment complex in Portland, Ore., so she has time to be online, fiddling with the farm simulation game as much as she wants. And she's far from the only one.
Since its launch in June 2009, "FarmVille" has grown like an invasive weed, with 80 million players and countless annoying updates from said players about eggplant mastery, lost turtles and found mystery eggs. 
It's absurdly easy to get started: Pick an avatar, plant some crops, harvest some crops, earn some "FarmVille" coins. Before you know it, you've got raspberries that need to be harvested RIGHT NOW, and your friends are trying to give you sheep. It's no "World of Warcraft," but for non-gamers like Hinz, that's exactly the point.
"I have messed around with other games a bit but nothing that really held my interest. They were either too violent or too complicated or too 'childish,'" she says.
Hinz has reached level 58 in a game with a 70-level cap. She's online a lot — spending two to three hours a day on "FarmVille," but usually not all at one time. Most of her family plays the game, including her eldest daughter (hooked), her three grandkids (hooked) and her husband, a hard-core gamer who reluctantly allowed his wife to rope him into virtual horticulture. Now, she says, he's really concerned about his crops.
"He's also really concerned about being a 'free-range farmer,'" she says, with not a little bit of condescension. "I cinch my stuff in and he lets his stuff just go willy-nilly, which irritates the hell out of me."
Hinz loves "FarmVille" because it's something she can control. "I get to decorate, I get to earn 'money' because there's a bit of a competition there … who levels higher and who has more money than (their) neighbor, who has the prettier farm."
How pretty is her farm? "It's very farm-like," she says. "It has a lot of flowers."
"FarmVille" art is 2-D and cartoony, like something you might see in a Nintendo DS game. Hinz's farm is neat and symmetrical and welcoming. It does have lots of flowers, carefully placed in front of white picket fences and around multi-colored foliage. Cute little farmhouses and friendly sheep dot the sprawling homestead, and an imposing mansion sits at the north corner.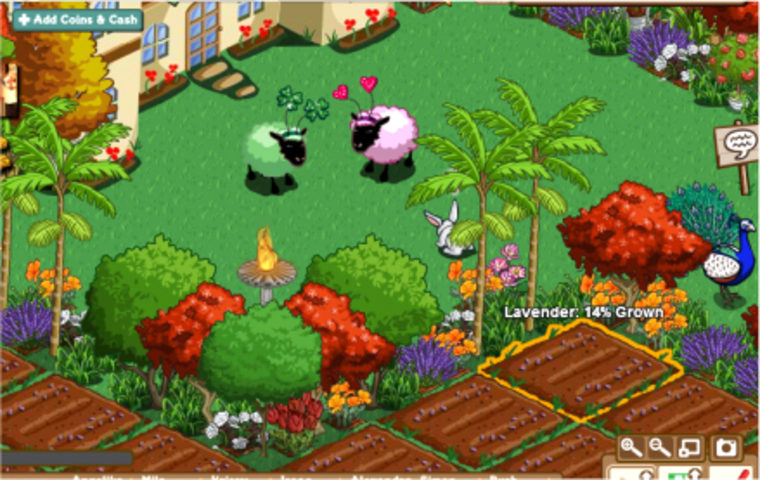 Hinz loves tweaking her virtual plot of land, and her schedule affords her plenty of time to do that. She can't wait for the updates, which Zynga, the company that makes "FarmVille," releases regularly. Right now, "FarmVille" players are feverishly collecting St. Patrick's Day "gold" with which they'll be able to buy special items, like a green St. Patrick's Day sheep wearing a headband with clovers on it.
Some of the "FarmVille" updates are free, and some you have to pay for, but Hinz says the cost is negligible. "I would spend more than $10 to see a movie, and I'd get to sit there for two hours and that would be it. Whereas 10 bucks on this, I can get enjoyment out of it every day."
She likes leveling up, and the competitive nature of the game. But Hinz also really likes the interaction on "FarmVille."
"When I started my Facebook account, I had two friends — my daughters. At one point, while playing "FarmVille," I had over 200 friends on Facebook," she says.  "But I cut it down."
Hinz has a zero-tolerance policy on "FarmVille" rumors and gossip. She prowls the online forums, keeping up-to-date on legitimate "FarmVille" news from Zynga, the game's developer, and squashing rumors on her Facebook wall.
She says a couple of her neighbors have gone to "unsavory sites" such as FarmVilleFreak.com. The site, which bills itself as the game's #1 fan spot on the Web, is jam-packed with information about stuff that wouldn't make a lick of sense to someone who doesn't play "FarmVille."
"It's full of rumors and crap about what (Zynga's) going to do with 'FarmVille,'" Hinz says, adding that she goes to the official sites to find out what's what. She posts what she finds on her wall, and "people get pissy. So I just defriend them."
The tenants of the real-life apartment complex she manages — many of whom are "FarmVille" neighbors — rely on her for updates. Her grandkids pick her brain on game strategy.
But this grandma isn't above a little larceny to further her "FarmVille" aims. A couple of months ago, Zynga dangled a Hot Rod Tractor for "FarmVille" players who'd gotten to level 12. They'd just need to fork over 45,000 "FarmVille" coins, or play "Mafia Wars," another Zynga game, to level 10.
At first, Hinz was indignant. "I'm 50 years old, and I'm not going to do something where you 'ice' people, or you rob banks or stuff like that, where that's the objective."
But then she got to thinking. The Hot Rod Tractor can plow nine plots simultaneously. It's got flames on it. "I figured, what the hell, I'll just get to level 10 and do it. And now I'm a level 40 in 'Mafia Wars' as well," she laughs. "It's a lot funner than I thought it would be. It's something I can do while I'm waiting for things to harvest."
Still, Hinz says she's got the games under control, and that they're not controlling her. "If I started putting things off in order to do 'FarmVille,' if it becomes a priority over work, or spending time with my family, that would be an addiction."
Is she there yet? "No. I do it because I can."