In a small southwest Alaska village where natives have forever lived side-by-side with wild animals, the fatal mauling of a schoolteacher by wolves has shattered an uneasy co-existence.
Now, villagers in Chignik Lake say, parents are keeping an extra-close eye on their children and residents make sure to take their rifles and guns when they venture outdoors.
"It's scary. People are afraid," said Virginia Aleck, 66, a village elder. "It's just something we're just going to have to adjust to, but the sense of trust with a wild animal is totally going to be different."
The death of 32-year-old Candice Berner stunned not only the village of a few dozen residents but also wildlife officials, who say wolf attacks are very, very rare — and fatal attacks, even more so.
Officials say Berner, a special education teacher who moved to Alaska last summer, was set on by at least two wolves while out for a late-afternoon jog on a road outside Chignik Lake, a fishing village on the Alaska Peninsula, about 475 miles southwest of Anchorage.
On Monday, state biologists tracked and shot two of the wolves that they believe were responsible.
"Based on statements of eyewitness observers, observations made at the location of Candice Berner's death, physical characteristics of the two wolves killed, and the proximity of the two wolves to the location of Candice Berner's death, I conclude that it is highly likely that these wolves killed Candice Berner," state Fish and Game biologist Lem Butler said.
The animals were to be forensically examined to determine conclusively if their teeth match the bite marks found on Berner's body. Officials also plan to compare DNA samples.
Rare fatality
It was the first fatal wolf attack in Alaska, and only the second documented case of a wild wolf killing a human in North America. There are an estimated 60,000 to 70,000 wolves in North America, including 7,700 to 11,200 in Alaska.
In the only other documented fatality, a pack of wolves killed Kenton Joel, a 22-year-old Ontario engineering student, in the woods of northern Saskatchewan on Nov. 8, 2005. Carnegie had gone for an afternoon hike and didn't return to the surveyors camp where he was working. Authorities said at the time that wolves were drawn to the remote area because people had been leaving garbage in open dumps.
Although no one witnessed the 2005 attack, searchers and local officials heard wolves howling and saw their glowing eyes in the dark when they went to retrieve the body, which was surrounded by wolf tracks in the snow. Bite marks from wolves were also identified on his remains.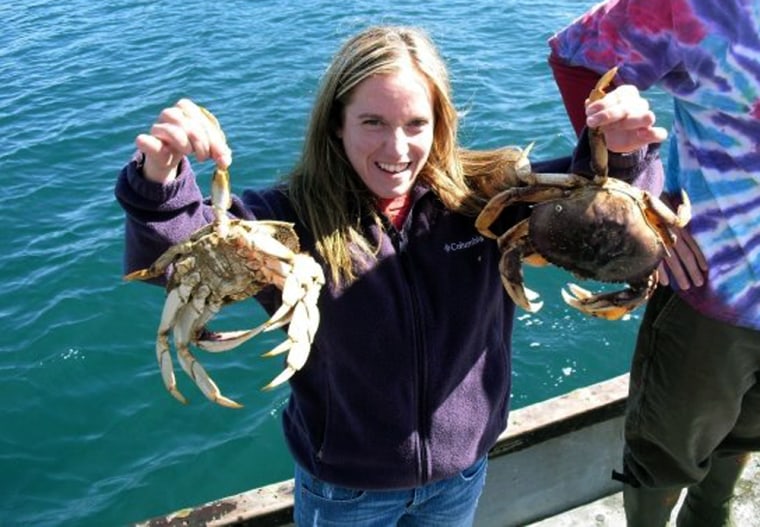 Becoming habituated?
David Mech, a senior research scientist for the U.S. Geological Survey who has studied wolves full-time for more than five decades, said there have been about two dozen nonfatal attacks in North America in the past century or so. Most involve wolves that had become habituated to people who have been feeding them at campgrounds, dumps and other sites near wolf habitat, he said.
But there are also documented cases in India of wolves snatching away children and eating them, he told msnbc.com.
Wolves are members of the meat-eating canine family that includes coyotes, foxes and even the domesticated dog, which is believed to have descended from the wolf. Biologists don't know for sure what triggered the attack on Berner but say it could be a combination of opportunity, hunger and instinct.
Mech said Berner's relatively slight build and the fact that she was running may also have made her a target of prey.
"Wolves are very much like dogs in a lot of respects. Things that are running, they have tendency to want to chase them," he said.
Mech's advice: Never feed wolves and don't let them become habituated to humans. If confronted by a wolf, don't run. Rather, face the animal, make yourself appear as large as possible, yell, wave your arms, throws stones or other objects and resist any attack.
Sense of uneasiness
In Chignik Lake, those who grew up in the village remember legends warning children to never look in the eye of a wolf and never speak of the "evil" that possessed them.
"I've heard elders say that wolves are like people. They're very intelligent, and they will work at getting their food," said Orville Lind with the U.S. Fish and Wildlife Service, who grew up in Chignik Lake.
"Wolves will take advantage of any opportunity they are presented with," Butler told KTUU-TV. "They do come into towns frequently, and we hear about sightings of wolves in communities throughout this area each winter."
Since the killing, village life has changed. Residents are afraid to walk alone, and rifles now ride shotgun in vehicles.
Chignik Lake's school mascot is the wolf, and Aleck is spearheading a campaign to change it. "We need a new mascot for the village. I can't go on cheering for something who did this to another human," she said in a telephone interview.
Villagers have also taken down a stuffed wolf that had been in the school lobby.
"We feel like we're trapped. The hills around us, they don't look safe anymore to the people in the village," Aleck said.
"There's still more wolves out there and I don't think this village will ever be the same again."