The 2003 Atlantic hurricane season was busier than usual, with 14 named storms blamed for 62 deaths by the season's end Sunday, but forecasters say it could have been worse.
HURRICANE FABIAN was the strongest of the storms to hit land, raking Bermuda with 120 mph wind that tore up roofs and roads in early September. Two weeks later, Hurricane Isabel plowed into North Carolina's Outer Banks with 100 mph wind and became the season's deadliest and most damaging storm.
"North Carolina and Virginia were not lucky this year, but the rest of the East Coast was," said Bill Gray, a hurricane forecaster at Colorado State University. "It's inevitable, I think, that we're going to have some major hits."
The six-month hurricane season produced seven hurricanes, three of them major hurricanes with sustained wind speeds of at least 111 mph, putting them at Category 3 or higher on the Saffir-Simpson scale.
Isabel reached Category 5 strength over open water, but had weakened to a Category 2 storm by the time it made landfall near Ocracoke Island, N.C., Sept. 18. It was the strongest storm to hit the country since Hurricane Floyd in 1999 and was blamed for 40 deaths and $2 billion in damage, much of it from flooding as it swept over the mid-Atlantic states.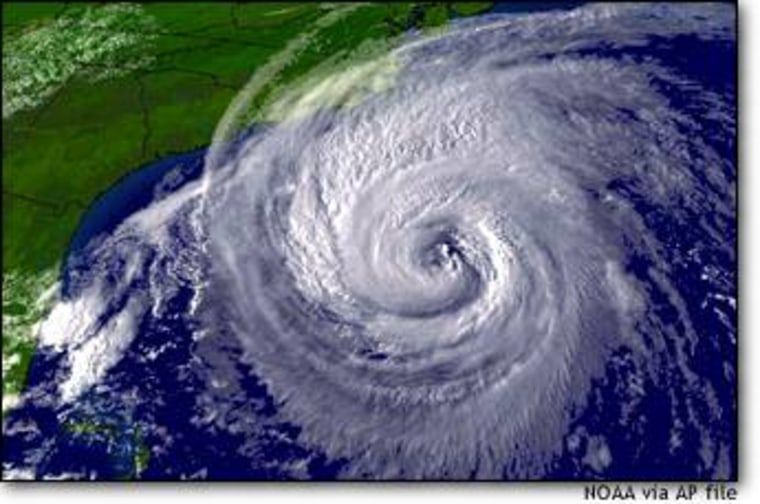 Fabian, which hit Bermuda as a powerful Category 3 hurricane, caused an estimated $300 million in damage and was blamed for eight deaths. The other Category 3 storm was Hurricane Kate, which never threatened land.
'THIS CAN'T KEEP GOING'
The United States has only been hit by three of the more than 30 major hurricanes that have formed in the Atlantic Basin since 1995, a trend that has both baffled and worried forecasters.
"This can't keep going," Gray said. "Climatology will eventually right itself and we're going to see more storms, but it's going to be very different. We're going to see hurricane damage like you've never seen it."
InsertArt(2082091)It isn't clear why so many hurricanes and tropical storms have steered away from the United States in recent years, he said. But based on historical data, Gray said, he expects more to hit the country as soon as next year, and that could mean significant damage in coastal areas where the population has boomed.
People living in the storms' paths are benefiting from earlier warnings now. The National Hurricane Center's issued five-day forecasts for the first time this year, giving two extra days of warning about where a storm is projected to hit.
While the new method wasn't perfect — Tropical Storm Bill hit Louisiana less than a day and a half after the first storm advisory was issued — it was accurate to within 175 miles for Hurricane Isabel, unusually close for such a long-range forecast.
Experts had expected the 2003 Atlantic hurricane season to be more active than usual, and it was, exceeding the average of 10 named storms and six hurricanes. The first this year, Tropical Storm Ana, formed more than five weeks before the season's official start.
© 2003 Associated Press. All rights reserved. This material may not be published, broadcast, rewritten or redistributed.