/ Source: The Associated Press
When black Sports Utilities Vehicles trail school buses around here, no one dismisses it as routine traffic. And when three tough-looking Mexican men pace around the high school gym during a basketball game, no one assumes they're just fans.
Fear has settled over this border town of 1,700, about 50 miles (80 kilometers) southeast of Ciudad Juarez, Mexico, epicenter of that country's bloody drug war. Mexican families fleeing the violence have moved here or just sent their children, and authorities and residents say gangsters have followed them across the Rio Grande to apply terrifying, though so far subtle, intimidation.
The message: We know where you are.
At schools in Fort Hancock and nearby Texas towns, new security measures and counseling for young children of murdered parents have become a troubling part of the day.
"I have friends with fathers who've been annihilated," said Israel Morales, a junior at Fort Hancock High School. "They just hug you and start crying. It just traumatizes you."
He said school doesn't always feel safe.
"I try to be stoic," Morales said. "But it still worries the heck out of me."
Mexican drug gangs have not fired a single shot in Fort Hancock, and no one has disappeared. But as drug violence continues unabated in and around Ciudad Juarez, residents of Texas border towns fear it will spread their way.
School buses followed
"There's been incidents of school buses followed, and threats to some of the students and threats to some of the staff," Hudspeth County Sheriff's Lt. Robert Wilson said. "It's caused us to really go on high alert."
Three mysterious men walked into the Fort Hancock High School gymnasium last month durng a basketball game, setting off worries that they were drug cartel members sent to deliver a message. Parent Maria Aguilar said "a panic" swept through the gym and only subsided when they left.
"They walked in and they were laughing," Aguilar said. "They were probably like, 'We'll just scare everybody.'"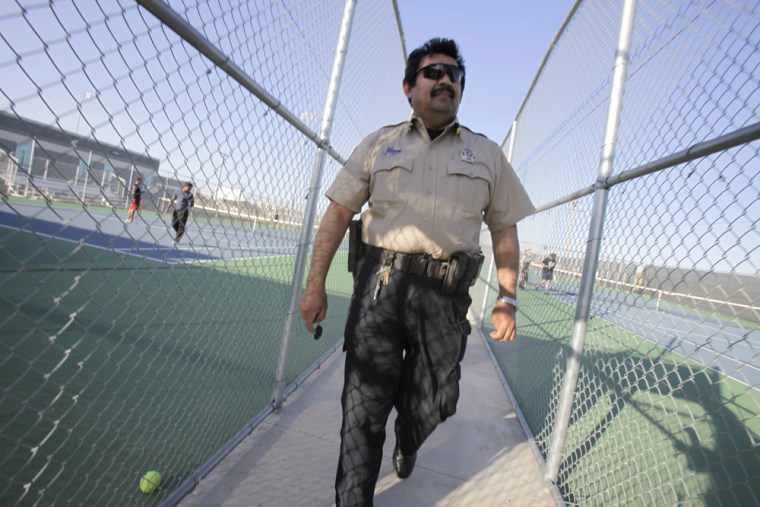 Wilson said a suspicious car was noticed following a packed school bus earlier this year. Rumors that the car belonged to cartel members were never validated, but after other suspicious cars were spotted, the department began following buses as a precaution.
"We don't know if it was to find out where a student of a certain person he was looking for gets off, or to find out where he was living," Wilson said. "We're not sure what the motivation was. But the rumor and concern was great enough."
Schools have installed security cameras and hired an armed off-duty sheriff's deputy to patrol its three campuses for the first time.
Fort Hancock is an impoverished town of rundown homes and a single diner. Fathers of many students work as farmhands in the surrounding alfalfa and cotton fields, but most are jobless.
Playground stories about killing
Aguilar said her fourth-grade daughter shares playground stories of "how so-and-so got killed in Mexico this weekend," and once asked whether a classmate's mother would be next.
One Fort Hancock High student picked up for truancy told a judge he was too scared to go to class after witnessing a murder in Mexico. Police say his mother and grandfather were tortured with ice picks last week in El Pornevir, Mexico, just across the Rio Grande from Fort Hancock. The two remained in an El Paso hospital Monday while the student was in protective custody, Hudspeth County Constable J.E. Sierra said.
School administrators say dozens of fellow students also have relatives who were killed or tortured in drug violence.
"A lot of time your family is involved," said Modesta Morales, Israel's mother. "Some of the killings that happen, it's not because of the people that were killed, it's because they're trying to reach someone. If they can't find that someone, they're going to get their brothers, their sisters, their nephews, their fathers — whoever they can to try and bring that person out."
Ten miles down the road in Fabens, fliers in the teacher's lounges ask faculty to watch for a gunman wanted for four killings in Ciudad Juarez. He's the father of two boys at the middle school.
Paul Vranish, superintendent of the Tornillo school district outside El Paso, estimates that about 10 percent of his 300 students have lost a close family member in Mexico's drug war. One Tornillo High School student was gunned down in Mexico at the start of the school year while racing back to the border, Vranish said.
'This is like Iraq'
Tragedy becomes so routine that students shrug off counseling.
"This is like Iraq. This is part of the landscape," Vranish said. "I'm not in any way trying to put our kids down. It's not like they don't have feelings. But like a soldier, you have to develop a certain amount of callous to continue to function."
U.S. authorities say they have seen a recent uptick in asylum claims at the port of entry in Fort Hancock, and schools here are enrolling more students. At least seven new students enrolled in Fort Hancock schools in one week in March, an increase that would normally take a year or two. Texas public schools educate children regardless of immigration status.
"They told us themselves, there's more coming," said Sierra, who now doubles as Fort Hancock's school officer. "They're being threatened to either leave now or suffer the consequences."
Drug-related violence in Mexico has claimed 17,900 lives since President Felipe Calderon declared war on the drug gangs in December 2006. In Ciudad Juarez, more than 2,300 were killed last year alone. Powerful drug cartels have been battling not only authorities but each other for turf and drug routes.
School police forces
Schools in northern Mexico have long had to figure out how to educate their children amid daily shootouts that have traumatized students and endangered staff. But American schools close to the border have been relatively serene.
Schools in metropolitan border areas like El Paso and San Diego have their own police forces, backed up by local law enforcement, as well as counselors on hand to help students. Impoverished towns including Fort Hancock and Tornillo have similar problems but fewer resources.
No U.S. schools have reported any violence tied to the drug war, and the vast majority of border districts feel safe. Even in San Ysidro, California, — right across the border from Tijuana — superintendent Manuel Paul said security isn't an issue despite being able to see clear into the violent city from any San Ysidro school.
Paul said he thinks Tijuana families are running further north from the violence.
But back in Fort Hancock, Modesta Morales said the violence has already come to them.
"Sometimes you feel helpless. They saw their dad shot, in the head," Morales said. "What do you tell a 10-year-old that sees that?"