/ Source: The Associated Press
When Ron Powers was growing up in Hannibal in the 1940s and '50s, he would walk to the town's historic district with a friend and marvel at the variety of license plates on visitors' cars.
"None of us had ever been anywhere, but they had come to see us," said Powers, a Pulitzer Prize-winning writer and historian. "It meant something to us. It added to the majesty of the town.
"One of our guys made it."
That "guy," Samuel Clemens, better known as Mark Twain, one of America's greatest literary figures, is still drawing visitors to Hannibal, the Mississippi River town of his boyhood.
And officials hope even more literary pilgrims will come this year to mark the centenary of the author's death and see the place that inspired Twain's masterpieces, "The Adventures of Tom Sawyer" and "Adventures of Huckleberry Finn."
Last year Hannibal welcomed 300,000 people, 60,000 of them to the Mark Twain Boyhood Home & Museum. While the town also offers river cruises, cave tours and enough other attractions for a two-day visit, museum executive director Cindy Lovell said Hannibal is a "holy land" for Twainiacs like herself. She said she "walked around in a daze" on her first visit, adding: "I see other people who react the same way. A young man from India who openly cried, he was so moved to be here."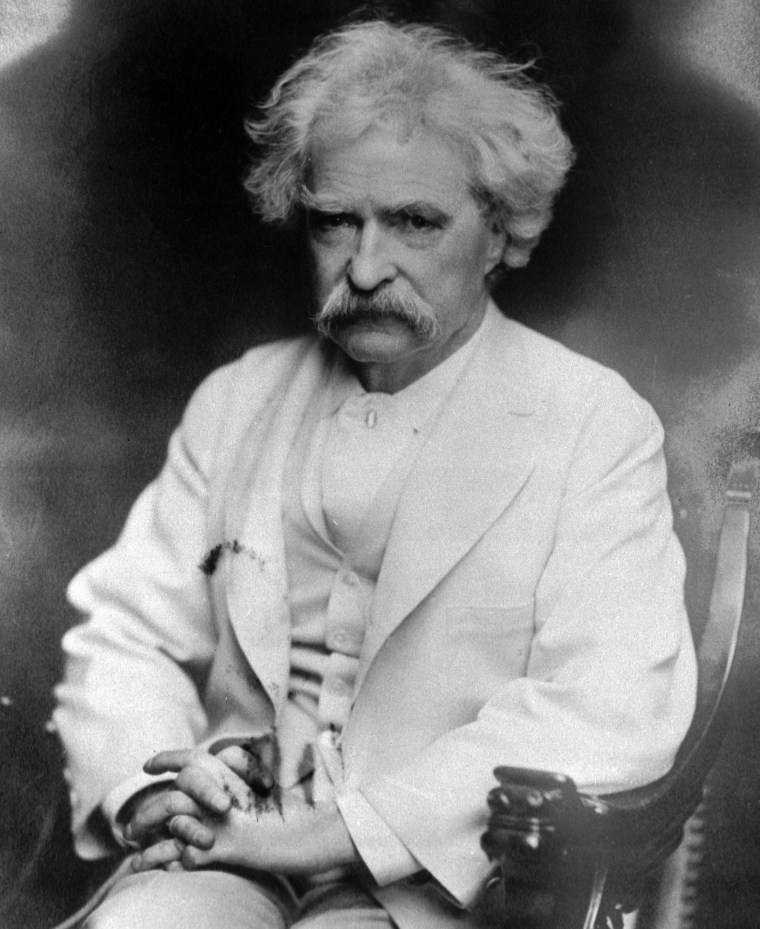 Clemens lived in Hannibal from age 4 to 18, and the caves, cemeteries and islands off the mighty river that he wandered as a boy are still here, along with his family's simple clapboard house and the home of his first sweetheart, the inspiration for Becky Thatcher from "Tom Sawyer." Both homes are owned by the museum.
In his autobiography, Twain wrote, "In the small town of Hannibal, Missouri, when I was a boy, everybody was poor but didn't know it; and everybody was comfortable and did know it."
Exhibits in the museum, which curator Henry Sweets built up from the original couple of rooms to an institution, feature Twain's books and the experiences that inspired them, along with such artifacts as the writer's desk and chair. Also on display are 15 original drawings Norman Rockwell created in 1935 to illustrate commemorative editions of "Tom Sawyer" and "Huckleberry Finn." Rockwell traveled to Hannibal to gather material for the pictures, even sketching inside the cave young Sam explored as a kid, and where Tom Sawyer and Becky Thatcher got lost.
Newspaper clippings, photographs and documents recall Twain's family life in Hannibal and his later visits to bury his mother and give out diplomas to the high school graduates of 1902. Twain died at his home in Connecticut on April 21, 1910.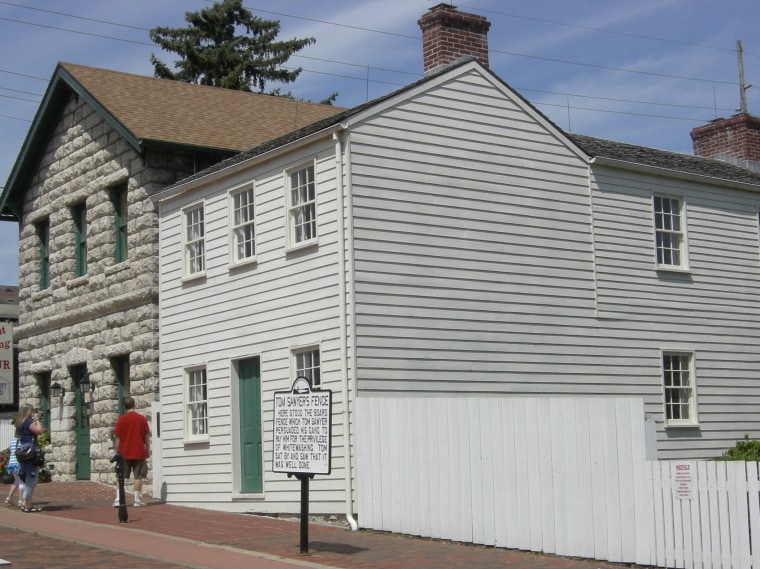 Museum properties also include an interpretive center, the Huckleberry Finn House, the office of Clemens' father, who was a justice of the peace, and Grant's Drug Store, above which the Clemens family lived when they fell on hard times.
Clemens' family owned slaves for a time in Hannibal, but Illinois, a free state, was just across the river. "Adventures of Huckleberry Finn" tells the story of Huck's travels on the river with an escaped slave, Jim.
The Clemens family fortunes changed after Sam's father died, and his mother had to take in boarders. Sam boarded outside the home starting at age 11 as a printer's apprentice at the local Hannibal newspaper, "the poor boy's college," said Lovell.
Clemens later worked as a Mississippi River pilot during the golden age of steamboats. His pen name, Mark Twain, was a term used by boatsmen to indicate water depth.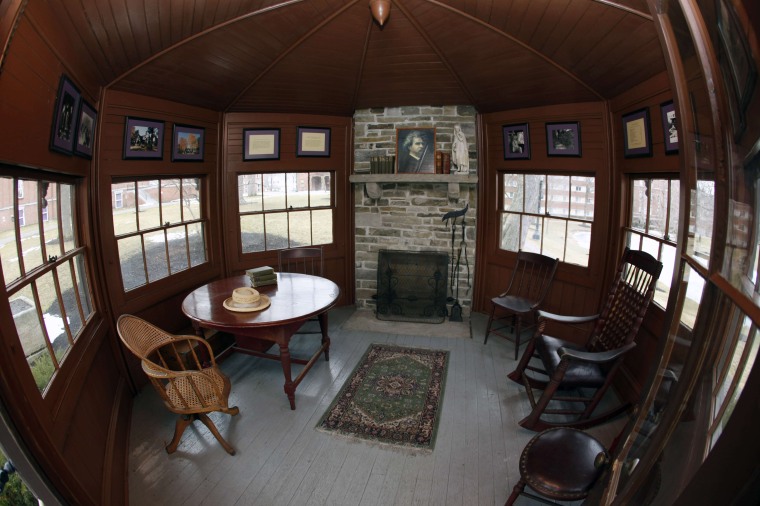 Powers, who has studied and written about Mark Twain, called Hannibal "a small town on a great, vast prairie, with a great interruption, the Mississippi River. When Sammy was a boy, it brought circuses, gamblers, magicians. All these people came to Hannibal on the boat. That magic is still there.
"When you stand on the outlook at Riverview Park, and the river disappears over the curve of the Earth, the majesty of it is beyond words, except Mark Twain's words," Powers said. "When the light gets warm and turns the river on, it's unlike a sight anywhere else in the country."