Liana Passalaqua was nervous about her flight to Thailand.
With her fear of flying, take-off and landing are always a problem. She was worried about what she'd eat when she arrived 28 hours after leaving New York City at 5 a.m. And did she have enough gifts for her friends? One thing she was not a bit concerned about, however, was her 10-hour layover in Hong Kong International Airport.
"They have a nine-hole golf course, so I figure I'll play a few rounds," says Passalaqua, a pharmaceutical rep who is traveling to Thailand for the second time this year. She has become an expert in killing time between flights in the five years she's spent on the job.
"I always manage to entertain myself, whether I'm in Chicago or Southeast Asia," she says, but Hong Kong is quickly becoming a favorite. As she gets ready for her trip to Thailand — and her longest layover yet — she adds: "If all else fails, I can teach myself PlayStation." That's right, there are 14 PlayStation game poles (free of charge) in the airport, not to mention 4-D movie theaters, free Wi-Fi and luxe shopping. This year it was rated No. 3 in the world in the 2010 Skytrax World Airport Awards, with Singapore Changi Airport at No. 1.
The downtime we spend between flights is big business for airports. In the U.S. alone, where nearly 20 percent of flights are delayed, according to the Bureau of Transportation, so-called non-aeronautical spending reached $7.49 billion in 2008, a rise of over 6 percent from the previous year.
"Airports are increasingly becoming more consumer-centric in these concessions programs," says Brett McAllister, Airports Council International North America's chief financial officer. "More amenities are now available as passengers wait to board their flight, from nail salons and spas to fitness centers and free Wi-Fi services."
"Airports have always known that they have a captive audience," says Dan Gellert, an entrepreneur who introduced an iPhone application in 2009 called GateGuru to track airport concessions. But in the past decade the amenities available have started to cater to an increasingly rapt customer base. Gellert says the trend can be attributed in part to the increase in security and wait times since 9/11 and the budget cutbacks in the airline business.
In other words, longer times between flights and decreased onboard food service. Airports have responded by redesigning airport spaces — once considered nothing but waiting areas in transit centers — into retail, dining and entertainment hubs.
"I've noticed that airports are adding both better food services and retail outlets," says Bill Miller, SVP of strategic partnerships for online travel booking site CheapOair. "This is a result of passengers having more time in airports than they initially intended."
He points to the TSA's recommended 90-minute-prior-to-takeoff arrival time to explain. While it's true that, due to the uncertainty of security lines, it's important to arrive early, he says, "if security is a breeze, the passenger now has time to shop, eat and drink." They have little else to do.
"Take Heathrow Airport," says Gellert, referencing the London airport's recent addition of an 11,000-square-foot Harrods department store in Terminal 3. With boutiques like Chanel, Paul Smith and Burberry, Terminal 3 has become a shopping center that rivals central London.
Increasingly, airports in the U.S. are following the money, he says, and in the process changing the perception of airports as a boring way station. One example is the Jet Blue Terminal 5 (T5) at JFK Airport in New York City, which opened in 2008 to massive acclaim for its retail shops and dining options, including Deep Blue Sushi by Buddakkan's Michael Schulson. "It does the highest revenue per passenger of any airport terminal in the country," says Gellert. "On a personal level, the sushi is the best I've ever had in New York City — which says a lot."
A pioneer in the area of concessions is Pittsburgh International Airport, a surprisingly small, four-runway airport in Western Pennsylvania, which partnered with mall developer BAA USA to launch AirMall in 1992. Unlike most airport retail shops, which amp up the price point of goods and services, AirMall operates at street prices and cultivates a hometown mall feeling.
It's a recipe for success. Gellert points out that Pittsburgh has had the highest revenue per passenger at any U.S. airport for the past 10 years at an average of $13.60/passenger, and other hubs are following in its footsteps. Baltimore Washington International and Boston's Logan International airports have recently launched AirMalls for their passengers.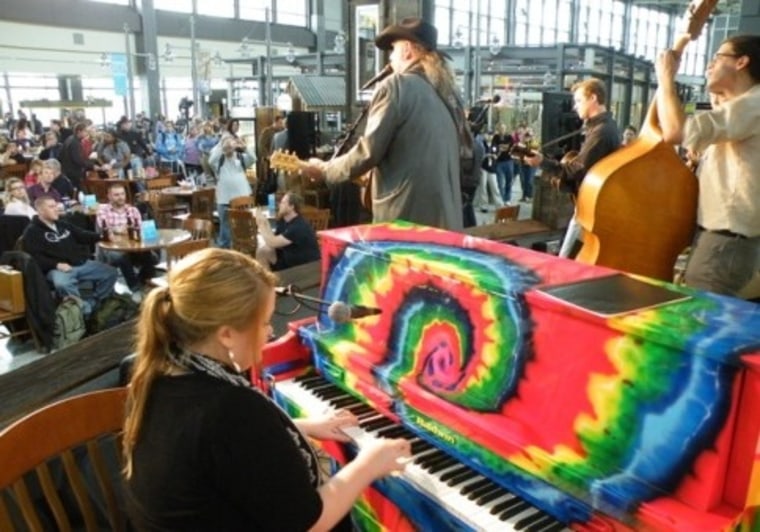 Beyond shopping, though, entertainment takes many different forms when designing money-making terminals. For some travelers, they'd like nothing more than to catch up on sleep between flights. Vancouver, Heathrow and Copenhagen now offer sleeping pods complete with noise-canceling headphones for a few hours of uninterrupted bliss.
For those traveling with a four-legged companion, a little play time might be exactly what you need. Miami International Airport recently opened four outdoor areas for your pup to stretch his legs.
For others, spa services provide an escape from the rigors of travel. Munich Airport, which landed in the top three of Skytrax 2010 World Airport Awards' recent list of Best Airport Leisure Activities behind Singapore's Changi International and South Korea's Incheon International, has multiple unique spa offerings including the Kempinski hotel Fit & Fly Spa. The spa and hotel are located within the Munic terminal and include a full fitness center, swimming pool and extensive holistic spa treatments.