/ Source: a href="http://www.travelandleisure.com/" linktype="External" target="_blank" resizable="true" status="true" scrollbars="true" fullscreen="false" location="true" menubars="true" titlebar="true" toolbar="true">Travel + Leisure</a
Step into your own half of a train car and soak it in: rich carvings and lush tapestries line the walls, blending with the flat-screen TV, stereo system, and fully stocked pantry.
And why settle for one bathroom when you can have two? Step outside and music from a nearby baby grand fills the hallway, down which you'll find the spa offering ayurvedic massage. Welcome to your sleeper car aboard India's Deccan Odyssey train. Price tag: $3,000 per night.
If you've boarded an Amtrak train recently, rolling palaces with doting cabin stewards, king-size beds, and marble and gold interiors may seem like a fairy tale from a bygone era.
But though the current economic doldrums have put a dent in the industry, luxury trains have found a place in the 21st century and are still plying major routes on the world's most developed rail systems. And this over-the-top luxury is seen most clearly in sleeper cars.
"The standards and expectations of rail passengers just keep going up," says Eleanor Flagler Hardy, president of the Society of International Railway Travelers travel agency. Intense competition for a small pool of affluent travelers has led to better and more sophisticated food and service in recent years, making for what she calls an "addictive experience."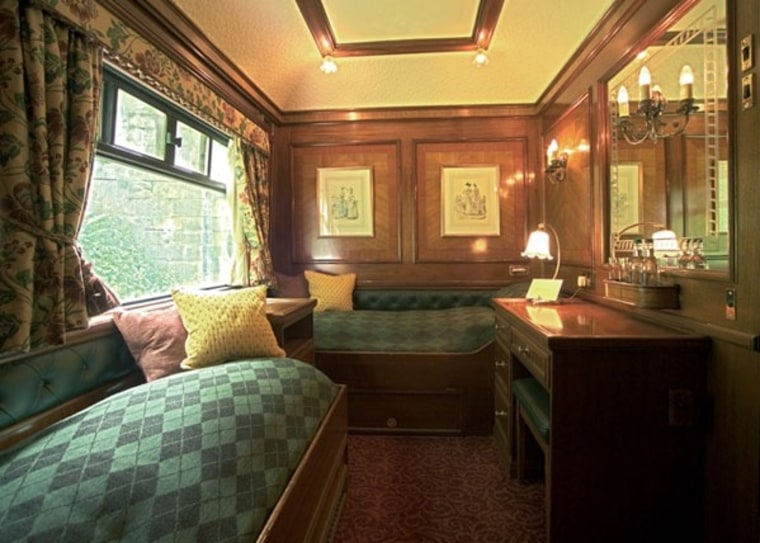 Luxury train travel expanded rapidly in Europe and beyond in the 1980s when private companies began to buy up and restore antique rail cars.
Beyond the "standard" features such as individual climate controls, a stocked refrigerator bar, and a safe for your bling, the most luxurious sleeper compartments are set apart by their generous size (the Deccan Odyssey's Presidential Suites are nearly 200 square feet), commodious beds (king size on the Pride of Africa), rich furnishings (antique brass radiators and Turkish drapes on the Royal Canadian Pacific), and attendants who provide wake-up calls, deliver breakfast, tidy your room, and remember your drink preference.
For now, anyway, this is a strictly overseas experience (though you can charter a private rail car in the United States).
It's not that American companies haven't tried to create a luxury line: the most recent such venture—a partnership between Amtrak and GrandLuxe Rail Journeys that traveled between Washington and Miami, Los Angeles and Chicago, and Chicago and San Francisco—launched in 2007 but stopped running after less than a year.
So, until some brave company resurrects luxury train travel in the States, you'll have to go abroad for your fix.