/ Source: The New York Times
More than two months after the earthquake that devastated Haiti, at least 30 survivors who were waved onto planes by Marines in the chaotic aftermath are prisoners of the United States immigration system, locked up since their arrival in detention centers in Florida.
In Haiti, some were pulled from the rubble, their legal advocates say. Some lost parents, siblings or children. Many were seeking food, safety or medical care at the Port-au-Prince airport when terrifying aftershocks prompted hasty evacuations by military transports, with no time for immigration processing. None have criminal histories.
But when they landed in the United States without visas, they were taken into custody by immigration authorities and held for deportation, even though deportations to Haiti have been suspended indefinitely since the earthquake. Legal advocates who stumbled on the survivors in February at the Broward County Transitional Center, a privately operated immigration jail in Pompano Beach, Fla., have tried for weeks to persuade government officials to release them to citizen relatives who are eager to take them in, letters and affidavits show.
Meanwhile, the detainees have received little or no mental health care for the trauma they suffered, lawyers at the Florida Immigrant Advocacy Center said, despite an offer of free treatment at the jail by a local Creole-speaking psychotherapist.
Their plight is a result of the scramble to cope quickly with the immigration consequences of the quake's destruction and death toll. Some Haitians who arrived without papers were handed tourist visas, only to find that status barred them from working; the more fortunate received humanitarian parole, an open-ended status that permits employment. Those already in the country illegally were allowed to apply for temporary protected status, which shields recipients from deportation for at least 18 months and lets them work.
Almost at random, it seems, immigration jail was the ad hoc solution for these 30 survivors and for others still hidden in pockets of the nation's sprawling detention network. Some of the 30 have already been transferred to more remote immigration jails without explanation.
'Exacerbating trauma'
On Wednesday, after inquiries by The New York Times, a spokesman for Immigration and Customs Enforcement said the 30 Florida detainees were "being processed for release," and that 35 others who had arrived since the Jan. 12 earthquake, some by boat, were also being held in detention centers around the country.
"In order to mitigate the probability that Haitians may attempt to make a potentially deadly journey to the U.S., we clearly articulated that those who traveled to the U.S. illegally after Jan. 12 may be arrested, detained and placed in removal proceedings," the spokesman, Brian P. Hale, said in a statement. He added that Nina Dozoretz, acting director of the agency's Division of Immigration Health Services, had just approved counseling by the volunteer psychotherapist.
Advocates for the detainees said they had been told for weeks that deportation officers in Florida were waiting for senior officials in Washington to set a policy for the group. Most were ordered deported in February, but are eligible for release under an order of supervision until deportations resume.
"Their prolonged and unnecessary detention is only exacerbating their trauma," the advocates wrote to the agency on March 19, after receiving no response to detailed, individual requests for release by two dozen of the detainees. "There is no reason to spend taxpayer dollars detaining traumatized earthquake survivors who cannot be deported and who have demonstrated that they are neither a flight risk nor a danger to the community."
The government's actions have been especially bewildering for the survivors' relatives, like Virgile Ulysse, 69, an American citizen who keeps an Obama poster on his kitchen wall in Norwalk, Conn. Mr. Ulysse said he could not explain to his nephews, Jackson, 20, and Reagan, 25, why they were brought to the United States on a military plane only to be jailed at the Broward center when they arrived in Orlando on Jan. 19.
"Every time I called immigration, they told me they will release them in two or three weeks, and now it's almost three months," said Mr. Ulysse, a retired carpenter and architectural designer who said he had always warned his relatives in Haiti not to come illegally on boats, but to wait for a green light from the United States.
On March 11, Reagan was abruptly transferred, and for days his younger brother did not know where he was. It turned out he had been taken to the Baker County jail, in Macclenny, Fla., six hours away. On Tuesday evening, a paralegal found him there in shackles, about to be transferred again; guards, following government protocol, would not say where.
"His brother is far away — he's waiting, waiting," Mr. Ulysse said of Jackson. "He started to cry on the phone. It's very terrible."
Jackson, who was trapped in the collapse of his family's apartment building in the quake, and pulled from under cinderblock by a cousin, lost many relatives in the destruction. His formal request for release, dated March 12, describes how even the sound of someone on the jail stairs makes him fear another earthquake and worry that because he is locked up, he will be unable to escape.
The jailed survivors' requests for release, prepared with help from law students volunteering on spring break, detail a variety of circumstances that led them to board the airplanes.
One man who was in a taxi when the earthquake hit was later placed on a military plane to Miami by a doctor from Texas who had treated him for severe back and leg injuries. He left the plane in a wheelchair.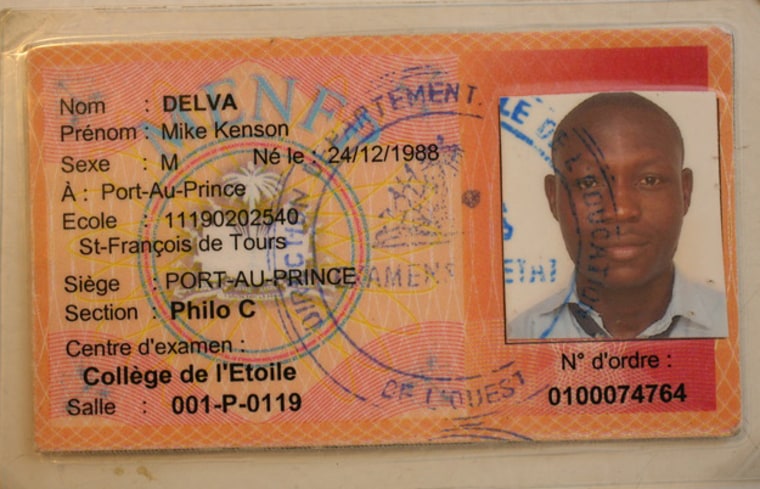 Mike Kenson Delva, 21, asked a Marine for a job and was assigned to help board a young boy whose leg had been amputated, along with the boy's wheelchair-bound mother. Suddenly, the plane took off.
"That's my little nephew, my brother's son," said his uncle, Reymond Joseph, 46, an American citizen and a supervisor with the New Jersey Department of Motor Vehicles, who is ready to take care of him.
'She wants to see her child'
Another jailed survivor is Lunva Charles, 25, who hopes to be reunited with her 3-year-old son and his father, Paul Herver Sanon, legal permanent residents living with his parents in Irvington, N.J.
"I want to marry her, she wants to marry me," Mr. Sanon, who works in a nursing home, said in French on Tuesday. "She's sad, she's so sad, she wants to see her child."
The youngest detainee, Eventz Jean-Baptiste, 18, has no parents. "He is now responsible for his two younger brothers, who are homeless and living in a tent city in Port-au-Prince," Charu Newhouse al-Sahli, the statewide director of the advocacy center, wrote in urging his release to his aunt and uncle in Coral Springs, Fla.
Mr. Jean-Baptiste describes putting his little brother and a cousin's baby on top of a collapsed concrete wall during the quake, as they all prayed and cried. Afterward, "we had nothing to eat or drink," he said. "I thought if I stayed in Haiti any longer I would not survive, and my family would not survive, so I decided to try to board a plane." No one asked him for papers until he reached Orlando, he said.
This story, "Rushed From Haiti, Then Jailed for Lacking Visas," first appeared in The New York Times.