/ Source: msnbc.com news services
Roads were torn up, buildings cracked and electricity posts toppled on Monday after a 7.2-magnitude earthquake shook cities in northern Mexico and Southern California, but few casualties were reported.
Mexican civil protection officials said at least one person died in a collapsed house in Mexicali, Mexico, a border city near the epicenter of Sunday's quake, and about 100 more were injured.
Another person was killed in a car accident on a darkened street in Mexicali, which was almost entirely without power.
The quake struck at 3:40 p.m. PT (6:40 p.m. ET), about 20 miles southeast of Mexicali, according to the U.S. Geological Survey. Three aftershocks of magnitudes 5.1, 4.5 and 4.3 followed within the hour.
"It sounds like it's felt by at least 20 million people at this point," USGS seismologist Lucy Jones said. "Most of Southern California felt this earthquake."
Some buildings in Mexicali appeared to have structural damage and many had cracked floors, walls and broken windows, though no major buildings collapsed.
'Felt like I was in a canoe'Residents gathered in the streets of the hard-hit U.S. town of Calexico, trading news of local damage that was extensive enough for police to close off the downtown.
Businesses in Calexico were guarded by police Sunday night after the quake damaged pre-war buildings not updated to handle strong quakes, Calexico police Lt. Gonzalo Gerardo said.

"Downtown is going to remain closed until further notice," he said.

Bricks had fallen from the one-story buildings and some windows were shattered.

"It felt like I was in a canoe in the middle of the ocean," Rosendo Garcia, 44, said of the temblor.

Garcia said that five homes at his trailer park were seriously damaged.
A liquefied natural gas import terminal operated by Sempra Energy south of Tijuana was not damaged by the quake, a company spokeswoman said.
However, a major highway connecting Mexicali with Tijuana on the Pacific coast was badly damaged by a crack that opened up that was at least three feet deep, according to a Reuters witness.
Huge traffic jams
Vacationers returning from their Easter holidays found themselves snarled in huge traffic jams with many motorists reporting difficulty finding fuel.
"Thank God nothing happened to us. Now we just have to wait until the police let us fuel up," said Maria Lopez, who said she had been waiting four hours for gasoline to allow her to return to Tijuana.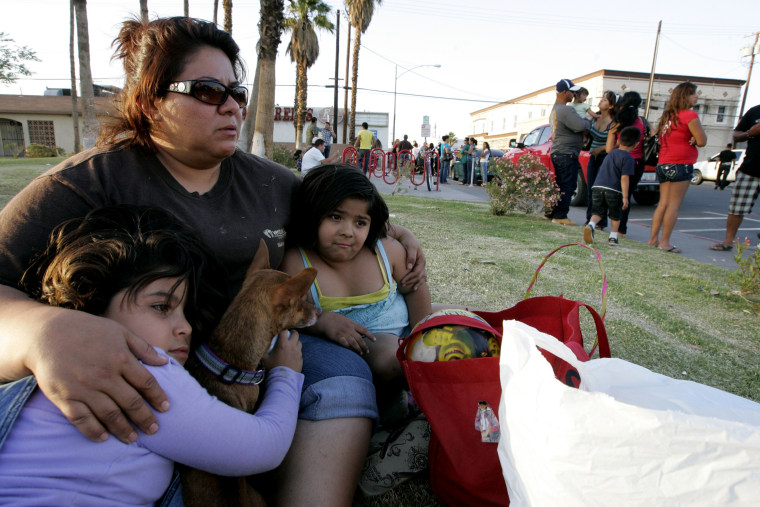 Susan Warmbier was putting away her groceries in the San Diego suburb of Chula Vista when her husband asked, "Is the house moving?"
"We turned and we looked at the house, and it was actually moving. You could see it slightly moving left to right," she said.
A heavy chandelier in the couple's dining room "was just swaying like someone had just jumped from it," she said. There was no sound from the quake itself, but she added, "All of the dogs in the neighborhood were just barking crazy."
In nearby Tijuana, Mexico, the quake caused buildings to sway and knocked out power in some areas. Families celebrating Easter ran out of their homes, with children screaming and crying.
"I grabbed my children and said, 'Let's go outside, hurry, hurry!'" said Elizabeth Alvarez, 54, who said she was just getting ready to leave her house with her kids in an eastern Tijuana neighborhood when the quake hit.
No tsunami warning was issued, but hundreds of people on Tijuana's crowded beach feared the worst and fled when they felt the ground shake, said Capt. Juan Manuel Hernandez, the city fire department's chief of aquatic rescue. The beach filled up again within an hour.
The quake was centered in an area has been seismically active lately but until Sunday the earthquakes had been largely of around magnitude-3.0.
The main quake was initially reported as magnitude-6.9. The updated magnitude was still an estimate, but if it holds it would be California's largest temblor since the 7.3-magnitude Landers quake hit in 1992, Jones said. There were at least two other 7.2-magnitude quakes in the last 20 years.
The last to cause major damage was the 6.7 magnitude Northridge quake in 1994 that left 57 dead, injured 9,000 and caused about $40 billion in property damage.
Sunday's main quake was felt hundreds of miles away in Phoenix, where residents rarely feel the earth shake.
Jacqueline Land said her king-sized bed in her second-floor Phoenix-area apartment felt like a boat gently swaying on the ocean.
"I thought to myself, 'That can't be an earthquake. I'm in Arizona,'" the Northern California native said.
'Cracking sounds, like Rice Krispies'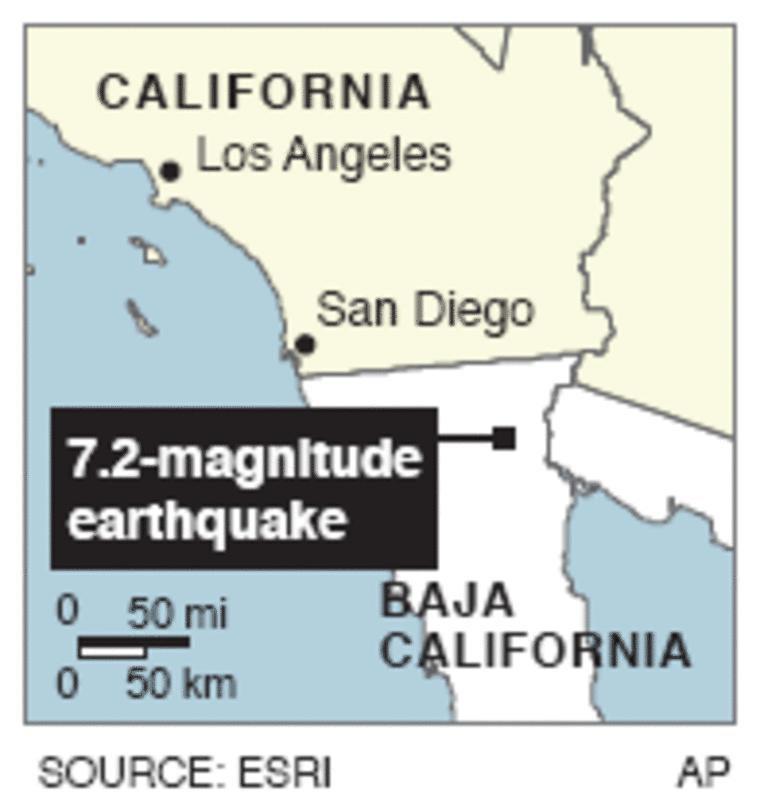 Mike Wong, who works at a journalism school in downtown Phoenix, said he was in his second-floor office when he heard "cracking sounds, like Rice Krispies," and felt the building sway. He said the swaying lasted for "just a few seconds," and he didn't notice any damage.
The quake was felt in the fire and medical dispatch center in downtown Las Vegas, but there were no reports of damage or injuries, according to Tim Szymanski, a spokesman for Las Vegas Fire and Rescue.
Strong shaking was reported across much of Southern California. The earthquake rattled buildings on the west side of Los Angeles and in the San Fernando Valley, interrupting Easter dinners. Some stalled elevators were reported, water sloshed out of swimming pools and wine jiggled in glasses.
In San Diego, there were reports of shattered windows, broken pipes and water main breaks in private buildings, but no reports of injuries, San Diego Fire-Rescue Department spokesman Maurice Luque said. Coronado Bridge over San Diego Bay was briefly closed by the California Highway Patrol as a precaution.
Power outages were rare, and mostly brief. Most of the 3,000 customers who lost power in southwestern Arizona, and the more than 5,000 who went dark in Southern California, regained power within minutes, utility officials said.
Clint Norred, a spokesman for the Yuma, Ariz., Police Department, said the quake was very strong there but he'd heard no reports of injuries or major damage. "In my house, it knocked a couple of things off the wall," he said.