/ Source: msnbc.com staff and news service reports
Kyrgyzstan's self-proclaimed new leaders said on Thursday that Russia had helped to oust President Kurmanbek Bakiyev, but they appeared to differ on how to deal with a U.S. air base that has irritated Moscow.

The comments set the power struggle — which started Wednesday when Bakiyev fled the capital as crowds stormed government buildings — firmly in the context of superpower rivalry in central Asia.
The opposition leaders declared they would hold power in Kyrgyzstan for six months and then hold elections, but Bakiyev has refused to relinquish office after the revolt, which left at least 75 people dead and hundreds wounded. Gunfire broke out after nightfall in the capital, Bishkek.
With darkness descending, roving bands of armed marauders trawled the streets of the capital, despite warnings from the opposition leadership that looters would be shot.
Roza Otunbayeva, a former foreign minister now heading the interim government, said there were no plans yet to review the lease agreement for the Manas air base, which runs out in July. She said her government would meet U.S. diplomats for talks in Bishkek.
"Give us time, it will take time for us to understand and fix the situation," Otunbayeva said.
But no sooner had presidents Barack Obama and Dmitry Medvedev signed an arms reduction pact in Prague as part of an effort to "reset" strained relations than a senior official in Medvedev's delegation urged Kyrgyzstan's new rulers to shut the base.

The official, who declined to be named, noted that Bakiyev had not fulfilled a promise to shut the Manas airbase, which the United States uses to supply NATO troops in Afghanistan. He said there should be only one base in Kyrgyzstan — a Russian one.
Kyrgyzstan is the only nation where both Cold War foes have bases.

Omurbek Tekebayev, a former Kyrgyz opposition leader who took charge of constitutional matters in the new government, said that "Russia played its role in ousting Bakiyev."

"You've seen the level of Russia's joy when they saw Bakiyev gone," he told Reuters. "So now there is a high probability that the duration of the U.S. air base's presence in Kyrgyzstan will be shortened."
Putin recognizes opposition
Russian Prime Minister Vladimir Putin denied that Moscow had played a part in the turmoil in the former Soviet republic, which Russia openly regards as part of its own back yard.

But he was the first foreign leader to recognize Otunbayeva as leader of Kyrgyzstan, and rang her soon after she said she was in charge.


Anti-government rioting rocks the Central Asian nation, leaving dozens dead.
The United States said it had not yet decided whether to recognize Otunbayeva's government, and did not say who it believed was in control.

Russia's top general said 150 paratroopers had been sent to Russia's own Kant base in Kyrgyzstan, and Medvedev's office said they would protect Russian citizens at its embassy and other diplomatic facilities.

Otunbayeva, who once served as Bakiyev's foreign minister, said the interim government controlled the whole country except for Bakiyev's power base of Osh and Jalalabad in the south, and had the backing of the armed forces and border guards.

She said the situation in Kyrgyzstan's economy was "fairly alarming" and it would need foreign aid. She said Putin had asked how Russia could help.

Putin did not promise a specific sum, she said. "But the fact that he called, spoke nicely, went into detail, asked about details — generally, I was moved by that. It is a signal."

Otunbayeva said Bakiyev was holed up in Jalalabad. "What we did yesterday was our answer to the repression and tyranny against the people by the Bakiyev regime," she told reporters.

Kyrgyzstan, a country of 5.3 million people, has few natural resources but has made the most of its position at the intersection of Russian, U.S. and Chinese spheres of influence.
U.S. lost Uzbekistan base
Washington has used Manas to supply U.S.-led NATO forces fighting Taliban insurgents in Afghanistan since losing similar facilities in Uzbekistan, apparently after pressure from Moscow.

Bakiyev announced the Manas base would close during a visit to Moscow last year at which he secured $2 billion in crisis aid, only to agree later to keep it open at a higher rent.

The U.S. charge d'affaires in Bishkek met Otunbayeva, while in Washington a top U.S. diplomat received Bakiyev's foreign minister, Kadyrbek Sarbayev.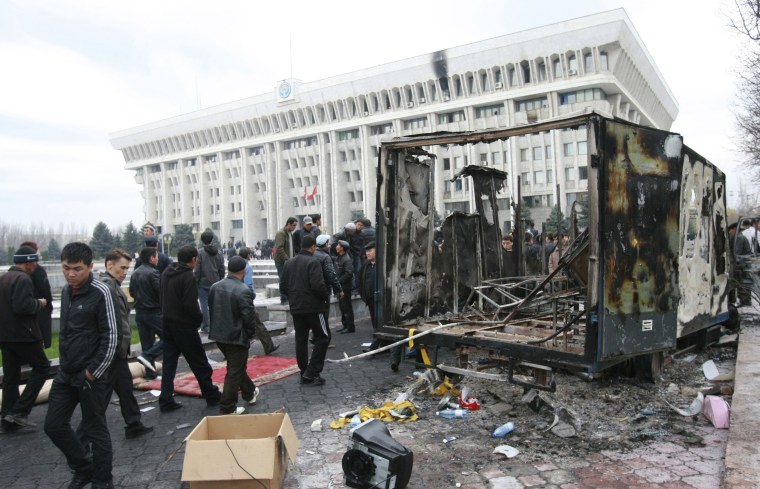 "Our message to both is the same," State Department spokesman P.J. Crowley told a news briefing. "We will continue to urge them to resolve this in a peaceful way."

Michael McFaul, a senior White House adviser on Russia told reporters in Prague that "this is not some anti-American coup. That we know for sure, and this is not a sponsored-by-the-Russians coup."

He said Medvedev and Obama had not discussed the base. A U.S. official said they had considered making a joint statement on Kyrgyzstan, but none was issued.

The Pentagon said limited operations were continuing at Manas, and support to Afghanistan had not been seriously harmed.
Pentagon officials say Manas has been central to the war effort, allowing around-the-clock combat airlifts and airdrops, medical evacuation and aerial refueling, and that alternative solutions would be less efficient and more expensive.
U.S. military officials said Kyrgyzstan halted flights for 12 hours Wednesday, confining troops to the air base; they did not say if flights had resumed. Some 1,100 troops are stationed there, including contingents from Spain and France.
'I just don't want to believe it'
Bakiyev, himself brought to power by a "people power" revolution in 2005, told Reuters by telephone that he had no plans to step down, but offered to talk to the opposition leaders who have claimed control of Kyrgyzstan.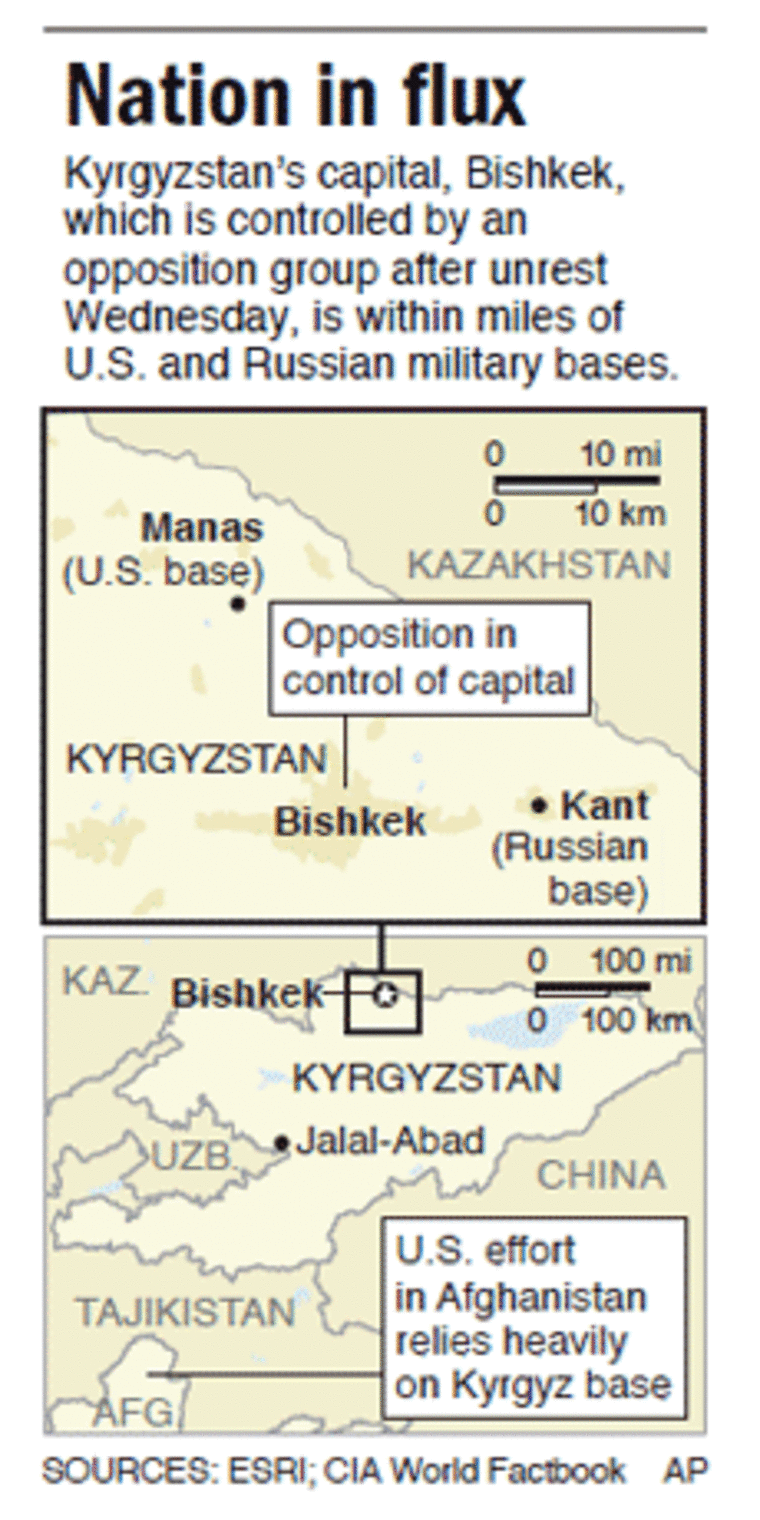 "I can't say that Russia is behind this," he said. "I don't want to say that — I just don't want to believe it."

Speaking to Russia's Ekho Moskvy radio, he acknowledged that he had little control over events in the capital.

With rioters roaming the streets and widespread looting after a day in which dozens were killed in clashes between protesters and police, the self-proclaimed new interior minister ordered security forces to fire on looters.

Bishkek awoke to blazing cars and burned-out shops on Thursday after a day in which at least 75 people were killed.

Smoke billowed from the seven-story White House, the main seat of government, as crowds rampaged through it. Looting was widespread and shots could still be heard on Thursday night.

The uprising was sparked by discontent over corruption, nepotism and rising utility prices. A third of the population live below the poverty line. Remittances from the 800,000 Kyrgyz working in Russia make up about 40 percent of Kyrgyzstan's GDP.
Bakiyev, who fled the northern capital for his stronghold in the south, told a Russian radio station that "I don't admit defeat in any way." But he also said he recognized that "even though I am president, I don't have any real levers of power."
"What has taken place is a veritable orgy carried out by armed groups and I do not believe this is a defeat for me," Bakiyev said.
He spoke from southern Jalal-Abad region, where Bakiyev's popularity is said to remain high — raising concerns he might try to secure his survival by exploiting the split between the more urban north and rural south.
It was unclear if Bakiyev has any armed forces under his command. However, Koshbai Masirov, a government loyalist and former governor of Jalal-Abad, said Bakiyev had addressed people in the region and he expected him to retain their support.
Meanwhile, the newly appointed interim defense minister, Ismail Isakov, said the armed forces had joined the opposition and would not be used against protesters.
"Special forces and the military were used against civilians in Bishkek, Talas and other places," Isakov said. "This will not happen in the future."
Since coming to power in 2005 amid street protests known as the Tulip Revolution, Bakiyev had ensured a measure of stability. But the opposition said it came at the expense of democratic standards and accused Bakiyev of enriching himself and his family.
White House looted
Piles of ash and smoldering debris filled the street Thursday outside the White House, where marauders set fire to ransacked goods and trash overnight.
Jubilant young men stood atop gutted vehicles outside the building. Nearby, youths piled onto an armored personnel carrier, victoriously holding their arms aloft.
Fading bloodstains were still visible outside the White House, where dozens were killed by armed troops a day earlier. Young boys scurried in and out of the building, carrying away looted carpets.
As afternoon approached, the crowds swelled. But a somber mood hung in the air as one-minute tributes for those killed in the violence punctuated speeches by politicians and opposition supporters.
As night fell, gunshots rang out around Bishkek, where rumors spread of an attempt by armed Bakiyev loyalists to sow panic. The city of 1 million was plunged into darkness, with hotels and homeowners afraid to turn on their lights for fear of attracting attention.
Throughout the day, many expressed a sense of uneasy wariness about the future.
"We have kicked out Bakiyev, the people have taken power into their own hands, but we have no plans for the future," said Abdykerim Sadykov, a 42-year-old teacher in the crowd outside the White House. "We will wait until the opposition hatches a plan."
On Thursday, details emerged of the composition of the interim Cabinet, which has been drawn from a broad spectrum of opposition leaders, whose differences in the past have undermined attempts to weaken Bakiyev.
One area of consensus was on the decision to repeal sharp increases in heating and electricity bills that provoked widespread anger and helped precipitate this week's violence.
Otunbayeva's announcement at a packed briefing that cheap utilities would be restored and the recent privatization of a power company annulled elicited cheers and clapping from supporters crowding the hall.
But beyond the issue of utilities, the new team of ministers may have trouble forging a united platform.
Azimbek Beknazarov, a populist taking over a broad justice portfolio, vowed that the incoming authorities would hunt down those responsible for Wednesday's deaths.
"We are looking for those people that gave the order to open fire on demonstrators," he said. "We must find these criminals, we will not allow anybody to open fire on their own people."