/ Source: The Associated Press
The pillars of Americans' financial security — jobs and home values — will stay shaky well into 2011, according to an Associated Press survey of leading economists.
The findings of the new AP Economy Survey, released Monday, point to an economic recovery that will move slowly and fitfully this year and next. As a result, the Federal Reserve will be forced to keep interest rates near zero until at least the final quarter of this year, three-fourths of the economists said.
The new AP survey, which will be conducted quarterly, compiles forecasts of leading private, corporate and academic economists on a range of indicators, including employment, home prices and inflation. Among the first survey's key findings:
The unemployment rate will stay stubbornly high the next two years. It will inch down to 9.3 percent by the end of this year and to 8.4 percent by the end of 2011. The rate has been 9.7 percent since January.
Home prices will remain almost flat for the next two years, even after plunging an average 30 percent nationally since their peak in 2006. The economists forecast no rise this year and a 2.3 percent gain next year.
The economy will grow 3 percent this year, which is less than usual during the early phase of a recovery and the reason unemployment will stay high. It takes growth of 5 percent for a year to lower the jobless rate by 1 percentage point, economists say.
The economy began growing again last summer, 18 months after the recession started in December 2007. To keep the recovery on track, the soonest the Federal Reserve will begin raising short-term interest rates is the fourth quarter, 34 of the 44 economists surveyed told the AP.
Those continued low rates will help stimulate home sales.
More foreclosures expected
Economists think sales of previously occupied homes, the biggest chunk of the market, will tick up to 5.4 million this year and to 5.9 million in 2011. That would mark continued improvement from the low of 4.9 million in 2008 and be in line with sales in a healthy economy.
But there's a catch. Sales are forecast to rise in part because of another anticipated wave of foreclosures. That will keep prices from rising — and consumers from spending freely.
Still, a glut of homes already for sale and another anticipated wave of foreclosures will keep prices from rising — and consumers from spending freely. Surging home equity spurred spending during the housing boom of the last decade.
"Our houses are no longer cash machines," says Allen Sinai, chief economist at Decision Economics, who took part in the AP survey.
By keeping interest rates at record lows, the Fed intends to encourage people and companies to spend more and invigorate the recovery. But anxiety over unemployment, and a reluctance or inability to borrow, will also restrain consumer spending, economists say.
"We're not going to see any irrational exuberance from consumers this year," says Joel Naroff, president of Naroff Economic Advisors, another survey participant.
Like many Americans, Michaela O'Brien of Northampton, Mass., is trying to cope with personal damage from the worst recession since the 1930s. O'Brien's husband, Nathaniel Reade, 51, lost his job two years ago as a magazine editor. Since then, they've seen the value of their home slip. So they're spending less.
Gone are the health club memberships, ski passes and camp for their two children. "We mostly cut back on what people would consider frivolous things," O'Brien says.
She gets around in a 2000 Toyota Corolla, her husband in a 13-year old Subaru.
"We hope we don't have to buy a car anytime soon," says O'Brien, 49, a self-employed publicist. Still, she says they are fortunate because they're able to pay their mortgage.
Scarred labor market
Economists say it may take until at least the middle of the decade for home values to return to full health. The biggest asset for many Americans, homes have appreciated an average 4 percent a year since World War II, economists say.
But national house prices have never remained flat while the economy was growing, says Mark Zandi, chief economist of Moody's Analytics, which reviewed data going back to 1969. Adjusted for inflation, however, home prices were essentially flat throughout the 1980s and the first half of the 1990s, says Zandi, who also took part in the survey.
The recession wiped out 8.2 million jobs. Zandi and other economists had previously forecast that unemployment, which reached 10.1 percent in October, would peak at 11 percent this year. Zandi now expects joblessness to climb again and reach 10.2 percent by December. That's because people who have quit looking for work and aren't counted as unemployed will start looking again, and because job creation will remain weak.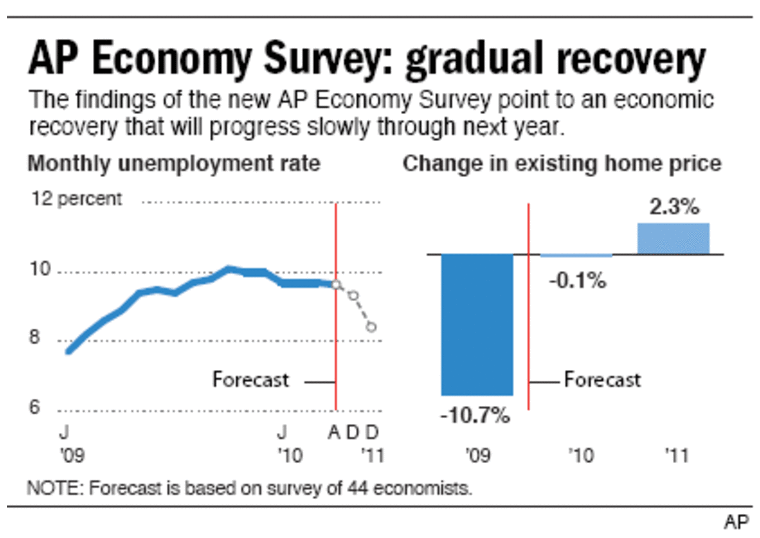 Employers have begun to add jobs recently, including 162,000 in March. Economists foresee additional job creation over the next three months, but not enough to reduce the unemployment rate significantly. They predict job gains of roughly 200,000 in April, 250,000 in May and 125,000 in June.
About 125,000 new jobs are needed each month just to keep up with population growth and prevent the unemployment rate from rising. To reduce the jobless rate significantly, employers would need to consistently add 200,000 to 300,000 each month.
"The labor market is the scar left over from the economic trauma that we've been through," says Sean Snaith, economics professor at the University of Central Florida, who took part in the survey. "It will be slow to fade."
Forty-year-old Ann DeRoo of Fairfield, Ohio, began digging into savings to pay home and car loans after her husband was laid off from a trucking job earlier this year. DeRoo, who has three children, has also put off buying new clothes or shoes. Her son, who graduates from college in June, may have to move back home if he can't find a job.
"We just have to really watch what we're doing and worry about getting through today," DeRoo says.