/ Source: The Associated Press
Even death cannot stop the violence against gays in this corner of the world any more.
Madieye Diallo's body had only been in the ground for a few hours when the mob descended on the weedy cemetery with shovels. They yanked out the corpse, spit on its torso, dragged it away and dumped it in front of the home of his elderly parents.
The scene of May 2, 2009 was filmed on a cell phone and the video sold at the market. It passed from phone to phone, sowing panic among gay men who say they now feel like hunted animals.
"I locked myself inside my room and didn't come out for days," says a 31-year-old gay friend of Diallo's who is ill with HIV. "I'm afraid of what will happen to me after I die. Will my parents be able to bury me?"
A wave of intense homophobia is washing across Africa, where homosexuality is already illegal in at least 37 countries.
In the last year alone, gay men have been arrested in Kenya, Malawi, Sierra Leone and Nigeria. In Uganda, lawmakers are considering a bill that would sentence homosexuals to life in prison and include capital punishment for 'repeat offenders.' And in South Africa, the only country that recognizes gay rights, gangs have carried out so-called "corrective" rapes on lesbians.
"Across many parts of Africa, we've seen a rise in homophobic violence," says London-based gay-rights activist Peter Tatchell, whose organization tracks abuse against gays and lesbians in Africa. "It's been steadily building for the last 10 years but has got markedly worse in the last year."
Desecration of bodies
To the long list of abuse meted out to suspected homosexuals in Africa, Senegal has added a new form of degradation — the desecration of their bodies.
In the past two years, at least four men suspected of being gay have been exhumed by angry mobs in cemeteries in Senegal. The violence is especially shocking because Senegal, unlike other countries in the region, is considered a model of tolerance.
"It's jarring to see this happen in Senegal," says Ryan Thoreson, a fellow at the International Gay and Lesbian Human Rights Commission who has been researching the rise of homophobia here. "When something like this happens in an established democracy, it's alarming."
Even though homosexuality is illegal in Senegal, colonial documents indicate the country has long had a clandestine gay community. In many towns, they were tacitly accepted, says Cheikh Ibrahima Niang, a professor of social anthropology at Senegal's largest university. In fact, the visibility of gays in Senegal may have helped to prompt the backlash against them.
Wedding sparks a backlash
The backlash dates back to at least February 2008, when a Senegalese tabloid published photographs of a clandestine gay wedding in a suburb of Dakar, the capital. The wedding was held inside a rented banquet hall and was attended by dozens of gay men, some of whom snapped pictures that included the gay couple exchanging rings and sharing slices of cake.
The day after the tabloid published the photographs, police began rounding up men suspected of being homosexual. Some were beaten in captivity and forced to turn over the names of other gay men, according to research by the International Gay and Lesbian Human Rights Commission.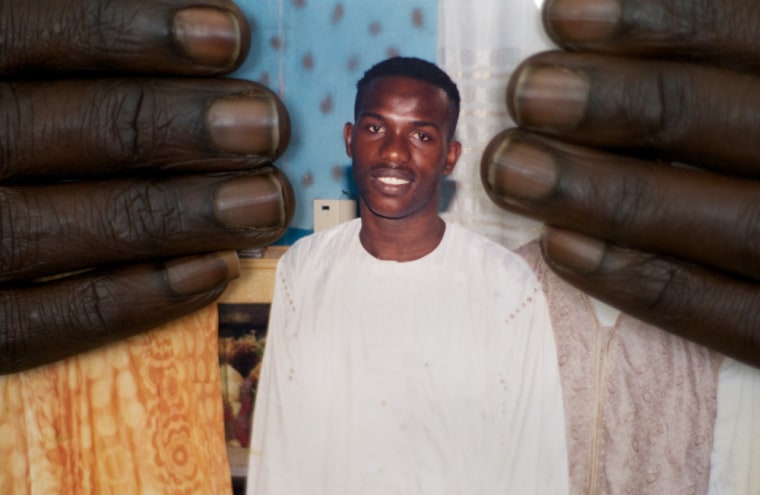 Gays immediately went into hiding and those who could fled to neighboring countries, including Gambia to the south, according to the New York-based commission. Gambia's erratic president declared that gays who had entered his country had 24 hours to leave or face decapitation. Many returned to Senegal, where they lived on the run, moving from safehouse to safehouse.
In March 2008, Senegal hosted an international summit of Muslim nations, which prompted a nationwide crackdown on behaviors deemed un-Islamic, including homosexuality.
The crackdown also coincided with spiraling food prices. Niang says political and religious leaders saw an easy way to reach constituents through the inflammatory topic of homosexuality.
"They found a way to explain the difficulties people are facing as a deviation from religious life," says Niang. "So if people are poor — it's because there are prostitutes in the street. If they don't have enough to eat, it's because there are homosexuals."
Muslum sermons
Imams began using Friday sermons to preach against homosexuality.
"During the time of the Prophet, anytime two men were found together, they were taken to the top of a mountain and thrown off," says Massamba Diop, the imam of a mosque in Pikine and the head of Jamra, an Islamic lobby linked to a political party in Senegal's parliament.
"If they didn't die when they hit the ground, then rocks would be thrown on them until they were killed," says Diop, whose mosque is so packed during Friday prayer that people bring their own carpets and line up outside on the asphalt.
Sermons like Diop's were carried on the mosque's loudspeakers as well as in Senegal's more than 30 newspapers and magazines.
Around this time, in May 2008, a middle-aged man called Serigne Mbaye fell ill and died in a suburb of Dakar.
His children tried to bury him in his village but were turned back from the cemetery because of widespread rumors that he was gay. His sons drove his body around trying to find a cemetery that would accept him. They were finally forced to bury him on the side of a road, using their own hands to dig a hole, according to media reports.
The grave was too shallow and the wind blew away the dirt. When the decomposing body was later discovered, Mbaye's children were arrested and charged with improperly burying their father.
In the town of Kaolack three months later, residents exhumed the grave of another man believed to be gay. In November 2008, residents in Pikine removed a corpse from a mosque of another suspected homosexual and left it on the side of the road.
The grave-robbing has shocked even hardened gay activists, such as Nigerian Davis Mac-Iyalla.
"People have done horrible things (in Nigeria). I have seen people spit on coffins and people spit on graves," he said. "But it stopped there."
Diallo's death
Among the people who appeared in the photograph published from the gay wedding was a young man in his 30s from Thies. He was an activist and a leader of a gay organization called And Ligay, meaning "Working together," which he ran out of his parents' house.
He was HIV-positive and on medication.
When the tabloid published the photograph, Diallo went into hiding, according to a close friend who asked not to be named because he too is gay. Unable to go to the doctor, Diallo stopped taking his anti-retrovirals. By the spring of 2009, he was so ill that his family checked him into St. Jean de Dieu, a Catholic hospital in downtown Thies, says the friend.
He was in a coma when he died at 5:50 a.m. on May 2, 2009, according to the hospital's records. Although the hospital has a unit dedicated to treating HIV patients, the young man's family never disclosed his illness, according to the doctor in charge.
Several gay friends tried to see Diallo in the hospital but were told to stay away by his family, says the friend.
When the AP tried to speak to Diallo's elderly father at his shop on the main thoroughfare in Thies, his other children demanded the reporter leave. One sister covered her face and sobbed. Another said, "There are no homosexuals here."
Hours after he died, his family took Diallo's body to a nearby mosque, where custom holds the corpse should be bathed and wrapped in a white cloth. Before the family could bathe him, news reached the mosque that Diallo was gay and they were chased out, says the dead man's friend. His relatives hastily wrapped him in a sheet and headed to the cemetery, where they carried him past the home of Babacar Sene.
"A man that's known as being a homosexual can't be buried in a cemetery. His body needs to be thrown away like trash," says Sene. "His parents knew that he was gay and they did nothing about it. So when he died we wanted to make sure he was punished."
Video of desecration
The video footage captured on a cell phone shows what happened next. His thin body was placed inside a narrow trough in the middle of the bald cemetery dotted with clumps of weeds. Then you hear shouting.
The shaky image shows a group of men jerking around the edges of the grave. One of them straddles the pit and shovels away the fine gray dirt until you can see the shrouded body. It's still inside the trough when they tie a rope around its feet.
They yank it out, cheering as the body bends over the lip of the grave. The shroud catches on the ground and tears off, revealing the dead man's torso.
Rassul Djitte, 48, watched from behind the wall of a nearby school. He had not known Diallo personally, but says he felt a stab. "People were rejoicing," he says. "They dragged him past me and his body left tracks in the sand. Like a car passing through snow."