Ronald Wilson Reagan, the most successful conservative American politician of modern times, died Saturday at his California home at age 93.
Derided by his adversaries as glib, doctrinaire and uninformed — a mere actor, they scoffed — Reagan demonstrated throughout his political career the power that comes from being underestimated.
He won power by defeating overconfident Democratic incumbents — Gov. Pat Brown in California in 1966 and President Jimmy Carter in the 1980 presidential election.
"It was said of Dwight Eisenhower (and could have been said of Ronald Reagan) that his smile was his philosophy," wrote columnist George Will. And many Americans found Reagan's smiling optimism appealing.
Federal spending little changed
But Reagan never was able to bring about the conservative revolution that his disciples had hoped for.
When he became president in 1981, federal spending accounted for 22 percent of the Gross Domestic Product; when he left office eight years later, federal spending was 21 percent of the GDP.
"Ultimately, the fact that Ronald Reagan left office as the most popular president in modern history means that he settled for less change than either he or his supporters wanted or could have gotten," Wall Street Journal editorialist John Fund wrote in 1989.
Another conservative, Ralph Reed, former executive director of the Christian Coalition, viewed the Reagan presidency with chagrin: "His eight years in office did little to transform a political culture that had become insensitive to religious values and uncaring about innocent human life."
Reed said conservatives "woke up the morning after Reagan's two terms to discover that many maladies still afflicted our nation and many pathologies had grown worse."
Out of the wilderness
Reed did give Reagan credit for helping to lead conservatives "out of the wilderness," calling him "the midwife of a new political movement."
Reagan was limited in what he could accomplish by a Democratic-controlled Congress. But the ideas that he championed — lower taxes, giving more power to state and local governments and an end to welfare entitlements for single mothers — did reach fruition in the Clinton presidency after the Republicans took control of Congress in 1995.
One could argue that one of the high points of Reaganism came long after he left the presidency, on Aug. 22, 1996, when President Bill Clinton signed the welfare reform bill into law.
Son of a shoe salesman
Ronald Reagan was born on Feb. 6, 1911, in Tampico Ill., the son of an itinerant shoe salesman named Jack Reagan and his wife, Nelle.
Jack Reagan was a Democrat, an alcoholic and something of a ne'er-do-well. Ronald Reagan recounted in his autobiography in 1965 that as a boy he came home one day to find his father "drunk, dead to the world," flat on his back on the front porch.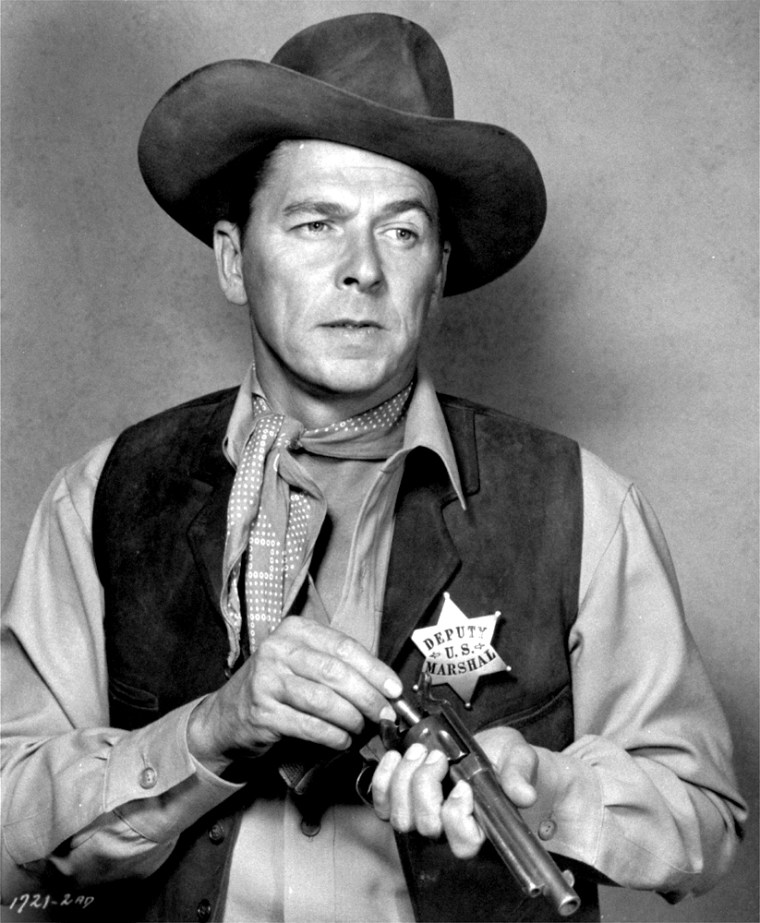 Jack Reagan ended up working for the presidential campaign of Franklin D. Roosevelt and later got a job with the Works Progress Administration, one of FDR's job-creation efforts.
Roosevelt became a hero to young Reagan, his fireside chats making an imprint on Reagan's own radio style.
After graduating from Eureka College, a small Illinois liberal arts college, in 1932, Reagan landed a job broadcasting University of Iowa football games over WOC, a radio station in Davenport, Iowa.
Later, Reagan broadcast Chicago Cubs games over WHO in Des Moines. In 1937, when he covered the Cubs spring training in California, Reagan was discovered by a Warner Bros. agent and began his film career.
Often cast as the foil to leading men like Errol Flynn, Reagan was best known for the 1940 film "Knute Rockne, All American," in which he played Notre Dame football star George Gipp.
In another drama, "Kings Row," Reagan played Drake McHugh, who awakes from anesthesia to find his legs amputated by a sadistic surgeon and says, "Where's the rest of me?"
"No single line in my career has been so effective in explaining to me what an actor's life must be," Reagan wrote in his autobiography. He prepared meticulously for the scene, consulting disabled people and psychiatrists.
"At night I would wake up staring at the ceiling and automatically mutter the line before I went back to sleep," he recalled.
Democrat turned Republican
After making Army Air Force training films during World War II, Reagan shifted from actor to corporate spokesman — and from Democrat to Republican — by hosting the TV series "General Electric Theater" in the 1950s. He toured the country for GE, giving boosterish free-enterprise speeches with such titles as "Our Eroding Freedoms."
In 1964, Reagan's nationally televised speech on behalf of Republican presidential candidate Barry Goldwater made him the darling of Republican activists. The speech was a Reaganesque recasting of FDR rhetoric:
"You and I have a rendezvous with destiny," Reagan said. "We can preserve for our children this, the last best hope of man on Earth, or we can sentence them to take the first step into a thousand years of darkness."
Two years later, Reagan defeated California Gov. Pat Brown by nearly a million votes.
The California Legislature sent Reagan a measure in 1967 that legalized abortion in cases of rape and incest and when a doctor found that a pregnancy would endanger the life or health of the woman. Reagan agonized over the measure, fearing that doctors would exploit a mental heath loophole to approve many abortions. But in the end he signed it.
Despite Reagan's aversion to taxes, the corporate tax rate doubled during his tenure as California governor, and the top personal income rate jumped by nearly 60 percent.
Challenged Ford in 1976
In 1976, Reagan nearly succeeding in wresting the Republican nomination from President Gerald Ford.
Four years later, with Jimmy Carter hobbled by the Iranian hostage crisis and soaring inflation, Reagan won the presidency, carrying 44 states.
The Iranians who had seized the U.S. Embassy in Tehran later said they released the  hostages only because they feared that Reagan might deal with them "like a cowboy."
But Reagan's presidency, which began with the exhilarating news of the hostages' release, almost ended within a few months.
On March 30, 1981, as he left a Washington hotel after giving a speech, he was shot by a deranged would-be assassin, John Hinckley Jr.
Reagan's penchant for quips didn't fail him. As he emerged from surgery, he looked up at his wife, Nancy, and repeated the line that boxer Jack Dempsey had used in 1926 when he lost the heavyweight title to Gene Tunney: "Honey, I forgot to duck."
Reagan survived the assassination attempt, but he faced a series of crises during the next three years.
Weathered 1982 recession
By the end of 1982, the nation was sunk in the deepest recession since the 1930s, with nearly 12 million people out of work.
To stimulate the economy, Reagan had championed Jack Kemp's across-the-board income tax cuts in 1981, but he blunted their effect when he acceded to a $100 billion tax increase only a year later.
Sen. Bob Dole, R-Kan., convinced Reagan that Congress would make $3 in spending cuts for every $1 of tax increases. Reagan signed the tax increase — but Congress never made the spending cuts.
Meanwhile, Reagan stood back as Federal Reserve Chairman Paul Volcker, a Carter appointee, was squeezing inflation out of the economy by restricting the money supply.
Volcker later commended him, saying "People in the White House and Treasury put pressure on Reagan, but they could never get Reagan to criticize me." The president, Volcker said, "had this visceral feeling that fighting inflation was a good thing."
The economy had recovered by the time the 1984 election arrived, and ad man Hal Riney's soothing "Morning in America" TV ad campaign helped Reagan crush Democrat Walter Mondale in a landslide re-election victory.
In foreign policy, Reagan's rhetoric was initially combative: In 1983 he called Soviet communism "the focus of evil in the modern world."
But Reagan eventually held four summits with Soviet leader Mikhail Gorbachev. At Reykjavik, Iceland, in 1986, Reagan and Gorbachev were on the brink of a deal to abolish all nuclear weapons, but Reagan scuttled it when Gorbachev insisted that the United States abandon its research and development of a missile defense system.
The following year, the two men signed the most far-reaching disarmament accord since 1945, eliminating their arsenals of medium-range missiles and scrapping 2,600 warheads.
Bitburg, S&L mishaps
During his eight years in the White House, Reagan made some costly miscalculations:
In 1982, he signed into law the Garn-St. Germain Act, which deregulated the savings and loan industry and ended up costing taxpayers tens of billions of dollars as S&L owners plunged into speculative investments. Economist Paul Krugman called it the "biggest single economic policy disaster of the 1980s."
Reagan drew criticism from Nobel laureate Elie Wiesel and others in 1985 when he attended a wreath-laying ceremony at the Bitburg cemetery in West Germany, gravesite of 2,000 German soldiers, including 49 Nazi members of Hitler's SS.
According to a panel of investigators headed by Sen. John Tower, R-Texas, Reagan allowed Marine Lt. Col. Oliver North and others to operate an extra-constitutional shadow government that diverted Iranian arms sales profits to Nicaraguan rebels.
In the last two years of his presidency Reagan was hobbled both by the Iran-Contra fiasco and by the Republicans' loss of the Senate in the 1986 elections, before Iran-Contra was revealed.
This in turn led to the Senate's rejection of the nomination of Judge Robert Bork to the Supreme Court in 1987, which was Reagan's most stinging ideological defeat — and the one with perhaps the most lasting consequences.
But to many conservatives Reagan was — and remains — a heroic inspiration, as much for what he said as for what he accomplished.