/ Source: NBC, msnbc.com and news services
A missing 11-year-old central Florida girl with Asperger syndrome was found alive on Tuesday, four days after she disappeared into an alligator-infested swamp a half-mile from her suburban home.
Nadia Bloom was taken to a hospital in nearby Longwood, Fla., where she will be evaluated and treated for dehydration and insect bites, said Winter Springs Police Chief Kevin Brunelle.
"If I never believed in miracles, I sure do now," Brunelle said during an afternoon news conference.
Later in the afternoon, the medical director at South Seminole Hospital in Longwood spoke to reporters.
"She's smiling. Her vital (signs) are stable. She has some abrasions and bites. She is dehydrated and receiving (intravenous) fluids and wound care," said Dr. Rakish Parekh. "She is doing remarkably well."
By 8 p.m., Geo Morales, a spokesman from the hospital, said that Nadia's family "requested privacy" and said he could not release any information about her, including whether she was still being treated.
'Glad you guys found me'
Brunelle said Nadia told rescuers two things: "I'm glad you guys found me" and "I can't believe you guys rescued me."
Her sister has said Bloom, who has an autism-related disorder called Asperger syndrome, may have gone into the dense woods hoping to make a nature video.
It took nearly two hours for rescuers to carry Nadia out of the thick brush and swamp. It wasn't police who located her. James King, who goes to church with Nadia's family, found her Tuesday morning in a dry patch in the middle of the swamp and called authorities.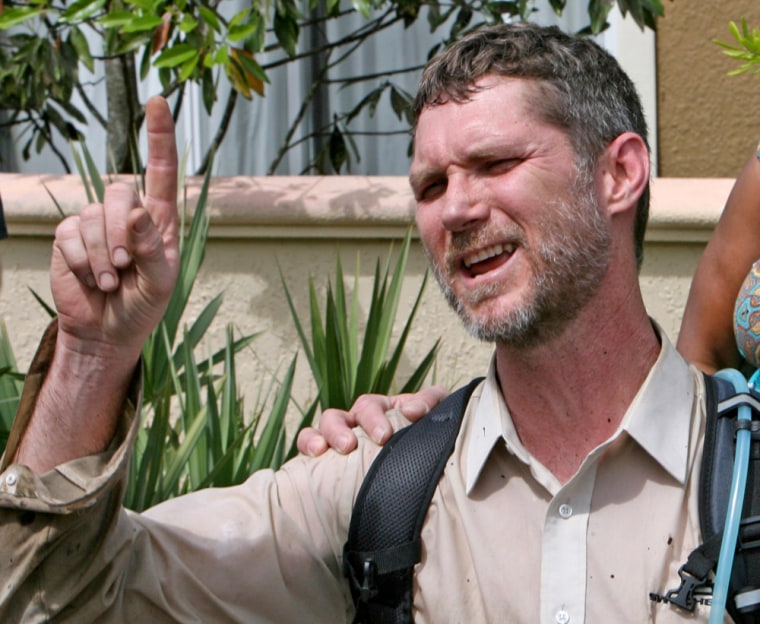 King climbed a tree and unfurled toilet paper in an attempt to draw attention to where they were.
Brunelle said he dispatched a helicopter to look for King and Nadia, but it didn't work.
Authorities used cell phone signals to find them.
"Mr. King is a hero right now," said Brunelle. "He led us to her."
Brunelle added that detectives are questioning both King and Nadia for more details on the rescue and how the girl spent her time while she was missing.
Brunelle did say that Nadia told them that she had not talked to anyone since going into the woods on Friday.
Last seen riding a bike
Authorities began searching for her in wooded areas near Lake Jesup, one of the most alligator-filled lakes in Central Florida. The fifth-grader was last seen riding her bike on Friday, and authorities became alarmed when they found her bike and helmet. She did have a backpack with her.
Shortly after word came that Nadia was alive, her father briefly spoke to the media.
"It all came so fast and it just shows the compassion of the human spirit. It should give everybody encouragement," her father, Jeff Bloom, told reporters after rescue crews lifted her into an ambulance.
When asked how he felt, Bloom said: "I can't even describe it. Let's give the glory to God."
'We are ecstatic'
Winter Springs officials had not been soliciting help from volunteers in the search, WESH reported, but King and others from the Metro Church decided to carry out their own search.
"Obviously, we are ecstatic. Unbelievable good news," said Pastor Dan Holland of the Metro Church, according to WESH.
Holland said a search team of about 35 to 40 men worked through the night Monday. He said the searchers prayed, asking God to lead them to Nadia, then walked straight into the swamp and found her, WESH reported.
"The hand of God ...," Holland told the news station. "However someone is found alive, I don't care. We are just ecstatic."
Teresa Brown, director of children's ministry at the church, told msnbc.com that a celebratory dinner was to be held at the church Tuesday, although she was unsure whether Nadia or any family members would be able to attend.
"I know they are going to be invited, but we don't really expect them to be here," Brown said. "I'm just overwhelmed with joy, it's been an absolutely wonderful morning."