/ Source: The Associated Press
Earthquake survivors shivered through a second night outdoors Thursday in a remote Tibetan corner of western China with rescuers fighting altitude sickness and dealing with a lack of supplies as the death toll rose to 760.
People with broken arms or legs cried in pain as medical teams could offer little more than injections. A doctor at the Qinghai provincial hospital, where the severely injured were being flown, said she had no idea how many were being treated because there was no time to count them all.
Stunned survivors wandered the dusty streets of Jiegu, where relief workers estimated 70 percent to 90 percent of the low-slung town of wood-and-mud housing had collapsed. Hundreds gathered to sleep in a plaza around a 50-foot tall statue of the mythical Tibetan King Gesar, wrapped in blankets taken from homes shattered by Wednesday morning's quakes.
"There's nothing to eat. We've just been drinking water," said Zhaxi Zuoma, a 32-year-old camped with thousands of others on a rocky field. They asked a reporter to bring them food the next day.
The official Xinhua News Agency said 760 people had died, 243 people were missing, and 11,477 were injured, 1,174 severely. The worst of the quakes measured magnitude 6.9 by the U.S. Geological Survey and 7.1 by China's earthquake administration.
Rescue vehicles snaked along the 12-hour drive from the provincial capital into the mountainous region, which still trembled with aftershocks. The altitude averages about 13,000 feet, leaving some rescuers breathless and ill. Even the sniffer dogs were affected, Miao Chonggang, deputy director for emergency response under the China Earthquake Administration, told reporters in Beijing.
Visit from premier
To reinforce official concern for a Tibetan area that saw anti-government protests two years ago, Premier Wen Jiabao arrived in Yushu county Thursday evening to meet survivors. President Hu Jintao, in Brazil after visiting Washington, canceled scheduled stops in Venezuela and Peru to come home.
Wen clambered up a tower of rubble from a crushed building and addressed a large group of the city's shaken and hungry residents.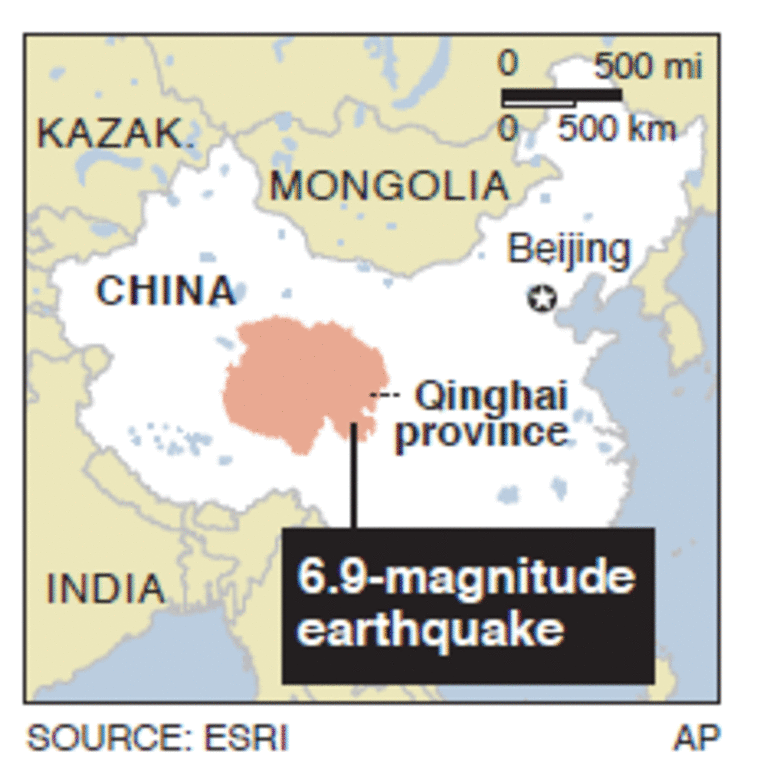 "As long as there is the slightest hope, we will make efforts that are 100-fold," he told the crowd, speaking through a bullhorn in comments also translated into Tibetan.

"Your disaster is our disaster, your suffering is our suffering," said Wen.
"In recent years the Tibetan areas have become more sensitive, and we can't rule out the possibility that the government could use the earthquake to boost its relationship with Tibetans," said Zhang Boshu, who has written about Tibet from his post with the philosophy institute at the Chinese Academy of Social Sciences.
More than 10,000 soldiers, police, firefighters and medical workers were already in Yushu as of Thursday, Zou Ming, disaster relief director with the Ministry of Civil Affairs, told reporters in Beijing.
The crush of relief efforts left the town's roads at a standstill. "I'm now stuck in my car, unable to move at all. Trucks and cars are all over," said Ren Yu, general manager of Yushu Hotel, who said he had been in nearby Dangdai village helping villagers collect bodies.
Looking for the dead
Officials said they welcomed offers of help from other countries and organizations, but they indicated they didn't need foreign rescue teams and warned volunteers against going to the region because of limited access and resources there.
But people still arrived from neighboring areas to look for the dead. Just after dusk, about 20 Buddhist monks in burgundy robes and their friends sat by a pile of smoldering rubble where the Jieji temple used to be. Next to them lay the body of a middle-aged monk, covered in a blanket, with his foot sticking out. Four other bodies were in a nearby car.
"We've come to bring their bodies home," said Silang Pingcuo, who came with the others by motorcycle from neighboring Tibet.
Officials said food, clothing, quilts and tents were needed, and the limited transportation of the one main road from the provincial capital and a small, now-overworked airport were slowing the delivery of aid. Xinhua reported about 550 injured people would be flown to larger cities for treatment.
Most shops in Jiegu remained shut, and some people scavenged food and other belongings from the rubble. The Ministry of Civil Affairs said about 15,000 houses in Yushu had collapsed.
Local Buddhist monasteries handed out food, but the quake hit them hard as well. Dozens of monks were either dead or missing at the Thrangu monastery, about 6 miles outside Jiegu, after all but its main hall collapsed, said Danzeng Qiujiang, a senior cleric at the Xiuma monastery.
"Only seven or eight of the monks are left alive," he said, adding 60 or 70 remained missing.
But a larger focus in the destruction was collapsed schools, an eerie echo of the massive Sichuan quake in 2008, in which thousands of students died when their poorly built schools collapsed. But unlike in Sichuan — where schools toppled as other buildings stood — everything fell over in Yushu.
Xinhua quoted a local education official as saying 66 children and 10 teachers had died, mostly in three schools.
Rescue crews focused on recovering children buried underneath the rubble at the Yushu No. 3 Primary School, said Xu Lai, a spokesman for the Qinghai-based educational NGO Gesanghua.
"Most of the collapsed buildings were the first and third grade classrooms because they were fragile structures made from mud rather than brick and cement," Xu said.
He said local workers are going to the homes of families to ask if they are missing children.
"We just want them to get in there and save people," said Suonan, one of the hundreds camping Thursday night on the plaza. Like many Tibetans, she uses just one name.
"Even one survivor gives us hope."