/ Source: The Associated Press
In the small Mexican beach town of Mazunte, there aren't any cruise ships calling, no college-age hooligans binge drinking, and no towering hotels in all-inclusive resorts.
No, none of that.
Instead, in this sunbathed town on the Pacific Coast of the southern Mexican state of Oaxaca, locals come to dip in the ocean. Fishermen unload cases of sharks in the morning. Kids play beach soccer, with sticks in the sand for goals. Dirt roads lead to the shore. Locals lounge on hammocks, their houses a few hundred yards from the beach.
"I didn't want to go to Cabo San Lucas and drink my face off in an all-inclusive resort," said Sarah Evans, 41, from Vancouver, Canada, while she sunbathed. "It's tranquil here. But it's not exactly off the beaten path. There's a lot of tourists here."
Indeed, Mazunte isn't exactly isolated. Foreigners — Italians, Argentinians, Canadians among others — have come here for years, and many have stayed, opening up cabana hotels, restaurants and bars. A steady stream of bohemian backpackers, couples and retirees dot the beaches. There's a diverse range of attractions, but not just for tourists. In Oaxaca, Mexican life is lived right in front of you.
One of the largest states in Mexico, Oaxaca has sky-high mountains, arid valleys, lush tropical forests, cloud forests and beaches next to steep rocky hillsides that clash into the ocean.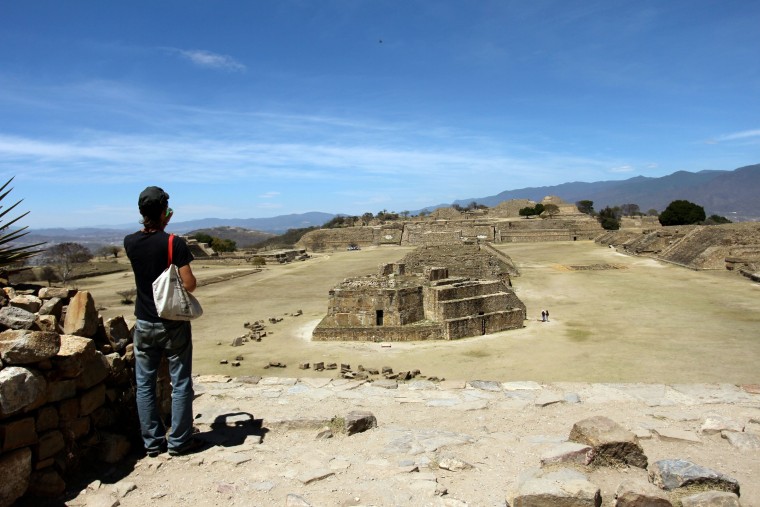 There's loud, glittering and elegant Oaxaca City, with a bustling colonial center. Around it are smaller towns, many featuring their own attractions, from textile-weaving to shops manufacturing mezcal — the iconic Oaxacan alcoholic drink made from the maguey plants.
'A diverse state'
There are the markets in the city and in smaller towns, where hundreds of people descend to browse a cornucopia of goods, including the culinary staples Oaxaca is best known for: Oaxacan chocolate, mezcal, string cheese, fried grasshoppers and mole.
There are the ruins of ancient civilizations. Monte Alban, the center of the Zapotec civilization, sits atop a hill in the valley, just outside the city, with towering stone buildings and pyramids. On the other side of the valley, the ruins at Mitla feature the remains of the Mixtec civilization.
"Oaxaca state is a very diverse state," said Erika Ruiz Ojeda, a Spanish teacher at Espanol Interactivo Language School in Oaxaca City. "I think no town is alike the other. Each town is special and unique."
In the center square of Oaxaca City, the Zocalo, locals and travelers sip hot chocolate or beer. Mariachi, Andean musicians, marimba players and others offer music for tips. Locals stroll the wide plaza. Young couples canoodle.
Oaxaca is one of the poorest states in Mexico, and that's plainly visible at the Zocalo. Nearly everyone sitting at outside cafes is approached by street vendors, many of them children, selling gum and other small items.
The Zocalo is also often the site of demonstrations. During our visit, a group of protesters from indigenous towns in a land dispute camped in the former government palace for two weeks. Marches often end here. In 2006, the city was virtually shut down by protests and a standoff between locals and police. Tourism was impacted at the time but eventually rebounded. Elsewhere in the region, there are traces of the drug war that has marred tourism to Mexico. At La Ventanilla, which has been a spot in the past for cocaine runners to transfer vessels, soldiers patrol the beach.
Going to the market
Down the block from the Zocalo is the Benito Juarez market, a massive indoor market where dozens of vendors sell products ranging from leather sandals to tequila-flavored ice cream. Nearly every little town around the city, though, also hosts its own markets. The outdoor markets are set up on certain days. Two of the better-known markets are those at Zaachila, which purports to be one of the oldest markets in Mesoamerica, and Tlacolula, a sprawling market set up on city streets.
"Going to the markets is such an amazing experience to all the senses," Ruiz said. "It's an explosion of colors and smells."
In March, my girlfriend and I dedicated one week to the city, mostly sticking to its center core. We spent our second week in Mazunte, on the coast, after a seven-hour white-knuckled drive on narrow mountain roads.
In Oaxaca, accommodations and meals can be found at every price level, from luxury to discount. We paid an average of $20 for dinner for two with drinks and desserts, and $35-$40 per night in our hotel in Oaxaca City and cabana in Mazunte during off season.
We got around using taxi cabs (always settle on a price before you get in); on foot (many attractions are within walking distance in Oaxaca City); a small plane that for about $125 per person flew us from the coast to Oaxaca City (flying over the state's mountains was a stunning sight), and a rental car. We drove the car for four days for $300, and the company picked it up in Mazunte — a day's drive from the city.
Ecotourism is booming
While Mazunte is still home to fishermen, the town has been dramatically changed by a ban on hunting sea turtles and crocodiles enacted about 20 years ago. Now the former turtle hunters have turned to eco-tourism. The Mexican government runs the National Mexican Turtle Center, which features sea turtles in aquariums.
In Mazunte, we paid about $30 (for two people, tip included) for an eco-tour of the nearby waters. We got on a boat for a dozen people and ventured off into the sea early one morning. To book a boat tour, ask around at Playa Rinconcito. The fishermen hang out at the beach, and often offer tours to sunbathers. Prices will vary, depending on the day and your bartering skills.
The tour seeks floating sea turtles, their shells peeking out of the water. A guide will dive in to hold one of the turtles so tourists can take close-up pictures with them. But on our tour in March, we also saw fish jumping and manta rays doing flips, a pod of dolphins hunting, and even a whale, a straggler of the annual migration north. At the end, we snorkled offshore.
Crocodiles live in lagoons along uninterrupted stretches of beach, and tours to see them are offered by two cooperatives in La Ventanilla, a small enclave of about 100 people that's a five-minute drive from Mazunte.
There's no phone for the co-op we used; we went to the information booth for "Sociedad Cooperativa Lagarto Real" to book the tour, which cost $30.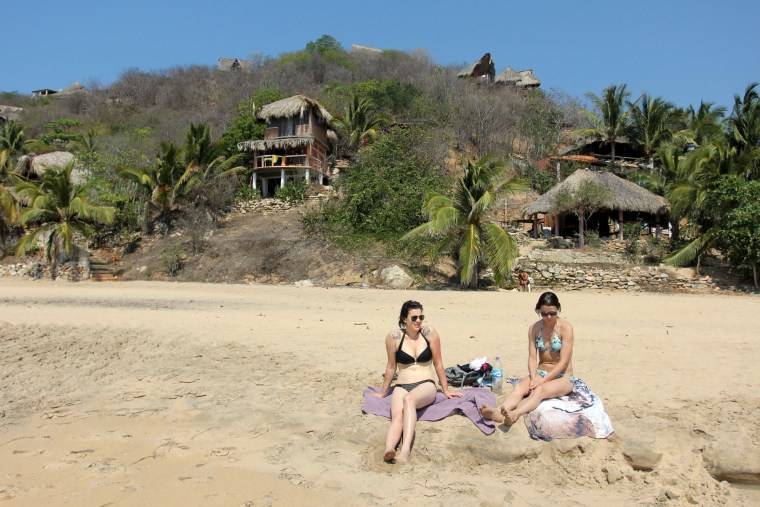 "People can get easily lost here," tour guide Victor Manuel Reyes Escamilla said, as he paddled through water channels lined with mangroves. "But I won't."
Reyes delivered facts about the area like a talking encyclopedia: At last count, there were 140 known crocodiles. The biggest is about 15 feet long.
No stray dogs around? Reyes just smiled.
Crocodiles are the main attraction here, so Reyes does his best to lure them out for tourists, using chicken and whistles. On our trip, he even went as far as entering the water near the predator to attract it.
The crocodile, about 25 yards away, displayed its teeth.
"I earned my tip today," said Reyes.