Crosses in the water
A few weeks ago, in search of breakfast and adventure, my boyfriend Harold and I went to the Santa Monica pier.  On this gorgeous, sunny day, we were intrigued to see several people tending to rows and rows of crosses extending from the water's edge to the sidewalk.  I called down to a young girl who was running back and forth battling the incoming waves to keep the crosses upright and asked her what the crosses represented.  She responded they were a memorial for the fallen soldiers in Iraq.

We descended from the pier to beach level to get a closer look.  Up close we realized that some of the crosses were adorned with a crescent moon or a Star of David; in other words, Christian, Muslim and Jew fought and died side by side.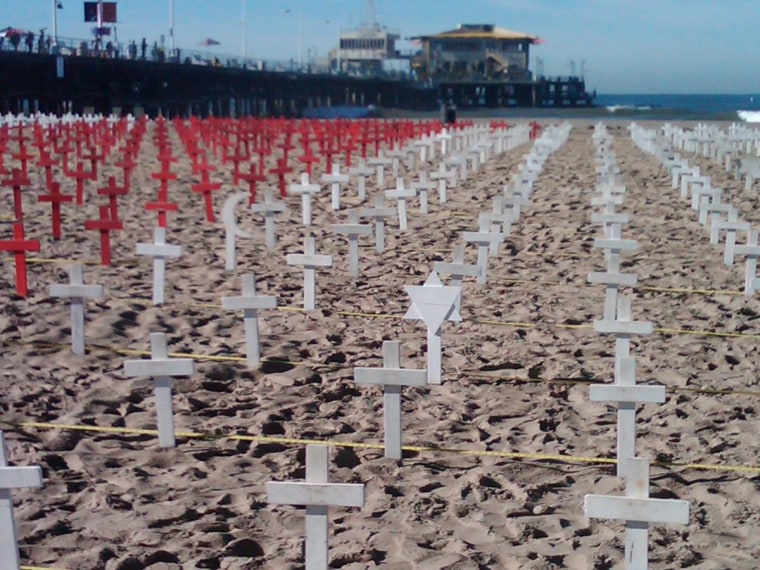 Where the exhibit began there was a makeshift "wall" on which the names of the fallen were listed.  There we stopped to pet and admire a beautiful spaniel named Lily who was walking with a lone man.  I commented to Lily's owner how moving I found the display and his eyes misted.  He responded in heavily accented English that he did not find it moving, that he found it unnecessary. 
He went on to explain that as a young man and soldier, he too fought against Osama bin Laden.  He recalls at least one time when he shot at Osama bin Laden and that bin Laden returned fire.  He said that at that time, unfortunately, bin Laden was backed by the West and they were not able to defeat the combination.  He reiterated his belief that the loss of our young is so unnecessary and how much he regrets bin Laden wasn't stopped back then.  He feels a measure of responsibility for every cross in the sand.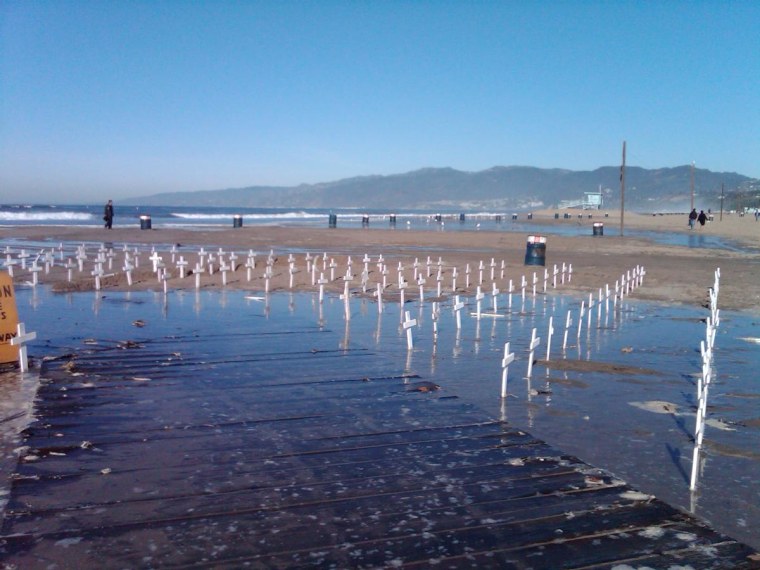 He further elaborated and explained that while he was a young recruit in training, during skirmishes with bin Laden and others, his superior pointed to the enemy solders and said, "Do you see that man standing while everyone else is lying down? That man is American — Americans do not hide or lie down when they fight, they stand like warriors.  We do not shoot at them." 
The man said that he never, ever shot at a standing man and he always respected them.  He then looked at me with the saddest, kindest eyes I've ever seen and told me, "And now all these soldiers stand no longer.  I honor them but I am angry.  It is a waste and was so unnecessary.  All this loss and for me too — my friends are dead, my country no longer exists.  And for what?" 

I asked him for which country he had fought.  He looked at me for a long moment, then said quietly, "My country was Russia," and he and Lily turned to walk away.  It made me cry.  I can't tell you how moving it was to see the contrast of the beauty of the day, the purity of the memorial, the battle between the crosses and the sea, and the story from a man who was once an enemy and who now bears guilt for something none of us can seem to stop.  I don't know what it all means but I wanted to share the story. It's amazing what you encounter when you keep your ears and your heart open.
Submitted by Chris Kochheim, Torrance, Calif.
Judy, the gun-toting camp host
A group of us were on a once-in-a-lifetime cross country road trip to visit friends on the West Coast.  Our West Coast friends were city dwellers through and through, even though they lived in one of the most naturally beautiful places on Earth.  Because we were driving roughly 80 hours in a week in order to visit, we made them promise to take us camping at some point during our trip, whether they wanted to or not.  We weren't going to drive to Washington state and not take advantage of the scenery. We ended up at Wenatchee National Forest, near Cle Elum Lake. 
We pulled into a no-reservations camp site and started to set up.  Just then, a white pickup truck pulled up with this gray-haired lady at the wheel and two Pomeranians in the passenger seat.  She told us that there would be no fires at these sites and if we wanted a fire, we would have to follow her.  It was forecast to get down to 32 F that night, so we had little choice.  A bit put off by her demands, we packed up and followed anyway, grumbling about a potentially ruined camping trip. 
Judy, our "camp host," showed us to a very nice, open and clean campsite, still relatively secluded with an awesome view of the mountains.  When she stepped out of the truck to give us suggestions on tent placement, we all noticed the huge hand cannon on her hip.  Now we were pretty afraid of Judy.  Not only did she have a no-nonsense approach to guests, she was carrying a loaded firearm.  Should we really build a fire?  What time is curfew?  What about all the beer we brought? 
In our home state of Ohio, the only guns we ever see have a gang member or bank robber at the other end, so we were going to steer clear of Judy as much as possible.  But camp hosts are like experienced mothers, with eyes in the back of their heads and a presence that lingers long after they're gone.  The first day, we spent as much time in the forest as possible, far away from camp.  However, by the second day and a few run-ins with Judy at the latrines, we were much more comfortable that she wasn't going to go all crazy wild woman on us.  She stopped by regularly, chatted and laughed with us, and even invited us to see her arsenal (no thanks!). 
Turns out, Judy and her husband were camp hosts for a living, thoroughly enjoyed their lifestyle and were also fellow Ohioans. They missed Ohio and were as pleasantly surprised as we were to meet folks from home.  She made our trip, we still tell stories of her and hope she is off enjoying the traveler's life.  Someday, when we have fulfilled our duties to the real world, we hope to be as lucky as Judy and get the chance scare the bejesus out of a bunch of tourist city kids who never dreamed to make a friend on what was supposed to just be a relaxing camping trip in the mountains. 
Thanks Judy, we'll never forget you and we hope, if we ever make it back to Wenatchee, to see you again!
Submitted by Jessica Kaaz, New Vienna, Ohio
On the road with Davey Sprockett
Meet Brad, aka "Davey Sprockett" or "Barefoot Brad."
We were in Crescent City, CA, on our way down the coast on our relocation from Seattle to Los Angeles. We decided to check out Redwood National Forest one day. Specifically Stout Grove, about 12 miles from Crescent City. After a great hike amongst a cathedral of trees, we opted to find a local eatery for some lunch. And that we did in the form of She She's Cafe off Highway 199 in a small town called Gasquet. While there, we met Brad.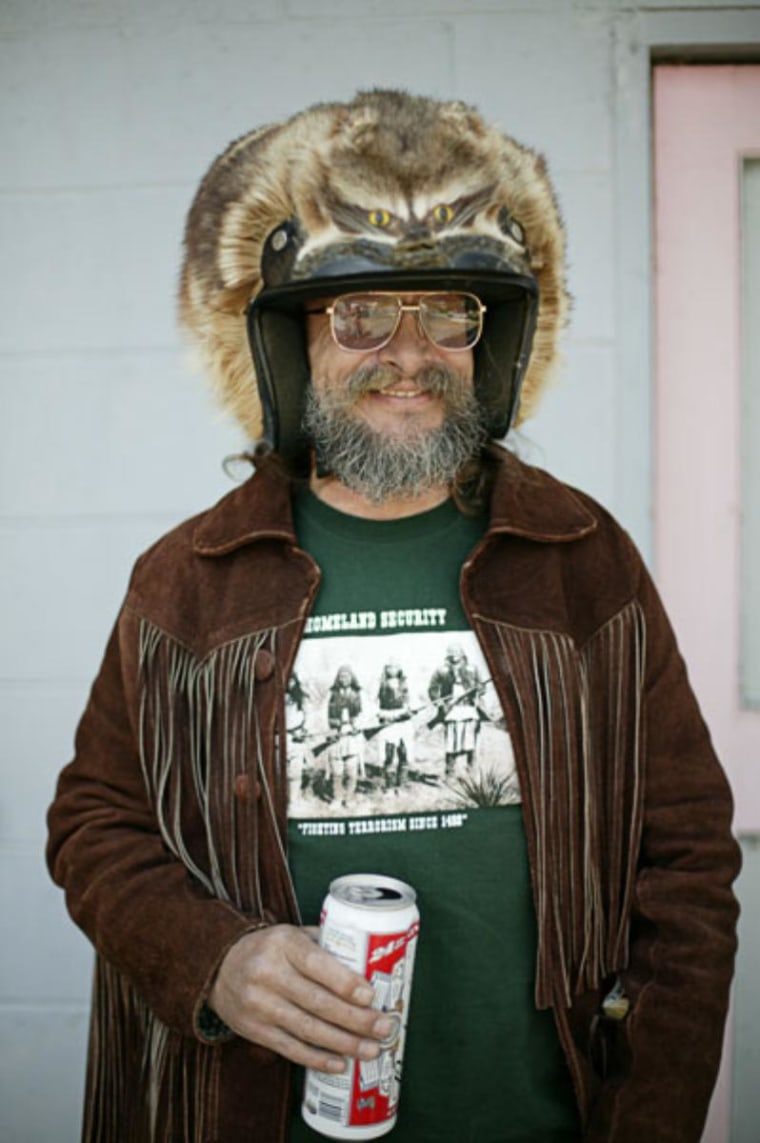 It's hard not to notice Brad. He has a raccoon on his head. Well, a raccoon-covered helmet anyway. After rolling up on his motorcycle, I approached with the obvious conversation starter of "Is that a raccoon on your head?" (What else? "Hey there buddy, what's on yer mind?")
Brad was a storyteller and we were more than happy to listen. He told us how he had ridden his motorcycle through New Zealand with R.K.* on his head. And how, after nearly being killed by a motor home while crossing a single lane bridge, he wrote this poem:
R.K. Zagged-Wrong
by Davey Sprockett (aka "Barefoot Brad.")
R.K. Zagged-Wrong and now he's dead
and he's a constant reminder
as he sits on my head.
I can ride from morning til night
And if I don't zag wrong
I'll be alright.
*(R.K. = "Roadkill.)
Brad was stopping at She She's for a beer. A very large beer. We talked for an hour or so. I asked if I could snap a few portraits. He obliged. He told us he earned his first barefooted nickname because he used to never, ever wear shoes — even in the snow. Nowadays, he leads rafters down the local rivers as a guide. He also has mans his ham radio to disseminate river conditions daily.
Soon, we were begrudgingly forced to pry ourselves from his stories. It was time to go. We could have listended to him all day. And I think he could have done it — with ease.
We'd come to learn from others in the area that Brad is legendary in these parts. A furry benevolent spirit running around through the beautiful NorCal forest barefoot. Come to think of it, I think we met Sasquatch.
Submitted by William Anthony, Los Angeles
Make mine cherry
On a trip south, we stopped in Walterboro, S.C. for a snack at McDonald's.  I ordered two Happy Meals for the kids and then asked if they had cherry pies instead of apple.  The young man at the register said something very fast in the thick local accent and I asked him to repeat himself.  He did, but in spite of my Southern genes, I could not understand him.
"I'm sorry," I said, "I just can't understand you."
He laughed a little, shrugged and leaned over the register, as if I was hard of hearing.  Must be my gray hair.
"Where you come from," he began, speaking very slowly and pausing to let this sink in before going on,  "They have cherry pies at McDonald's?"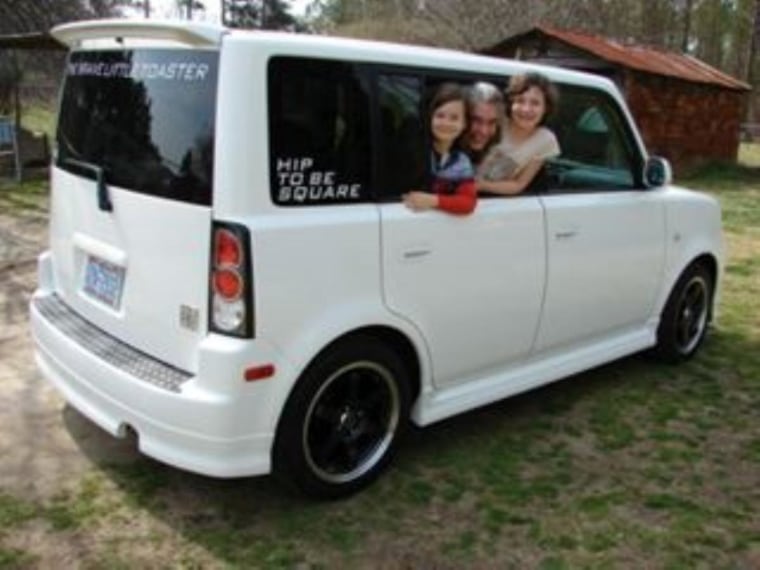 I assured him that they did and also that they are very tasty.  He shook his head in amazement, smiling.
When I was just a little older than this young man, I traveled from my home in New York to Southeast Alaska via Seattle.  I will never forget the view from the plane as we passed by the Canadian coastline.  There was nothing but trees as far as the eye could see on one side, and the empty sea on the other side.  No humans or human influence could be seen, even from 35,000 feet. 
It had never occurred to me that there was this much space in North America, or anywhere in the world, with no human intervention, just wilderness.  The young man at McD's seemed just as amazed about the cherry pies.  The world is getting smaller, but it's still very large in some places.  I guess rural South Carolina is one of them.
Submitted by Beth Browne, Clayton, N.C.

Dalai Lama's home beckons
While traveling in India many years ago, the conclusion of a road trip that had its beginnings in Rome where I had been teaching, we, my brother and I and our two ladies, were trying to get to Manali, a hill station in the Himalayas. The tourist guy in Delhi told us that the roads were washed out (yes, it was August and the monsoons had begun) so there was no passage to Manali. But, he said, if you like the mountains you can go to another hill station called Dharamsala, which also may be affected by the rain but to that point buses were still able to make the climb as the roads were intact.
Off we went and after two days of trains and buses we were at Dharamsala, certainly a small unimpressive village with few accommodations. "Next and last stop, Upper Dharamsala" barked the driver, to which my brother and I almost simultaneously said, hey what the hell, we might as well go to the end of the line.
Twenty minutes and about another 1,000 feet in elevation later, we got off the bus in an even smaller version of the previous village with what looked like an old garage for the only "hotel" in sight. Knowing we may have made a poor choice in destinations, we were deciding to either take the next bus down the mountain or at least try our luck at finding a place to put everything for the night, when a small women in red robes approached and waved us to follow her, like she knew where we were supposed to be. "She wants us to follow her" I said, believing we may be rescued from our lack of planning. "To where?" my brother offered. "At least back in Dharamsala there seemed to be some better places for the night."
After a few more minutes of indecision we decided to take her offer and started hiking up a small path with no idea of where she was headed. About 45 minutes later with sweat dripping from our faces and a feeling that once again we made the wrong choice, the woman, whom we found out later was a nun, who had to wait for us to catch up with her, pointed to her left down a narrow but paved path toward what looked like a small cluster of houses with fences around them, and said, "Dalai Lama!"
"Dalai Lama!" echoed my brother. "The Dalai Lama, did she say?" like she may have been making the whole thing up. "That's what she said," were the words that came out of my mouth, like I was making it up too!
That was 1971, and the little village where the nun had taken us was McLeod Ganj, home of His Holiness in exile. We stayed nearly a year studying with one of the Dalai Lama's teachers, a Rinpoche named Geshe Rabten, and our lives have been so different since! I guess sometimes other people know where we should be even if we don't. And I'm glad we didn't decide to ride the bus back down the mountain.
Not in the USA but certainly an unexpected experience from the road!
Submitted by Steve Brody Butler, Huguenot, N.Y.