/ Source: a href="http://www.washingtonpost.com/wp-srv/front.htm" linktype="External" resizable="true" status="true" scrollbars="true">The Washington Post</a
Ryan Reed Kaufman was 4 years old, unwanted by a mother who smoked crack while she was pregnant, living with a foster family who pacified him with NyQuil every night at bedtime. He had no reason to expect that the grown-ups who came to visit him one day at child protective services might take him home with them.
But he knew enough to try. When they handed him a coloring book, he stayed within the lines as best as he could. When they gave him a box of Legos, he asked to build a house. When it was done, he placed a toy boy inside it and then asked, "Who will take care of the little boy?"
Ryan recalls that moment only vaguely, but he's heard the story since that meeting in 1992, back when the term "crack baby" was used to describe children such as him and experts predicted that children born to addiction would become a biological underclass, super-predators who would cause the crime rate to surge, a lost generation.
Then-President of Boston University John Silber spoke of "crack babies who won't ever achieve the intellectual development to have consciousness of God."
"Theirs will be a life of certain suffering, of probable deviance, of permanent inferiority," Washington Post columnist Charles Krauthammer said in 1989.
Boarder babies
They were written off even before they could talk. But in the two decades that have passed since crack dominated drug markets in the District and around the nation, these babies have grown into young adults who can tell their stories — and for the most part, they are tales of success.
Many of the crack-exposed infants ended up as boarder babies — abandoned at the hospital by parents who couldn't care for them. Some of these children have been troubled throughout their lives. But national crime rates, predicted to soar when the children came of age, have instead dropped to record lows. Despite decades of research, it can be hard to parse whether children born to crack-addicted mothers have struggled because of early exposure to drugs, troubled upbringings or simple teenage defiance.
It was at the height of the crack epidemic that a little girl named Marika came to live with Eunice Boone. Her Capital Heights house was known as the "reject home" because she would take the children no one else wanted. After Marika was born, Boone said, the girl's biological mother told a social worker: "Didn't I tell you to let that [expletive] die?"
Born with cocaine and other drugs in her system, Marika was given a diagnosis of cerebral palsy, which Boone thinks is related to her mother's drug use. She was not expected to live past the age of 5. This June, she will graduate from high school and in August, she will turn 21. She cannot talk or walk on her own, but she loves music, coloring and wrestling.
"She's doing beautiful," said Boone, who has two biological children and adopted six others in addition to Marika. "With these children that are on crack, or any kind of drug, I think there's hope for them. It just takes time and patience."
A federal study found that about 22,000 babies were left at hospitals in 1991 by parents unwilling or unable to care for them; Washington had the third-highest number of any U.S. city.
"We called it a crisis because the space was just filling up in the nursery," said Linda Ivey Lewis, who as an administrator at D.C. General Hospital was instrumental in opening the boarder baby nursery, where volunteers could come in to hold the infants. "Worst case for me was for them to not be humanized."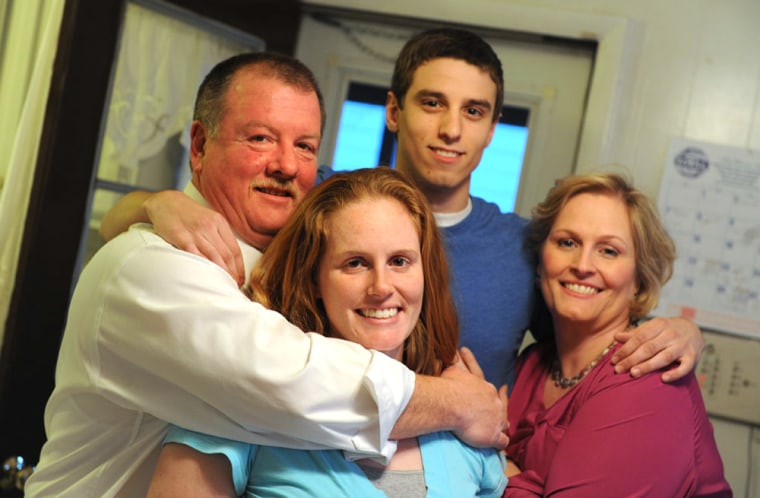 Many were born prematurely. Some had serious illnesses, including HIV. But Lewis and others believed that many of the babies needed only a good home to make up for a slow start on life.
The pendulum swings
Barry Lester, a psychologist at Brown University who leads the largest federal study of children with prenatal cocaine exposure, said a lot of misinformation surfaced in the late 1980s and early 1990s, including that these children had suffered severe brain damage. Then came a period in which studies seemed to say the opposite, that there were no effects from early cocaine exposure.
"Now what you are seeing is the pendulum is swinging back to the middle, where it belongs," Lester said. "People are convinced that cocaine doesn't cause severe damage, but I also think they are beginning to realize that it does have important effects."
Early exposure to the drug has been shown to make children more impulsive and diminish executive function, affecting the part of the brain responsible for planning and inhibition, Lester said. "They may not have the bells going off in their heads saying, 'I know you want to do that, but don't do that.' "
Several women contacted for this article acknowledged using crack while pregnant but declined to speak publicly about their experience for fear of causing their children fresh pain. "The one I used crack with has graduated and now relocated," one woman wrote in an e-mail. "She is employed and has escaped the drama that I have placed on her life!"
Similarly, nearly 100 calls to health and faith professionals elicited many reminders of the powerful stigma that still attaches to the label "crack baby." Leonard A. Sipes, a spokesman for the D.C. Court Services and Offender Supervision Agency, has found ex-offenders to be willing to talk to reporters about child abuse and sexual assault. "But this seems to be more sensitive," he said. "No one wants to criticize Mom."
Sipes, who has worked for the justice system for 40 years, recalled the predictions that crack babies would become "super-predators."
"We were warned over and over and over that this was our fate," he said.
Instead, the national violent crime rate in 2008, the last year for which data are available, hit its lowest level since 1972, when the Bureau of Justice Statistics began its annual survey. According to FBI data for the District, from 1990 to 2008, murders dropped from 472 to 186, rapes from 303 to 186, and robberies from 7,365 to 4,154.
"The super-predator did not surface," Sipes said.
What did happen to those babies? Researchers caution that there is no single answer. Genetics, the birth mother's other habits, prenatal health care and home environment play a role.
"People are looking for a single statement: 'Cocaine does this, or cocaine does that.' It's just not that simple," Lester said. He often gets calls from parents considering adopting cocaine- or methamphetamine-exposed children. "What I almost invariably wind up telling them is, 'As far as we know, a good environment can make up for some, if not all, of the deficits that are caused by the drug, although it's no guarantee.' "
'I saw some light'
After 5 1/2 months of life, the only home Jeffrey had known was the boarder baby nursery at D.C. General, and that's where Debbie Anzelone first saw him in 1990. As director of the hospital's infant development program, she was assessing the children's needs when a nurse made a joke.
"She said, 'Oh, Jeff, you should smile real pretty for this lady; she'd make a great mama for you,' " Anzelone recalled.
Within weeks, she would tell her husband, Mike, that she was in love with this child she'd seen only 10 times. Not long after, they brought Jeff home. In 1993, they officially adopted him and he took their last name.
They gave little thought to his history: His mother, who was in prison when he was born, had abused crack and heroin while carrying him. "A couple of our friends were like, 'Are you sure you guys know what you are doing?' " Debbie said in an interview at the family's Beltsville home. "I was just like: 'He's just a baby. Give me a break. Whatever will be will be.' "
Jeff first learned his history when he was in middle school. After Debbie read studies finding that children exposed to drugs early in life were more likely to fall into addiction, she decided to tell Jeff before he experimented with drugs. "I was kind of waiting for a time when I felt like he had developed enough self-confidence that he wouldn't say, 'I'm this drug baby,' " she said.
Jeff said it never occurred to him to think that way. "I was part of this family," he said. "We've always been a Christian family and so I realized God had a plan."
The only condition Jeff thinks might stem from his biological mother's drug use is attention deficit hyperactivity disorder, which he's controlled with medication since second grade. Lester recently reported findings at a conference showing that children with prenatal cocaine exposure were more likely to have behavior disorders, including ADHD.
"Honestly, I had the perception that crack babies were born messed up, that they went through their life having problems," said Jeff, who was a B student in high school, played sports and has worked part time since he was 14. He works at Starbucks and attends Howard Community College, aiming for a degree in accounting. "I don't see other kids doing things that I don't see myself capable of doing."
Researchers say the hysteria that surrounded crack-exposed babies teaches lessons on how to deal with the increasing number of children being born with prenatal exposure to methamphetamine. "We think everyone has learned from looking at the cocaine-exposed kids not to get in a uproar before we have data," said Nicolette Borek, of the National Institute on Drug Abuse, which oversees 15 studies of children exposed to cocaine before birth.
Many of those babies were born prematurely, with low birth weights and unusually small heads, but overall, they are "doing a lot better than we thought," she said. "One of the messages of this is really how resilient children are and the brain is. Your exposure does not doom you."
'I wouldn't change anything'
Ryan remembers the foster home where he lived when he met the two women who eventually adopted him — Linda Kaufman and Melinda Reed — as a place where the other children took half his Legos and tore his book, where beatings were doled out regularly.
"It was bad," said Ryan, 22. "If I had stayed there, I would definitely have had a lot more anger problems than I already do. For the longest time, I didn't let anyone touch me and I definitely didn't put up with people."
When the women first met Ryan, they were struck by a cute child trying hard to be perfect. They had been told his history: Born at Washington Hospital Center with crack and heroin in his system, taken into city custody at 11 months with a fractured skull, in and out of several foster homes.
They were handed photos of other children but quickly decided on Ryan. "I just saw some light, a different kind of light in his eyes," Reed said. His new parents read Ryan bedtime stories, baked cookies, made snow angels.
Given a diagnosis of ADHD early on, Ryan jumped off a table and kicked a teacher in nursery school. As a teenager, "if he wanted something and didn't get it, he'd explode," Kaufman said. As an adult, he's been in trouble with the law and is serving time in Arlington County's detention center on charges of grand larceny, driving under the influence and assaulting a police officer.
"You hope and you pray and you say, 'I love you' a lot," Kaufman said. But she sometimes questioned whether her parenting skills were good enough to counter his rough start.
Even in jail, the charm of that 4-year-old playing with Legos comes through. He's handsome, sharing the high cheekbones and almond eyes of his biological mother, whom he last saw when he was a toddler. At 18, he had her name tattooed over his heart, and he keeps her prom picture with him. He doesn't resent her. "She gave me life," he said.
Ryan, who has worked two jobs since he was old enough to get one, acknowledges his mistakes and doesn't blame anyone or anything else — not his biological mother's drug use, not his years in foster homes, not his adoptive mothers, whom he didn't always agree with but says had his best interest in mind. He says he alone is responsible for his decision to drink, an addiction he's being treated for.
When he is released in five months, he plans to get certified in heating and air conditioning repair. Eventually, he wants to open a clothing shop.
"I wouldn't change anything about myself," Ryan said. "I wouldn't change anything about my past. I wouldn't even change me sitting in jail right now. They all made me who I am."
He's confident he'll find success, which he recently told his adoptive parents wouldn't have been a possibility if they hadn't taken him home. "I really think if I stayed in that situation," Ryan said, "I most likely wouldn't have cared if I lived or died."
Staff researcher Meg Smith contributed to this report.