/ Source: The Associated Press
A volcanic ash cloud that shut down airports and tied up air traffic across Europe could turn into a long, costly headache for businesses, airlines and tourists in the United States.
The ash spewed by an eruption in Iceland forced airlines to cancel flights and redirect planes around the ash. Those diversions caused jetliners to burn more fuel and created delays in the air-cargo business that could quickly run into tens of millions of dollars.
The slowdown could affect everything from package shipments to business meetings and long-planned vacations.
"The costs could be extraordinary," said Jeffrey Price, an aviation professor at Metropolitan State College of Denver.
Many in the travel industry on Thursday weren't asking if they would be affected — but how badly.
"This is the ultimate act of God," said Chicago-based transportation expert Joseph Schwieterman. "It's hard to imagine a weather scenario that would disrupt the entire Atlantic flight system like this."
Anxious clients called Boston-based Garber Travel, one of New England's biggest travel agencies, asking how they might rearrange flights. But for some travelers bound for Europe, it was too late.
The flight cancellations jeopardized a $6,000 trip planned for more than six months by Robert and Barbara Breault of Coventry, R.I.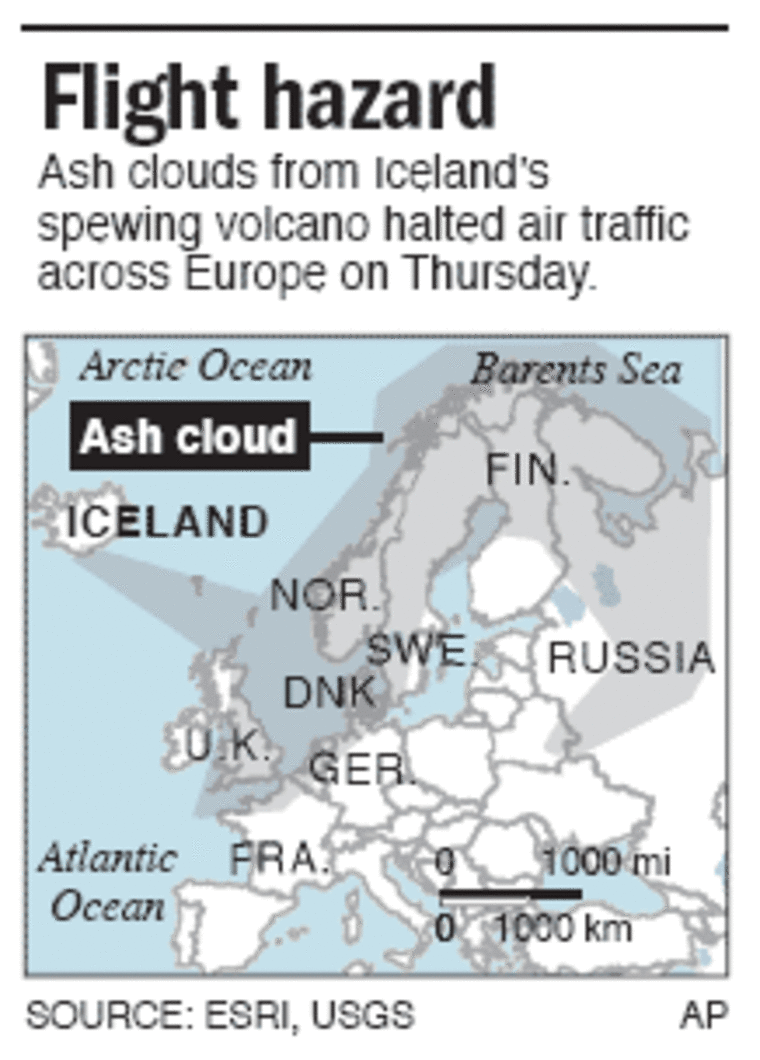 Barbara, an avid gardener, had scheduled a vacation that coincided with tulip bloomings in the Netherlands. But their outbound flight Thursday evening from Boston's Logan Airport to London Heathrow was marked "See agent."
"It's not supposed to do this," Barbara said with a laugh. "I had already planned the whole thing."
She had paid not only for the airline tickets, but supplemental charges for window seats and for a private guide, as well as a cruise through Holland's famed canals dubbed the "Tulip Festival Cruise."
On an average day, U.S. airlines operate about 340 flights to and from Europe, according to the Air Transport Association. On Thursday, American carriers canceled at least 100 of those flights because of the ash.
An FAA spokeswoman said the cancellations affected at least 10 countries: England, Ireland, Northern Ireland, Scotland, Sweden, United Arab Emirates, Finland, France, Belgium and Denmark.
The FAA issued an order holding flights destined for the United Kingdom on the ground. Other flights to and from Europe were being diverted around British airspace, which has been closed until 4 a.m. EDT Friday.
The eruption of the Eyjafjallajokull volcano has forced hundreds of people nearby to evacuate while the massive ash cloud has disrupted air traffic across Europe.
That didn't bode well for two British friends stranded at New York's Kennedy Airport hotel after their flight was canceled.
"I just want to go home now," said 23-year-old Grace Schofield, of Yorkshire, England, whose trip was also disrupted by emergency surgery for appendicitis. "I can only do so much walking around the city before I have to rest."
For one British man trying to make it back to London, the consequences were deeply emotional.
"It was my grandmother's funeral tomorrow so I am going to miss that," said Gary Alderson, who was also at the airport hotel.
Elsewhere, flight cancelations undermined pending business deals.
Mark Kiefer, a Boston-based aviation industry consultant, said he initially planned to send a proposal to a company north of Amsterdam by air courier to meet a Monday deadline.
"They told us that they wouldn't take a package tomorrow, and they wouldn't guarantee you Monday," Kiefer said. Instead, he planned to e-mail the proposal to colleagues in The Hague, have them print it out and then drive about an hour to hand-deliver the document.
Air cargo companies conceded they were scrambling to cope.
FedEx, the world's second-largest package-delivery company, started rerouting flights bound for Charles De Gaulle Airport in Paris. It also moved some packages by truck instead of air.
Company spokesman Steve Barber could not specify what types of shipments were most affected.
Although rare, flight problems caused by volcanic ash are not unheard of. The 1980 eruption of Mount St. Helens in Washington state grounded hundreds of flights for days.
But ironically, the airlines' decision to reduce their schedules to ensure that planes are full could work against them as they scramble to find available seats on alternative flights.
"These high-load factors can make disruptions like this into full-scale disasters — where passengers are stranded for days," Schwieterman said. "Ten years ago, the airline took just a few days to get back to normal. Now, it can take longer."
Routing systems have also become highly sophisticated, with airlines planning the most efficient routes days and weeks in advance.
"The system works great until there is irregular operation, and then everything unravels," Schwieterman said. "In situations like this, the efficiency of the system comes back to haunt them."
A spokeswoman for American Airlines, Mary Frances Fagan, expressed confidence the company could deal successfully with the ash despite the cancellation of 34 flights to airports in London, Manchester, Brussels, Dublin and Paris by Thursday afternoon.
She said airlines are well-versed in dealing with air traffic disruptions caused by weather, hurricanes or even earthquakes.
"Are there specific contingency plans for volcanic ash? I can't say there's a separate chapter in our crisis book, but we deal with Mother Nature day by day all the time," she said.
Associated Press writers Samantha Bomkamp in New York, David Koenig in Dallas, Joan Lowy in Washington, D.C., Glen Johnson in Boston, Ray Henry in Atlanta, Adam Pemble in New York, and David Martin in Newark also contributed to this report.