/ Source: The New York Times
Gov. Charlie Crist has been jawboned and buttonholed as he has traveled around the state in recent days, and his office was deluged with 120,000 messages. Passions have not run so high in Florida, the governor said, since the controversy over ending the life of Terri Schiavo in 2005.
This time, the point of contention was eliminating tenure for Florida public school teachers and tying their pay and job security to how well their students were learning.
On Thursday, Mr. Crist picked a side, vetoing a bill passed last week by the Florida Legislature that would have introduced the most sweeping teacher pay changes in the nation.
The veto puts Mr. Crist, a moderate Republican, at odds with his party base in the Republican-controlled Legislature. His decision has also renewed speculation that he might drop out of the Republican primary for a United States Senate seat and run in the general election as an independent. For months, he has been trailing the more conservative Republican candidate, Marco Rubio, a Tea Party favorite, in polls.
Mr. Crist said Thursday that his decision was not political. He cited "the incredible outpouring of opposition by teachers, parents, students, superintendents, school boards and legislators."
The bill was supported by the Florida Department of Education and statewide business groups, which expressed disappointment in the governor's decision, saying that teachers should be held more accountable.
But the governor, announcing his veto in the Capitol in Tallahassee, said the changes envisioned would put "teachers in jeopardy of losing their jobs and teaching certificates, without a clear understanding of how gains will be measured."
Strange bedfellows
Linking teacher pay to student achievement has long been a goal of some education reformers. They are mostly conservatives, but their ranks also include people in the Obama administration.
They argue that teachers should be treated like people in most professions, and paid based on how effective they are.
The issue has made for a season of strange bedfellows, with the Obama administration's chief education initiative, Race to the Top, seemingly encouraging just the kind of overhaul that Florida Republicans endorsed and that teachers and their allies furiously opposed.
Race to the Top dangles $4.3 billion in grants before states that develop programs that promote teacher accountability and parental choice in schooling. In the first round of grant awards last month, Florida did not win but came close, and the merit pay bill was promoted as a way to improve the state's chances of winning $700 million in aid. Analysts said the state had the most ground to gain specifically in this area for the federal contest.
The vetoed bill "is consistent with what Race to the Top wants," said Andy Smarick, an education policy analyst who was an official in the federal Department of Education under President George W. Bush.
Reformers have tried to draft policies that allow student-achievement data to be used to reward good teachers and identify poor ones.
When Florida proposed strict accountability measures, teachers, parents and administrators pushed back. They argued that the proposed system — basing renewal of teacher contracts and at least half their raises on how well students did on standardized tests — would hold them responsible for factors in students' lives beyond their control.
"I am not a puppet master; I can't pull strings and make them perform," said Amy Horr, a second-grade teacher in the Miami-Dade School District who attended a rally on Monday. "I can't even make them come to school."
The president of the state teachers' union, Andy Ford, argued that the pressure on children "will be immense when the teacher's salary evaluation, contract and certification are all tied to that score."
Co-ordinated campaign
Teachers coordinated a huge phone and e-mail campaign to lobby the governor, in part through a 70,000-member Facebook group. Reactions on the site moments after the noontime veto were ecstatic: "Sweet victory!" and "Woohoo!!! I love you Charlie Crist...For now!!!"
Republican leaders of the Legislature, who said they did not have time to resubmit a new bill before the end of the current session, criticized the governor. Former Gov. Jeb Bush, who backed the bill, said in a statement that "Governor Crist has jeopardized the ability of Florida to build on the progress of the last decade," during which Republicans ushered in other controversial changes that they say are responsible for rising student achievement statewide.
It is unclear what Mr. Crist's veto will mean for him politically. Even some Tea Party followers had turned to opposing the pay and tenure overhauls because of the increased bureaucracy.
A Quinnipiac poll published Thursday showed that if Mr. Crist ran as an independent candidate in the Senate contest, he would finish narrowly ahead of Mr. Rubio and Kendrick Meek, the Democratic candidate.
Repeatedly, Mr. Crist has said he will not run as an independent. With an April 30 deadline for switching parties, some political analysts said his veto could be a final push to close the gap with Mr. Rubio.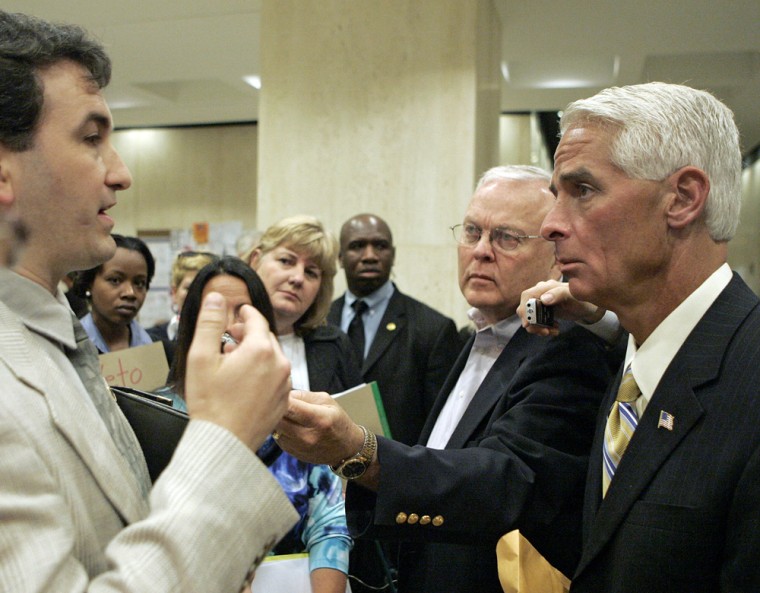 "He's betting on the fact that the Republican legislators themselves have been catching some heat for this," said Susan A. MacManus, a political science professor at the University of South Florida, referring to the merit-pay bill. "He'll wait and see if this moves the polls within the Republican ranks; he still has time to make a decision."
A few hours after his veto, Mr. Crist attended a rally in his honor on the steps of Leon High School in Tallahassee, which was draped with a big sign saying, "Thank You, Governor Crist."
"The people spoke, and they spoke loudly, and boy, did I hear from them this week," the governor told the crowd.
Manny Joanos, energy director for Leon County schools and a Republican, said that he had been leaning toward Mr. Rubio in the Republican primary, but that Mr. Crist had changed his mind. "I'll be voting for the governor," Mr. Joanos said.
Mr. Crist again declined to say whether he would remain a Republican. "That's the last thing on my mind right now," he said.
Gary Fineout contributed reporting from Tallahassee, and Catharine Skipp from Miami.
This story, "Florida Governor Splits With G.O.P. on Teacher Pay," first appeared in The New York Times.