A senior official with Britain's Conservative Party was preparing to interview a 21-year-old Oxford University graduate for a job when the telephone rang.
A "distinctly grand" voice claimed to be calling from Buckingham Palace, home to Queen Elizabeth II. "I understand you are to see David Cameron," the mysterious caller said. "I've tried everything I can to dissuade him from wasting his time on politics, but I have failed. I am ringing to tell you that you are about to meet a truly remarkable young man."
Whether the June 1988 call actually originated at the palace is unknown. What did happen, though, was that Cameron was hired — and so began a meteoric rise that has taken him to the brink of the highest office in the land.
A surprise choice as Conservative leader in 2005, the telegenic 43-year-old has been credited with reversing his party's fortunes. With a parliamentary election looming on May 6, polls put his party ahead of Gordon Brown's center-left Labour Party, which has been in power since Tony Blair's triumph in 1997, and the surging third party, the Liberal Democrats.
On Thursday night, the leaders of the three main parties will square off for the last of a historic series of U.S.-style television debates, which have enlivened what had been a relatively dull election that just weeks ago was seen as a sure-thing for Cameron.
Nick Clegg, leader of the perennially third-placed Liberal Democrats, has been hailed as the "Barack Obama of British politics" after an unexpectedly strong performance in the first debate.
Ahead of the showdown, a Populus poll in the Times newspaper Thursday put Cameron's Conservatives on 36 percent, the Liberal Democrats on 28 percent and Labour at 27 percent. However, no party is likely to win enough seats to gain control of the parliament, forcing Cameron to woo a coalition partner.
Cameron will be seeking a knock-out blow during the 90-minute televised tussle so he can make the ceremonial journey to Buckingham Palace, where the queen, a distant relative, would ask him to form a new government.
Upper-crust accent
It would be the culmination of a winding climb. Wealthy and possessing an upper-crust accent, the former pupil of the prestigious Eton private school was once associated with the right wing of the party, but he now describes himself as a "liberal Conservative." The death of his six-year-old son is seen as a factor in his political transformation.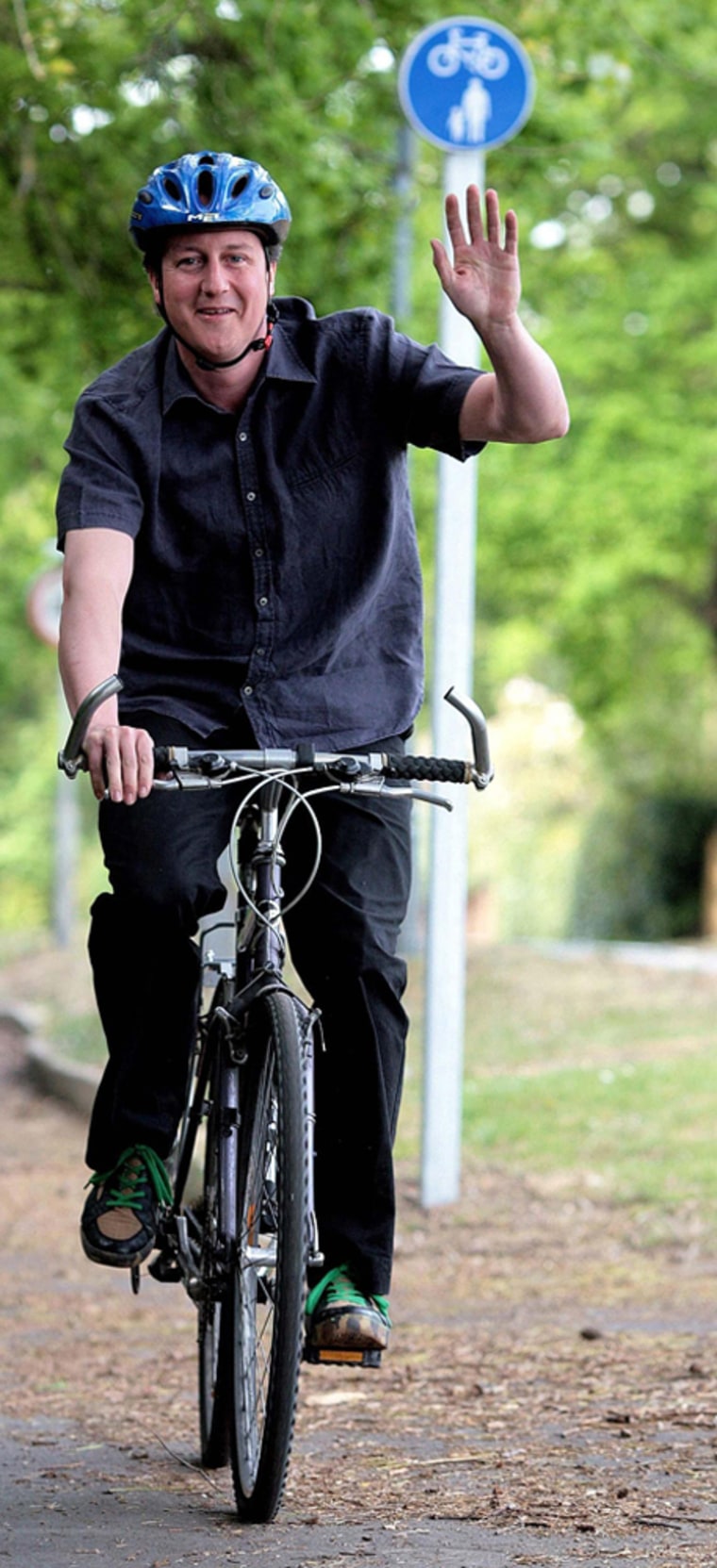 In a poster issued early in the election campaign, Cameron promised to cut Britain's soaring deficit without affecting the state-run National Health Service (NHS) and he has played up his "green" credentials by riding a bicycle from his $3 million home to parliament (although he was famously caught with a chauffeur driving behind with his dress shoes and briefcase).
Opponents allege Cameron is a master of political spin who has cynically moved his party to the center ground to win power. They also point out that his only significant job outside politics was a stint in public relations.
He also has faced accusations that his wealthy background means he is out of touch with most voters. When asked in a TV interview about claims he was worth $46 million, Cameron laughed it off and then refused to be drawn further on the subject.
Born in London, Cameron is the son of a stockbroker, Ian, and Mary, daughter of baronet Sir William Mount. In 2005, genealogists Debrett's revealed he was the fifth cousin twice removed of Queen Elizabeth II and a descendant of King William IV.
Cameron was raised in the quintessentially English village of Peasemore in Berkshire. At the age of seven, he went to a private boarding school — called a prep school in England — and then attended Eton, where he was reportedly disciplined for smoking marijuana. He has not denied this, telling the BBC in 2007 that while he had done things he "should not have done," politicians were entitled to a private past.
Wild behavior
Cameron then studied philosophy, politics and economics at Oxford University, where he became a member of the Bullingdon Club, an exclusive student drinking and dining society with a reputation for wild behavior.
Embarrassingly for Cameron, a photograph emerged years later of the elite group posing in tail-coats, only serving to emphasize his upper-class roots. After much controversy, the copyright holder withdrew permission for the media to use the photograph, but the BBC's Newsnight program got round this by commissioning a painting by an artist.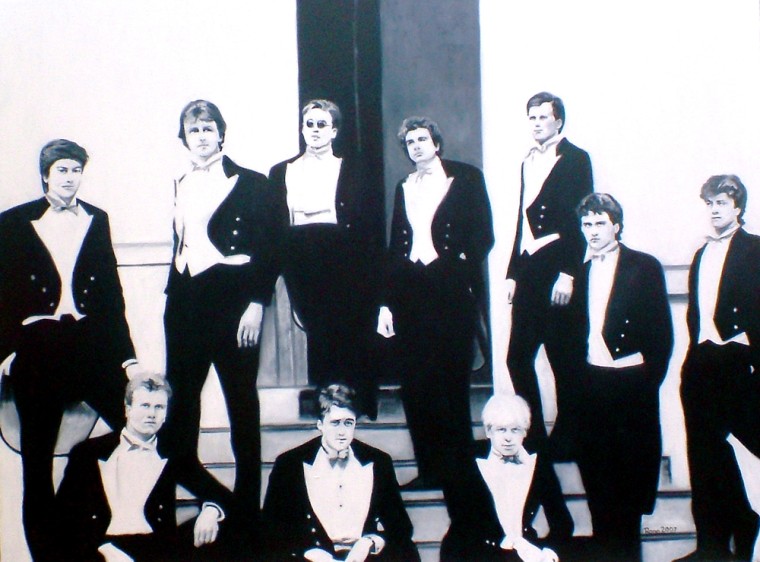 At Oxford, he met Toby Young, the future author of "How to Lose Friends and Alienate People" – his account of a stint as a journalist in the U.S. — and co-producer of a dramatized TV documentary, "When Boris Met Dave," about the student days of Cameron and fellow Bullingdon Club member Boris Johnson, now the Conservative mayor of London.
"He [Cameron] was very friendly, fairly down to earth," said Young, who plans to vote for the Conservatives. "He liked The Smiths (an English rock band), going out clubbing and drinking beer. He was quite cock-sure and perhaps a little bit arrogant, but in a fairly charming way. He perhaps slightly hammed up his conceitedness as a way of disarming you."
Cameron was still a "dry-as-dust Thatcherite" — a supporter of then prime minister Margaret Thatcher, seen as on the right-wing of the party — at this time, according to Young, who would debate politics with him.
After securing the job in the Conservative Party's research department, Cameron quickly impressed and was given the task of briefing the then-prime minister, John Major, for exchanges in parliament.
In June 1991, the Sunday Times noted Major's performances had become "sharper of late," giving 24-year-old Cameron the credit.
Major won the 1992 election, with Cameron working among a group of young party strategists known as the "Brat Pack."
In 1994, he left the party's employment to work for a TV company, but stood for the Conservatives in the 1997 parliamentary election, only to lose. However, he was elected an MP in 2001 and just four years later was voted party leader.
By this time, he had been married to his wife, Samantha, for five years. As the daughter of a baronet (the rank of nobility just below an earl), she shared his privileged background.
However, in her youth the then Samantha Sheffield had a taste for "the wilder shores" of Bristol, where she was an art student, according to a biography called "Cameron: The Rise of the New Conservative" by journalists James Hanning and Francis Elliott.
This included socializing with Adrian Thaws, who later became famous as the rapper Tricky. (Her nickname was "Snowy.")
Tricky told the Mail on Sunday newspaper that he and the baronet's daughter made "unlikely" friends, saying: "I was robbing houses, robbing stores, selling weed [marijuana] by the time I was 15."
Dubbed "Sam Cam" by the tabloids, the Conservative leader's wife sports a tattoo of a dolphin on her ankle and reportedly attended illegal "rave" parties in her younger days.
In 2002, the Camerons celebrated the arrival of their first child. However, it soon emerged that the boy, Ivan, had cerebral palsy and a rare form of epilepsy. He died in February 2009.
The pair have had two more children and in March it was revealed that Samantha Cameron was pregnant again.
The influence of his wife, a successful businesswoman in her own right, and Ivan's condition are credited with shifting Cameron's political beliefs from the party's right-wing to the center ground. However, Cameron recently told GQ magazine he was prepared to be as "widely disliked" as Thatcher, as long as he did the right things for the country.
'An aura around him'
Hanning, whose biography revealed the mysterious phone call apparently from Buckingham Palace, said he had not expected to like Cameron, but found him to be "really impressive."
"It strikes me that there's a Clintonian charisma about him," Hanning told msnbc.com. "He's very at ease with himself. He sees the good in other people and likes other people and is naturally accessible and likable. There's a bigness, an aura around him, which you don't necessarily get when he's on television. You see people wilt under it."
One of the most significant things about Cameron, according to Hanning, is that he is "completely pragmatic."
"He's without dogma to the extent people say he's without ideology and some [critics] say he's without any beliefs at all," Hanning added.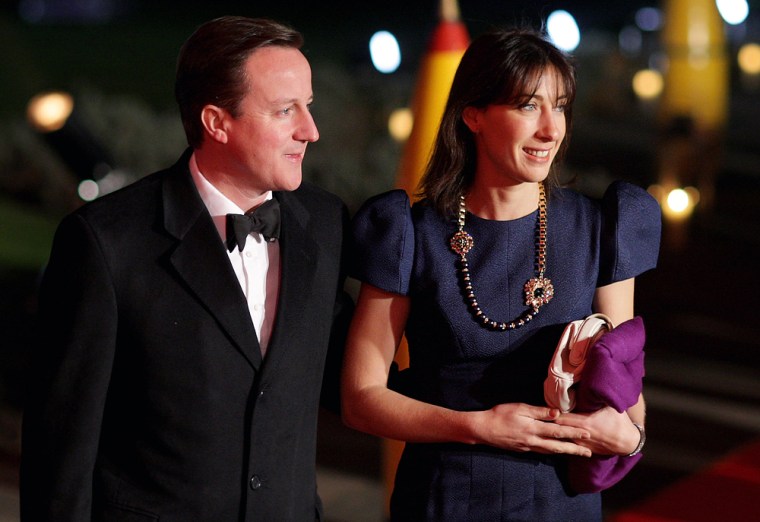 Conservative colleagues bristle at claims that Cameron lacks substance.
"It's absolute nonsense," said Jeremy Hunt, a Conservative lawmaker who was also a contemporary of Cameron at Oxford University.
"You see absolute consistency in his support for the NHS, environmental issues, his passionate commitment to the socially disadvantaged," he added.
"These have been the hallmarks of his leadership," Hunt said. "I think he is someone who has deeply held beliefs, formed as much by the knocks of real life as they are by Conservative ideology."
"He had a disabled child. I think that probably changed him, made him less of a traditional Conservative," he added. "Having to depend on the NHS personally made him understand why the NHS is so incredibly important to all Britons.
"I think he's probably been on a [political] journey. He's had life experiences that have forced him to challenge ideology with the reality life throws at you."