Toby Oppenheimer was the producer and writer of "The McVeigh Tapes: Confessions of an American Terrorist." In this Q+A, he explains how he came across the never-before-heard audio tapes, the challenge of finding survivors willing to talk about the tragedy, and his decision to use computer animation to bring the story to life.
What was it like meeting the OKC victims and their families?
Toby Oppenheimer: Visiting Oklahoma City for the purposes of this film was very difficult. I was quite astounded by what a raw nerve the bombing still is 15 years later among the citizens of the city. It was very tough finding survivors of the tragedy who were interested in speaking with us, as they understandably didn't want to revisit the painful memories associated with the tragedy. Some survivors who did agree to sit down for interviews often called back a day later to politely back out. We were eventually very fortunate to have a handful of extremely open, articulate survivors and family members come forward to share their feelings about the tragedy. Their involvement was crucial to making this film as powerful and effective as it is.
How did you come about these tapes?
I first got in touch with Lou Michel during the early stages of research for the film. I called him up with the intention of seeing whether he might be interested in sitting down for an interview and we connected right away. He's a super bright, very warm guy and an extremely experienced journalist who instantly saw the relevance of what we were trying to do in dissecting McVeigh's story for a contemporary audience. We talked for quite a while about his book on McVeigh, "American Terrorist," and his experiences researching it many years ago. He openly shared with me his detailed account of how he landed the interview with McVeigh in prison and what their first meeting was like, etc. Near the end of that first conversation, as I was about to get off the phone, I casually asked if there was any chance he and his partner Dan Herbeck had recorded any of those interviews. Lou responded that sure, he's got like 45 hours of tapes sitting in his closet that had never seen the light of day. Somewhat shocked by this revelation, I asked him if they had ever been heard before publically and he told me they hadn't. Suffice it say that I immediately invited him to come down to our New York office with tapes in hand so we could meet in person and listen to the tapes together.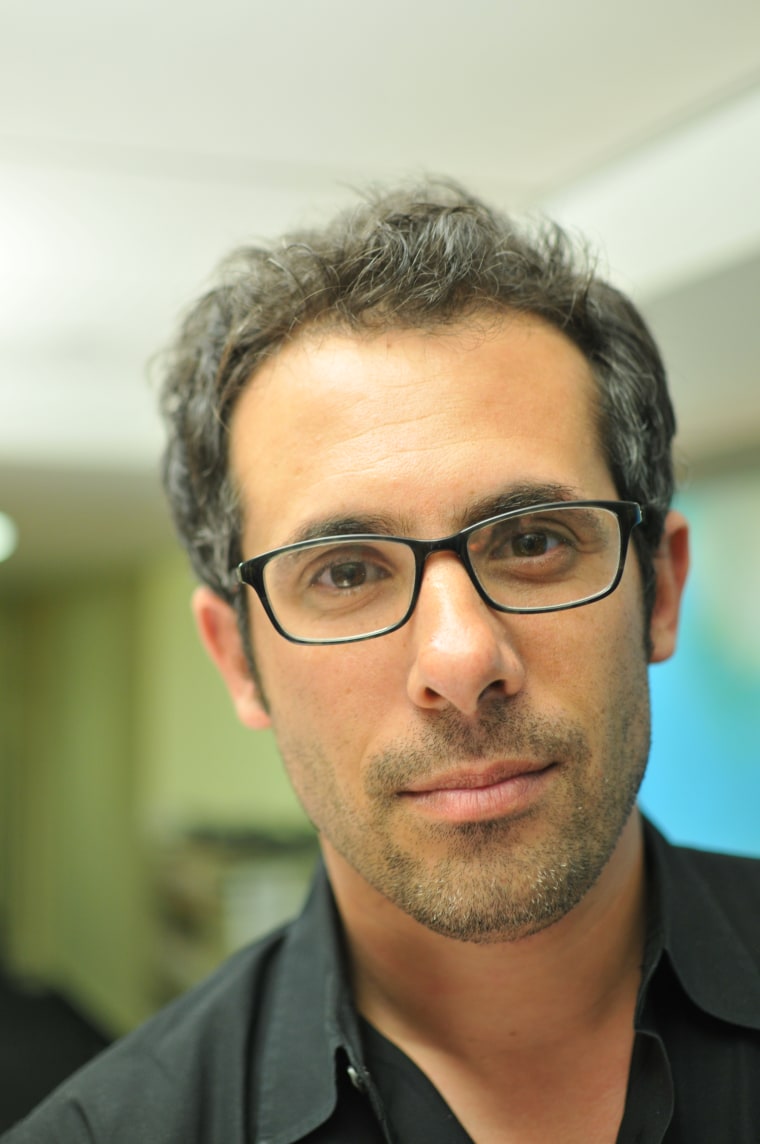 When you first heard the tapes, what did they sound like?
Discovering that Lou had these tapes was an absolute game changer in the development of this film. All of the top brass at the network were very excited about getting a chance to listen to them and meet Lou, so I invited him to come down from Buffalo (where he is a reporter at the Buffalo News) and play some excerpts for us. Lou arrived with a bagful of the cassette tapes that did indeed look like they'd been gathering dust in his bedroom closet all these years. He had cued a few of them up to some key sections of the interviews when we all sat down to listen. But the second he pressed play, the air went out of the room. We were crestfallen. McVeigh's words were undoubtedly compelling, but the sound quality was horrid. Even more discouraging was the fact that Lou, who conducted the interviews, continually talked over McVeigh's words. It wasn't his fault, of course, as at the time Lou was conducting an interview for a book, not a documentary. He didn't think twice at the time that his voice consistently talked over McVeigh's words, as his intent was only to make him comfortable enough to open up to him. He wasn't aware that he was breaking every rule in the broadcast world by speaking over his subject – disallowing any potential clean editing to be done. So, it was a heartbreaker. We were pretty convinced that the tapes would be impossible to work with when we sent them to our sound engineer to take a closer look at the audio quality. Amazingly, the engineer got back to us with the heartening news that the tapes were in fact recorded on 2 separate channels – one microphone on Lou and one on McVeigh – with a thick piece of plexiglass in between them to help separate the sound even more! It was actually somewhat of a miracle that Lou had recorded the interviews in the most technically advanced way possible – without even knowing it! What was a lost cause quickly became the powerful, never-before-heard driving force in the creation of this documentary.
How did you decide on using computer graphics and stills in the documentary?
Once we decided to license the tapes from Lou Michel and make them the central narrative device of this film, we were suddenly faced with an even more taxing dilemma: what exactly would we visually see while hearing McVeigh speak? Of course, there were always recreations to fall back on. I have a true aversion to recreations. I find them to do the exact opposite of what they are intended to do – they take me out of the story as opposed to pull me in. The moment I see a reenactment that feels false, I quickly avert my eyes and lose interest. But unfortunately McVeigh's story – as told by the man himself – could not be done solely through archival stills and footage. There simply wasn't enough – minus a handful of photos from his past – that could cover a short piece on him, much less a feature-length documentary. So, through much brainstorming, we came up with the concept of placing an actor in different scenes from McVeigh's past and shooting them all in still photographs. No video, just thousands and thousands of still photographs. This decision to shoot in stills was an attempt to create a restrained, measured, almost austere tone – the only approach feasible when telling such a dark story with a mass murderer such as Timothy McVeigh as the protagonist.
To venture even further away from run of the mill recreations, we took a leap of faith and teamed up with the very talented graphic design company Mechanism to create a 3-D CGI model of McVeigh. Their job was to replace the actor's face in every single still photo we gave them with the CGI version of McVeigh's face. It was an extremely meticulous, exhaustive process that I was anxious about until the very end. If even one still looked false, then I felt the viewer would see through the conceit and the suspension of disbelief would be shattered. But Mechanism ultimately pulled the challenge off brilliantly.
Why has no one heard these tapes before?
In one point in late 2001, shortly after McVeigh was executed, Lou was in talks with licensing the tapes to another film project. But then the attacks of 9/11 happened and interest in the tapes and most anything having to do with the Oklahoma City bombing (ro anything else for that matter) were understandably placed aside. It wasn't until our phone call in late 2009 that Lou thoroughly considered the tapes as being a powerful tool that might play a part in paying tribute to the 15th anniversary of the bombing in Oklahoma City.
"The McVeigh Tapes: Confessions of an American Terrorist" airs April 19, Monday, 9 p.m. ET on msnbc. Watch preview video clips here.