/ Source: The Associated Press
The union that represents New York City doormen and a building owners association agreed on a new labor contract Wednesday, averting a strike that could have compelled tenants at the city's most privileged apartment buildings to take out their own trash and staff their own lobbies.
"This is a victory for building owners, employees and residents," said Howard Rothschild, president of Realty Advisory Board, which represents building owners.
The settlement, reached just minutes after a 12:01 a.m. Wednesday deadline, calls for a four-year contract with a nearly 10 percent increase in wages and no cuts in benefits for workers.
"We feel it's a very fair agreement. It's good for the industry, good for the workers," said Mike Fishman, president of Local 32BJ of the Service Employees International Union, which represents 30,000 workers at 3,200 apartment buildings.
"We pushed back on any and all attempts by real estate industry to take away any of our sick leave, vacation and other benefits and we're feeling good about this contract," said 32BJ spokesman Matt Nerzig.
A commitment by the union to create savings of at least $70 million annually in health care expenses enabled the wage increases, Rothschild said.
The agreement must be ratified by its members, said union spokesman Kwame Patterson. The vote could happen in about three weeks.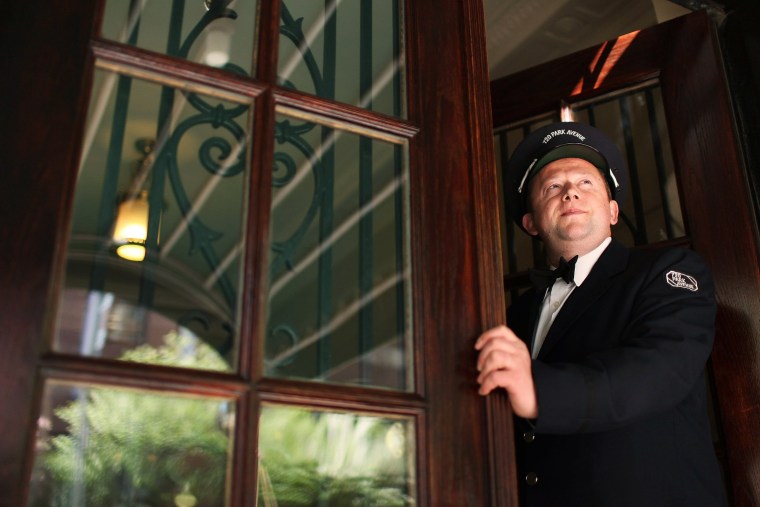 "In these difficult financial times we appreciate that both sides were able to work creatively to create real cost savings that could be translated into wage increases for hard working employees," said Mayor Michael Bloomberg in a statement released early Wednesday.
Nearly 1 million New York City apartment dwellers rely on doormen and other building workers to make life in a high-rise run smoothly.
The union members work at luxury buildings with grand marble lobbies and at modest buildings for middle-class tenants. They mop the hallways, admit visitors and accept deliveries of groceries and Chinese food. Some will walk a tenant's dog or assemble Ikea furniture.
'They tell me everything'
Doorman Hector Matias, who works at a luxury tower near the Hudson River, said he once helped a pregnant woman whose water broke.
"The lady went into labor, and I put her in the car and buckled her seat belt," he said with a broad grin as he recalled the story. "The baby was born minutes later."
The job more typically involves talking to people who are lonely in the big city. "On their way home, especially at night, they tell me everything," Matias said.
Tenants at Matias' building pay more than $6,000 a month for two-bedroom furnished apartments with maid service. Residents include Ace Young, the former "American Idol" contestant who is appearing in "Hair" on Broadway, and New York Times best-selling author Suzanne Brockmann.
Speaking on his cell phone during an intermission, Young said, "Hector and the other guys make sure the right people get in — it's all about the right people, my friends."
At a building in the less glitzy neighborhood of Murray Hill, doorman Reinaldo Hernandez said many tenants are elderly or disabled.
"If they're not feeling well, we'll go sit with them until their nurse arrives," Hernandez said.
Building workers make about $40,000 a year, plus whatever they get in tips and holiday gifts from residents, which can add up to several thousand dollars.
The union last went on strike in 1991 for 12 days. During that time, garbage began to pile up on the sidewalks after sanitation workers refused to cross picket lines. The health department eventually ordered that it be picked up.