/ Source: The Associated Press
A missing handwritten transcript from a coroner's inquest done after the legendary gunfight at the OK Corral has resurfaced in a dusty box more than 125 years after the most famous shootout in Wild West history.
The document resurfaced when court clerks stumbled on the box while reorganizing files in an old jail storage room in Bisbee, about 20 miles south of Tombstone.
Stuffed inside was a modern manila envelope marked "keep" with the date 1881.
Court officials turned the document over to state archivists on Wednesday. Experts will immediately begin peeling away tape, restoring the paper and ink, and digitizing the pages.
The first pages could show up on the library's website for historians to review as soon as next week.
It's unlikely the transcript will provide any shattering revelations, since historians have already reviewed photocopies of the document and the inquest was covered in detail by local newspapers at the time.
But history buffs said the transcript is enlightening nonetheless, clearing up fuzzy points in the copies and revealing small notes that might not have appeared on the photocopies.
"They were handled by the people of that moment, and they're the actual artifact that encapsulated that time period," said GladysAnn Wells, Arizona State Librarian.
Heroes of the Old West
The 1881 gun battle between the forces of law and a gang of rustlers left three men dead, made folk heroes of Wyatt Earp and Doc Holliday and inspired numerous movies about the untamed Old West.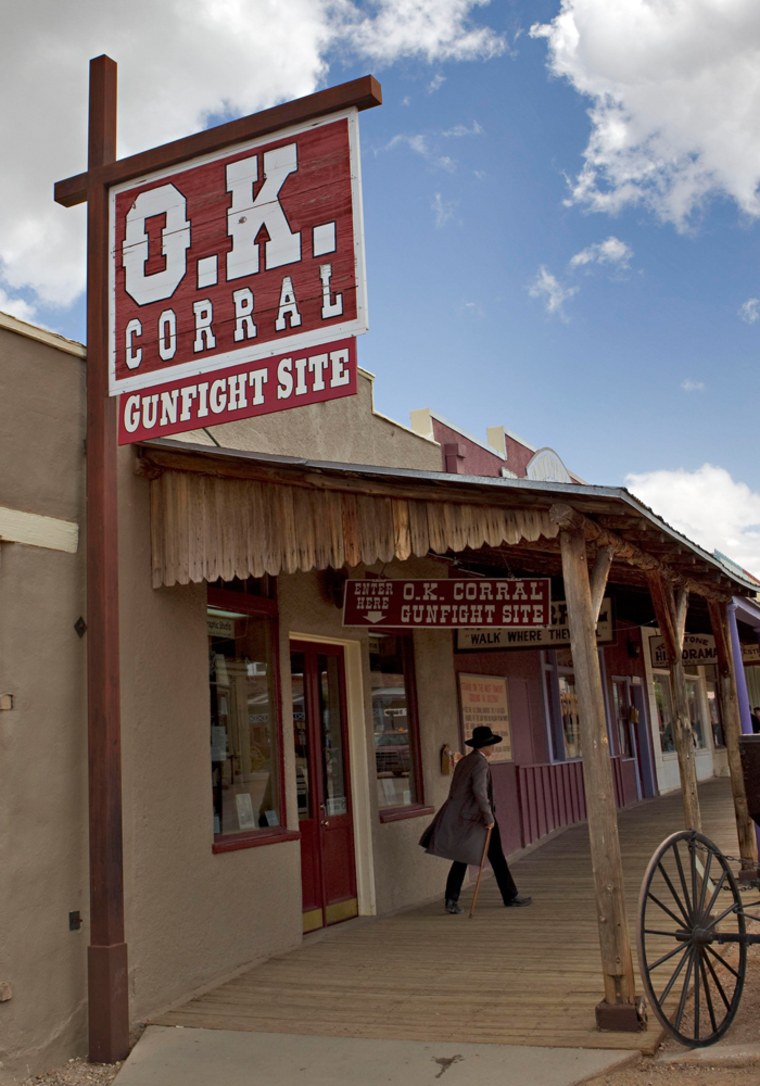 The inquest was done on the same day Earp, his two brothers and Holliday confronted a gang of drunken outlaws, sparking a 30-second gun battle in the streets of Tombstone that killed Frank and Tom McLaury and Bill Clanton.
The document has been missing for decades — last seen when it was photocopied in the 1960s. The pages include verbatim testimony from eyewitnesses to the shootout.
The document is legible, but the paper has darkened to an amber beer color and is brittle like a potato chip, said Cochise County Court Clerk Denise Lundin. The handwriting can be difficult to read because the court reporter was rapidly taking notes, she said.
Even if the document doesn't reveal new information, the discovery helps historians feel more comfortable with the record, said Gary Robertson, a Wild West historian and author of the book "Doc Holliday, the Life and the Legend." But most importantly, it sparks the imagination.
"Every time you find one it gives you hope that maybe you'll find some more," Roberts said. "Maybe there will be something else that we've all been dying to get our hands on."
Lundin is convinced that somewhere in her courthouse are records of the inquest for Johnny Ringo, another legendary outlaw.
"These things aren't something you can go search for," she said. "You really just have to watch for them."