/ Source: The Associated Press
Security forces and agitated protesters faced off at a major intersection Friday after bloody grenade attacks rattled Thailand's chaotic capital — a scene of tense, weekslong confrontations between die-hard demonstrators and a wavering government.
The late-night attacks killed three people and wounded 75, Deputy Prime Minister Suthep Thaugsuban said. Attackers shot five M-79 grenades from near where anti-government Red Shirt protesters have been encamped and the blasts struck areas where counter-demonstrators have gathered, but Suthep stopped short of directly blaming the Red Shirts for the attack.
The mostly rural Red Shirts have been entrenched on Bangkok's streets since March 12 in a campaign to dissolve Parliament and hold immediate elections, and Thailand's powerful military has warned them that time is running out to clear the streets or face a crackdown.
Ban calls for restraint
In New York, U.N. Secretary-General Ban Ki-moon voiced concern that the situation could escalate and called for dialogue, his spokesman said. "This is a moment requiring restraint on all sides," spokesman Martin Nesirky quoted the UN chief as saying.
Suthep urged people who had been demonstrating against the Red Shirts to leave the area for their own safety.
Police and soldiers stood guard at the mouth of Silom Road, the capital's financial district, while across the intersection, Red Shirts screamed slogans and brandished sharpened bamboo staves. Morning traffic on the normally jammed road was light and fewer workers were seen headed for their offices.
Bangkok's skytrain service cut its hours of operation and shut down stations in the protest-affected area. A number of stops along the city's subway routes were also shut down but operating hours remained the same.
The Red Shirts consist mainly of poor rural supporters of former Prime Minister Thaksin Shinawatra and pro-democracy activists who opposed the military coup that ousted him in 2006 after months of demonstrations by the Yellow Shirts.
Protesters want Parliament dissolved
The Red Shirts believe the government of Prime Minister Abhisit Vejjajiva is illegitimate because it came to power under military pressure through a parliamentary vote after disputed court rulings ousted two elected pro-Thaksin governments. They want Parliament dissolved and new elections held.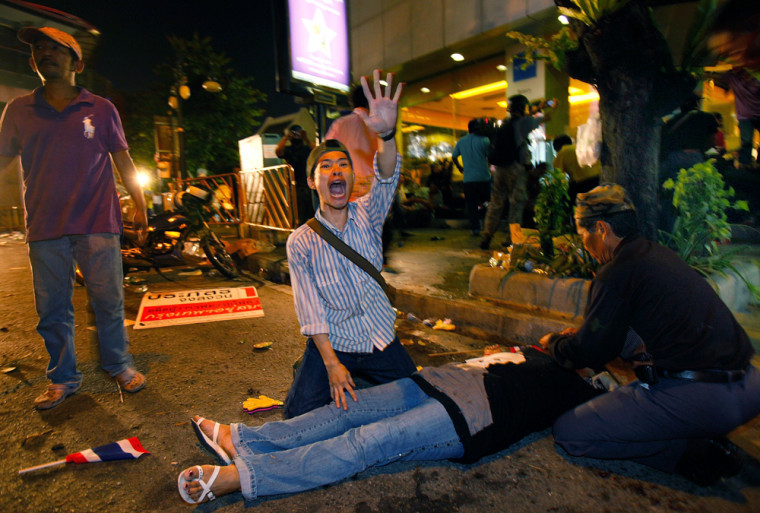 The first three blasts happened at about 8 p.m. at the elevated mass transit skytrain station on Silom Road, which is close to the Patpong entertainment district, famous for its go-go bars. Grenades punched two holes in the platform roof, and passengers were rushed away down the station's stairs by soldiers who were stationed there. At least two people were hurt, though apparently not seriously.
About 30 minutes later two more blasts occurred at an intersection filled with demonstrators protesting against the Red Shirts as well as bystanders. One exploded in front of a sandwich shop near the entrance to a hotel driveway and the other a dozen or so yards (meters) down Silom Road in front of a bank.
Chaos ensued, as the scores of wounded were tended to and carried to ambulances. The front window of the sandwich shop was shattered, and a pool of blood was on its stoop.
"The authorities are conducting an investigation, but it's too soon to give any conclusion," government spokesman Panitan Wattanayagorn said. "This is the work of the terrorists that the government has always been wanting to get rid off."
The army warned on Thursday that time was running out for the Red Shirts to clear the streets, saying soldiers would crack down soon. The protesters are in violation of several laws, including a state of emergency.
"To take people in Bangkok hostage is not right," army spokesman Col. Sansern Kaewkamnerd warned. "Your time to leave the area is running out."
Military foiled
Since the beginning of the crisis, Abhisit's government has threatened to curtail the protests and but has failed to follow through with action. Military units from the 200,000-strong army have been routed in several encounters with the crudely armed demonstrators. And the police have often melted when faced with determined rioters.
In a previous paroxysm of violence, 25 people were killed and more than 800 wounded on April 10 when the army sought to clear out Red Shirt protesters from an encampment in another part of the capital.
Since the protests began, more than two dozen grenade attacks and bomb explosions have rocked the city. Nobody has yet been apprehended, giving rise to rumors and speculation, including that the some of the attacks were the work of renegade army officers either seeking to provoke the Red Shirts or to settle scores within the fractious military.
Culprits in violent incidents related to politics are rarely brought to justice. There have still been no arrests, for example, in mysterious bombings on New Year's Eve 2006.
Behind the Red Shirts' line is their redoubt, which extends for more than a mile (2 kilometers) up to another intersection, where tens of thousands of supporters gather around a stage to hear nearly nonstop speeches.
Political objections to Red Shirts
The anti-Red Shirt group includes office employees, middle class families, academics, some low-wage workers and members of the Yellow Shirts, a group that supports the current government and who themselves rampaged through Bangkok and seized the city's airports two years ago.
Although some are genuinely aggrieved by the inconveniences wrought by the protests, many seem to have primarily political objections to the Red Shirts, including claiming the movement is directed against the country's widely revered monarch.
Siripan Nogsuan Sawasdee, an associate professor of political science at Bangkok's Chulalongkorn University, said she did not wish to speculate on who may have been behind the bombings.
"But the situation could provide a good excuse for the government to use force against the Red Shirt protesters," she said.
The emergence of rival groups such as those who have been demonstrating against the Red Shirts has made the situation "more provocative," and their goals were not very clear, she added.