/ Source: The Associated Press
Orders for large manufactured products, excluding transportation goods, rose last month by the most since the recession began in December 2007.
Overall orders fell by 1.3 percent, the Commerce Department said Friday, dragged down by a sharp drop in demand for commercial aircraft. But excluding planes and other transportation goods, orders surged 2.8 percent, much more than analysts forecast.
The report is the latest sign that the once-battered manufacturing sector is helping drive the economic recovery. U.S. factories are benefiting from overseas sales and a sharp increase in business spending.
Analysts said the report shows businesses are spending more on new equipment in anticipation of a stronger economy.
"Firms are finally putting their money where their mouths are and betting on a rebound," Diane Swonk, chief economist at Mesirow Financial, said in a note to clients.
In a second positive report Friday, the Commerce Department said new home sales skyrocketed 27 percent last month, bouncing off the previous month's record low. The figure blew past expectations as better weather and government incentives boosted sales.
The department said new home sales rose in March to a seasonally adjusted annual sales pace of 411,000. It was the strongest month since last July and the biggest monthly increase in 47 years.
The reports helped boost the stock market. The Dow Jones industrial average rose 42 points in early trading, while other indexes also gained.
Aircraft weak
The weakest sector in the durable goods report was aircraft orders, which plummeted by 67 percent in March. But that followed sharp gains of 135 percent in January and 33 percent in February.
The Boeing Co. said Wednesday it delivered 108 aircraft in the first quarter, down by 11 percent from 121 deliveries in the first quarter of 2009.
Outside the aircraft industry, the gains were broad-based. Orders for computers and electronic products rose 3.4 percent, the most since February 2009, while demand for machinery jumped 8.6 percent, the most since September of last year.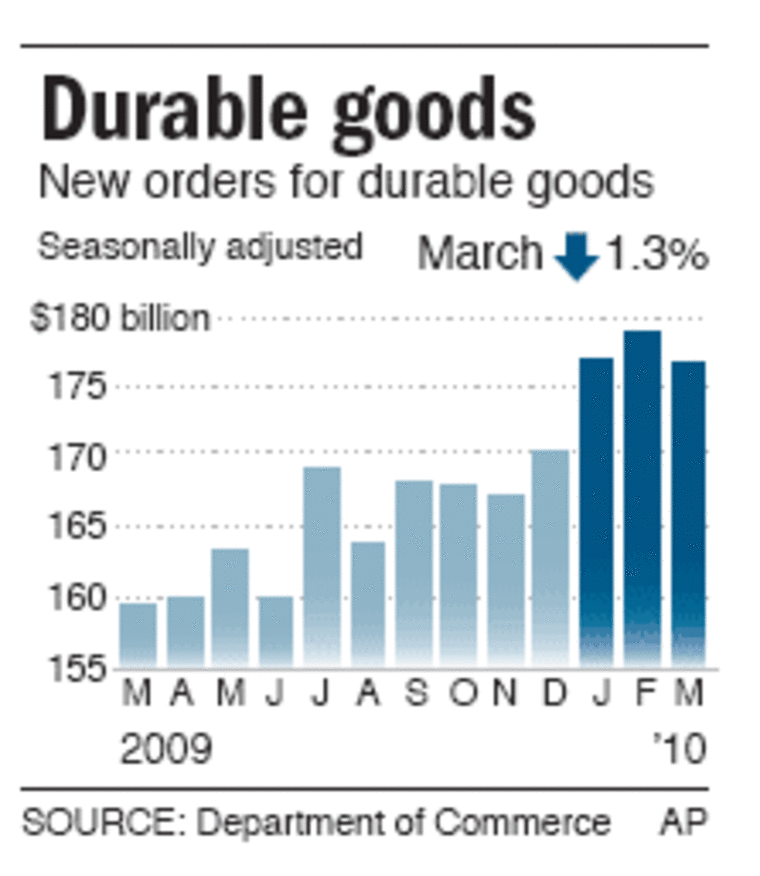 Auto and auto parts orders rose 2.5 percent, compared with a 1 percent drop the previous month. The U.S. auto industry reported healthy sales gains in March due to temporary federal tax incentives.
Overall, business spending on capital goods such as computers and machinery jumped by 4 percent, more than many economists forecast and the second straight increase. Business investment has been a critical factor in the recovery, as consumers haven't spent as freely as in previous rebounds.
Companies are also increasing their inventories, the report showed, though at a modest pace. Rising inventories can be a sign of confidence in future sales. Stockpiles of durable goods rose 0.2 percent in March, the department said, the third straight monthly gain.
After slashing their inventories during the recession to bring them in line with much lower sales, companies are replenishing their warehouses. That shift boosts production and accounted for about two-thirds of the economy's 5.6 percent growth in last year's fourth quarter.
Next Friday the government will release its first estimate of the economy's performance in the January-to-March quarter. Economists forecast it will show growth of 3.5 percent, according to Thomson Reuters.
That's normally a healthy pace, but is slower than many previous recoveries. Economists also worry that it's not strong enough to quickly reduce the nation's unemployment, currently at 9.7 percent.