/ Source: The Associated Press
Sales of new homes surged 27 percent last month, bouncing off the previous month's record low and blowing past expectations as government incentives and better weather boosted sales.
The Commerce Department said Friday that new-home sales rose in March to a seasonally adjusted annual sales pace of 411,000. It was the strongest month since last July and the biggest monthly increase in 47 years.
Economists surveyed by Thomson Reuters had expected a sales pace of 330,000. February's results were revised upward to 324,000, but remained an all-time low. Sales had been especially weak over the winter, partly due to bad weather in much of the country.
The median sales price was $214,000, up more than 4 percent from a year earlier but down more than 3 percent from February.
The new-home sales report reflects signed contracts to purchase homes rather than completed sales and thus gives economists a feel for how many buyers were out shopping for new homes in a given month.
It is likely capturing consumers who are trying to qualify for federal tax credits that will expire at the end of this month. The government is offering an $8,000 credit for first-time buyers and $6,500 for current homeowners who buy and move into another property.
To qualify, buyers must have a signed contract complete by the end of next week and must complete the transaction by the end of June.
"Everyone's just trying to sign on the dotted line," said Jennifer Lee, an economist with BMO Capital Markets.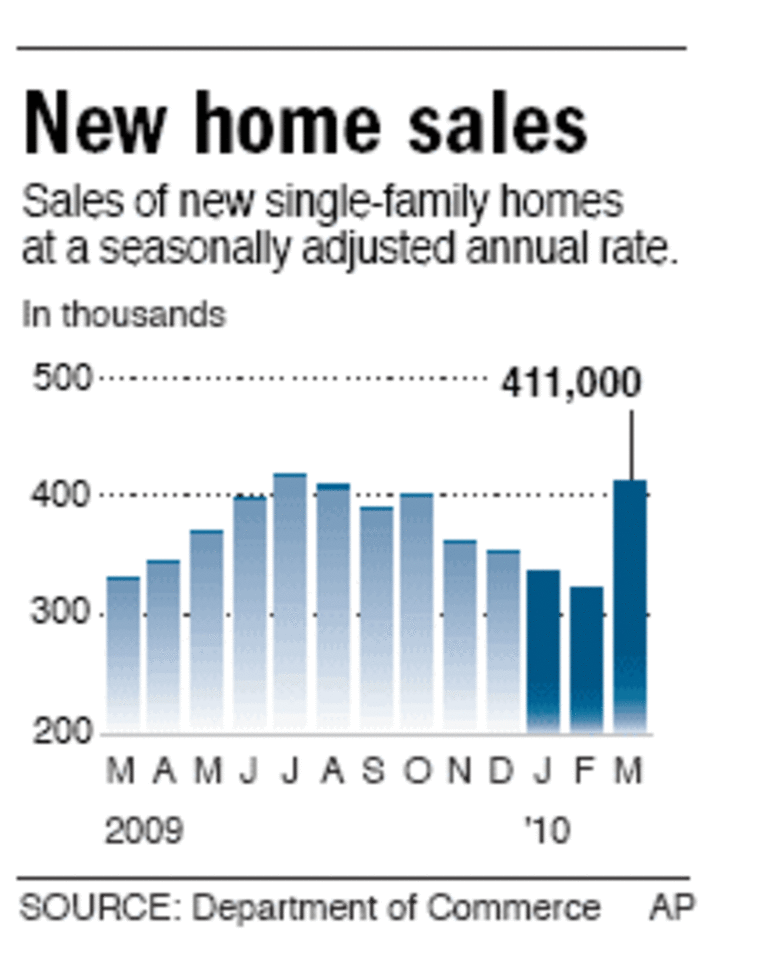 Nearly 1.8 million households have used the credit at a cost of $12.6 billion, according to the Internal Revenue Service.
"These robust numbers say the credit is working," said David Crowe, chief economist at the National Association of Home Builders. He forecasts sales will rise through April, weaken modestly, and then remain stable through the rest of the year.
The rise in new-home sales was seen nationwide. Sales grew a whopping 44 percent in the South and 36 percent in the Northeast. They also rose about 6 percent in the West and 3 percent in the Midwest.
The number of new homes up for sale in March fell 2 percent to 228,000. At the current sales pace, it would take nearly 7 months to exhaust that supply.
Still, new-home sales are down 70 percent from their peak in July 2005, and some analysts predict they will sink back to the winter's dismal levels after the tax credit runs out.
"I expect we'll see a very sharp drop back," possibly to new record lows, said Paul Ashworth, senior U.S. economist with Capital Economics.