/ Source: The Associated Press
The grandparents of a Florida toddler found wandering alone at St. Patrick's Cathedral were in New York on Friday, hoping for a reunion with the 3-year-old and clearance to take him home.
Donald and Frieda Fons of Land O' Lakes bought open-ended tickets because it's not clear when they will able to see their 3-year-old grandson Nathaniel, according to their son Ryan Fons. The boy will remain in foster care until legal and custody issues are resolved, according to the Administration for Children's Services.
"They heard there was a chance and they said, 'OK we're booking a flight,'" Ryan Fons told The Associated Press on Friday. "They were extremely excited to head up there."
Ryan Fons said his parents were told not to get their hopes up, but there was a possibility that they would be able to see their grandson, nicknamed Nathan, on Friday. He said children's services may want to see how Nathan responds to them since it has been almost a year since he saw them. They spoke to the boy Thursday via phone.
"They're nervous because they don't know how it's going to go, excited because they finally get to see him, hopefully, and just wishful I guess," Ryan Fons said. "He should recognize them. I don't know why he wouldn't. That's what we're praying for."
Nathaniel was found alone at the cathedral Tuesday evening with a note in his hand bearing the name of a detective in Florida and the words "call immediately." Eleanor Black, 29, was seen on surveillance footage at famed Fifth Avenue landmark moments before Nathaniel was abandoned, police said. William Scott, 32, was believed to have been with her.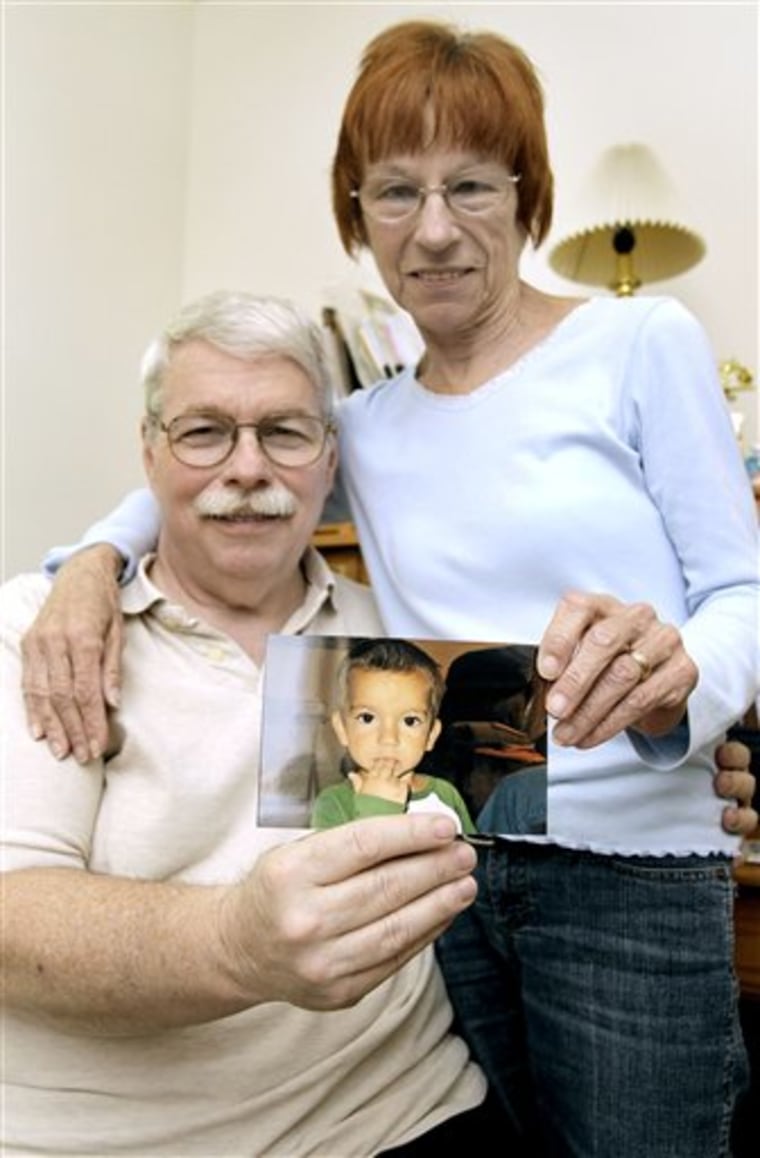 The couple in New York arrived Thursday evening. Staff from New York City's protective services has been in contact with social services officials in Florida and with the Fons. ACS said staff would meet with the grandparents, but the meeting was not open to the public.
Nathaniel and his parents had lived with the Fons until last year when their son William took a job on a fishing boat outside Vancouver, Wash. But he was arrested for failing to notify his parole officer and sent to jail in Florida, the family said. Records show William Fons is still jailed.
The grandparents wanted custody of their grandson, but his mother, Erin Comeau, took off with him, they said earlier this week. She had been traveling with her boy until her arrest Sunday in Florida on counterfeit charges. A couple traveling with her is suspected of taking Nathaniel north and leaving him at the cathedral.
"They have been through stress the past five days," Ryan Fons said of his parents. "They want to bring him back home. They were extremely sad when he left last June and went through a lot of stress then. It's finally about to be over, hopefully."
Flagler County authorities in Florida had issued a missing child alert for Nathaniel on Sunday, after Comeau was arrested on charges of operating a counterfeit money operation. Comeau, 26, told officials her son was in a separate car traveling with Black, Scott and their children. Their abandoned Chevy Suburban was found by Jacksonville sheriff's officials in a hotel parking lot.
New York City police said Thursday that the Black and Scott had skipped town and headed north. They are suspected in the same counterfeiting operation where Nathaniel's mother was arrested and would also face charges of endangering the welfare of a child in New York.
Comeau is being held in Florida. She said in a written statement that she would allow Donald and Frieda Fons temporary custody but did not want to "permanently lose her son."