/ Source: The Associated Press
Crews raced to protect the Gulf of Mexico coastline Monday as a remote sub tried to shut off an underwater oil well that's gushing 42,000 gallons a day from the site of a wrecked drilling platform.
If crews cannot stop the leak quickly, they might need to drill another well to redirect the oil, a laborious process that could take about two months while oil washes up along a broad stretch of shore, from the white-sand beaches of Florida's Panhandle to the swamps of Louisiana.
The oil, which could reach shore in as little as three days, is escaping from two leaks in a drilling pipe about 5,000 feet below the surface. The spill has grown to more than 1,800 square miles, or an area larger than Rhode Island.
Winds and currents can change rapidly and drastically, so officials were hesitant to give any longer forecasts for where the spill will head. Hundreds of miles of coastline in four states are threatened, with waters that are home to dolphins and sea birds. The areas also hold prime fishing grounds and are popular with tourists.
Robot submarines
The oil began spewing out of the sea floor after the rig Deepwater Horizon exploded April 20 and sank two days later about 40 miles off the Mississippi River delta. Eleven of the 126 workers aboard at the time are missing and presumed dead; the rest escaped. The cause of the explosion has not been determined.
As of Monday afternoon, an area 48 miles long and 39 miles wide was covered by oil that leaked from the site of the rig, which was owned by Transocean Ltd. and operated by BP PLC.
Crews used robot submarines to activate valves in hopes of stopping the leaks, but they may not know until Tuesday if that strategy will work. BP also mobilized two rigs to drill a relief well if needed. Such a well could help redirect the oil, though it could also take weeks to complete, especially at that depth.
BP plans to collect leaking oil on the ocean bottom by lowering a large dome to capture the oil and then pumping it through pipes and hoses into a vessel on the surface, said Doug Suttles, chief operating officer of BP Exploration and Production.
It could take up to a month to get the equipment in place.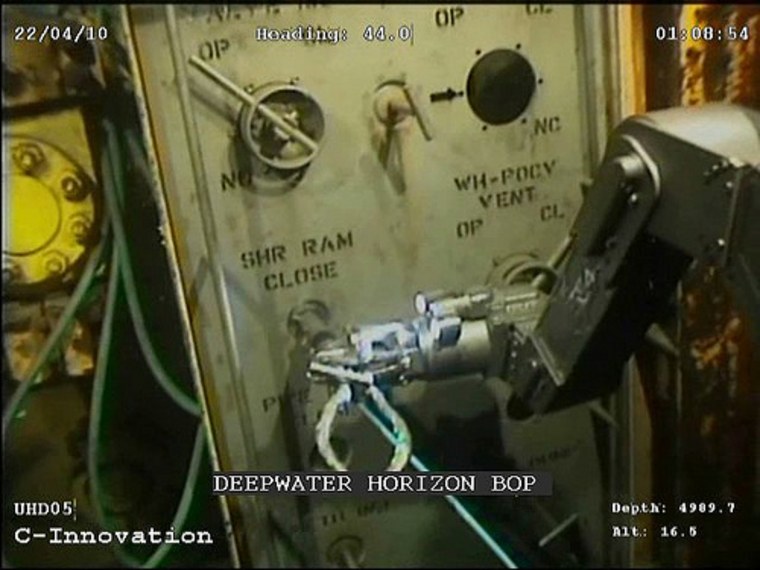 "That system has been deployed in shallower water, but it has never been deployed at 5,000 feet of water, so we have to be careful," he said.
The spill, moving slowly north and spreading east and west, was about 30 miles from the Chandeleur Islands off the Louisiana coast Monday. The Coast Guard said kinks in the pipe were helping stem the flow of oil.
From the air Monday afternoon, the oil spill reached as far as the eye could see. There was little evidence of a major cleanup, with only a handful of vessels near the site of the leak.
The oil sheen was of a shiny light blue color, translucent and blending with the water, but a distinct edge between the oil slick and the sea could be seen stretching for miles.
George Crozier, oceanographer and executive director at the Dauphin Island Sea Lab in Alabama, said he was studying wind and ocean currents driving the oil.
He said Pensacola, Fla., is probably the eastern edge of the threatened area, though no one really knows what the effects will be.
"We've never seen anything like this magnitude," he said. "The problems are going to be on the beaches themselves. That's where it will be really visible."
'Significant marine impacts'
Aaron Viles, director for the New Orleans-based environmental group Gulf Restoration Network, said he flew over the spill Sunday and saw what was likely a sperm whale swimming near the oil sheen.
"There are going to be significant marine impacts," he said.
Concern Monday focused on the Chandeleur and Breton barrier islands in Louisiana, where thousands of birds are nesting.
"It's already a fragile system. It would be devastating to see anything happen to that system," said Mark Kulp, a University of New Orleans geologist.
Oil makes it difficult for birds to fly or float on the water's surface. Plant life can also suffer serious harm.
Whales have been spotted near the oil spill, though they did not seem to be in any distress. The spill also threatened oyster beds in Breton Sound on the eastern side of the Mississippi River. Harvesters could only watch and wait.
"That's our main oyster-producing area," said John Tesvich, a fourth-generation oyster farmer with Port Sulphur Fisheries Co. His company has about 4,000 acres of oyster grounds that could be affected if the spill worsens.
"Trying to move crops would be totally speculative," Tesvich said. "You wouldn't know where to move a crop. You might be moving a crop to a place that's even worse."
If the oyster grounds are affected, thousands of fishermen, packers, processors might have to curtail operations.
'It's a real difficulty'
Worse, he said, it's spawning season, and contamination could affect young oysters. But even if the spill is mostly contained, he said oil residue could get sucked in by the oysters.
"You will have off-flavors that would be a concern," Tesvich said.
If the oil continues oozing north, the white-sand beaches in Mississippi, Alabama and west Florida could be fouled, too.
In Louisiana, Gov. Bobby Jindal asked the Coast Guard to use containment booms, which float like a string of fat sausage links to hold back oil until it can be skimmed off the surface. Crews were trying to keep oil out of the Pass A Loutre wildlife area, a 115,000-acre preserve that is home to alligators, birds and fish near the mouth of the Mississippi River.
In Mississippi, Gov. Haley Barbour said he has spoken with the Coast Guard mission commander, Rear Adm. Mary Landry, but was uncertain what to do to protect the state's beaches.
"It's a real difficulty in trying to determine what defenses will be effective," he said.
A fleet of boats and containment equipment was working to skim oil from the surface of the Gulf late last week. But crews had to suspend their efforts because of a weather system that spawned deadly tornadoes in Louisiana and Mississippi and stirred up heavy seas over the weekend.
Coast Guard Petty Officer Connie Terrell said 32 vessels are waiting for conditions to improve to resume the cleanup. She could not say when they will be back at work, but she said 23,000 feet of containment boom had been deployed, 70,000 more were ready to go when the effort resumes, and another 50,000 feet were on order.