/ Source: The Associated Press
Palestinian President Mahmoud Abbas signaled Monday that he is ready to start indirect peace talks with Israel.
The talks were derailed after Israel infuriated Washington and the Palestinians last month by announcing a major new east Jerusalem housing development. But municipal officials have said the Israeli government has effectively frozen new Jewish construction in Israeli-annexed east Jerusalem, the Palestinians' hoped-for capital.
Abbas told Israel's Channel 2 TV in an interview Monday that he will present the U.S. proposal for talks to the Arab League this week, and "we hope that the reply will be positive."
The U.S. has proposed indirect peace talks between Israel and the Palestinians, with President Barack Obama's envoy as go-between.
U.S. presses for talks
In recent days, the U.S. had stepped up efforts to coax Abbas back to the table. White House envoy George Mitchell met with Abbas last week and Obama assured Abbas in a recent letter that he would work hard to reach a comprehensive Mideast peace deal.
Abbas is to consult with Arab League representatives Saturday on whether to agree to the indirect talks. In previous consultations, the Arab League had given Abbas the green light. Arab approval would give Abbas extra backing to sell the talks to a skeptical public.
Abbas has found himself under growing pressure to engage with Israel, even if indirectly. In recent days, it became increasingly clear that the Palestinians were leaning toward returning to negotiations because they did not want to offend Obama.
In Washington, U.S. State Department spokesman P.J. Crowley on Monday wouldn't discuss what Israel was telling the United States about Jewish construction.
"We have asked both sides to take steps to rebuild trust and to create momentum so that we can see advances in" peace talks, Crowley told reporters. "We're not going to go into details about what we've asked them to do, but obviously this is an important issue in the atmosphere to see the advancement of peace."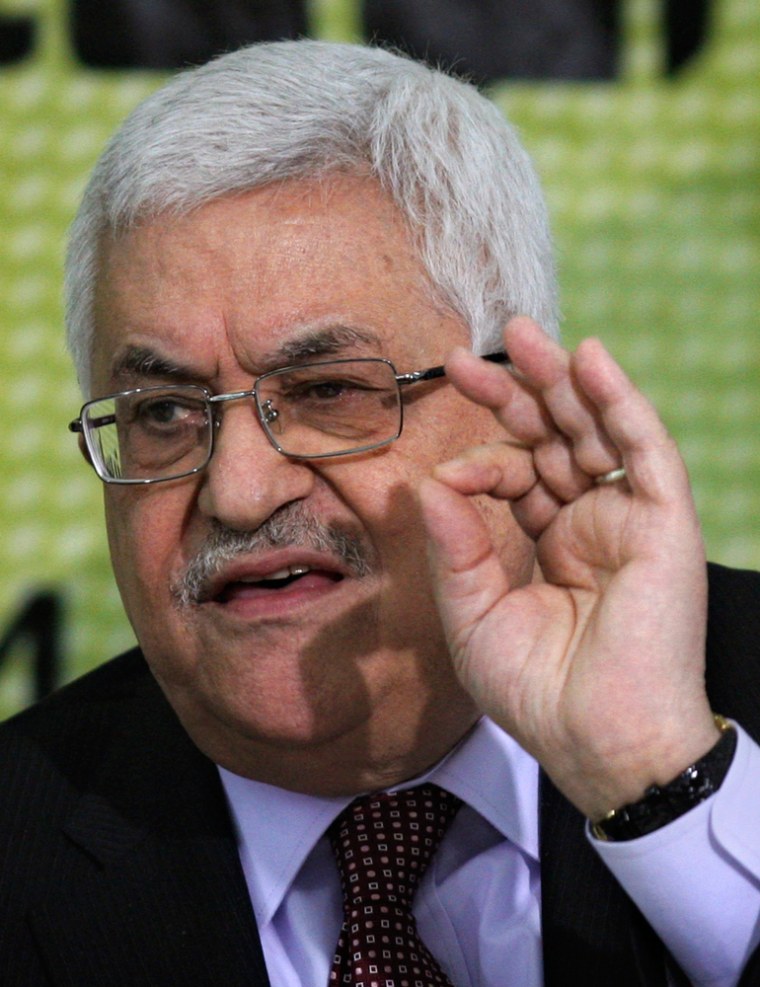 Direct Israeli-Palestinian peace talks broke off in December 2008.
Abbas cites earlier progress
In Monday's interview, Abbas outlined the progress made in the talks he held with Israeli Prime Minister Benjamin Netanyahu's predecessor, Ehud Olmert.
Abbas said he and Olmert reached agreement on security issues.
"We discussed the day after the establishment of the independent state," Abbas said. "There was a proposal to have a third party (be deployed), and there was an agreement that this party be NATO."
He said that under that agreement, the NATO forces would be led by the U.S. "We said that we want a third party to rebuild the Palestinian security apparatus, and to have troops that deter any party that would hurt Israel," Abbas said, revealing such details for the first time.
Abbas said he and Olmert agreed that U.S.-led NATO troops would be deployed at first in the future Palestinian state. He said he and Olmert also agreed on the principle of swapping Israeli land for West Bank areas that would be annexed by Israel to enable Israel to keep some Jewish settlements. He said he and Olmert exchanged maps.
The interview appeared to be an attempt by Abbas to reach out to ordinary Israelis and to help end 16 months of a breakdown in communications.