/ Source: The Associated Press
Americans' confidence in the economy rose in April to its highest level since September 2008, just as the financial crisis escalated, according to a private research group.
The upbeat reading, combined with bullish earnings reports this week from companies ranging from Whirlpool Corp. to UPS Inc., offers more hope the economic rebound is gathering steam. Meanwhile, a key home price index reported its first annual increase in more than three years, though it's too early to say the housing market is recovering.
Fresh worries, however, came from Europe. The Dow Jones industrial average fell 161.27 points, or 1.4 percent, to 11,043.76 after Standard & Poor's slashed Portugal's and Greece's debt ratings.
The Conference Board, a private research group based in New York, said Tuesday that its Consumer Confidence index increased to 57.9, up from a revised 52.3 in March. The April reading is the highest since September 2008's 61.4. That was when the financial crisis intensified with the collapse of Lehman Brothers, sending confidence into freefall the following month. Economists surveyed by Thomson Reuters were expecting a reading of 53.5.
The index — which measures how shoppers feel about business conditions, the job market and the next six months — had been recovering fitfully since hitting an all-time low of 25.3 in February 2009.
Economists watch the number closely because consumer spending including health care and other major items, accounts for about 70 percent of U.S. economic activity.
April's reading is still far from what's considered healthy. A reading above 90 indicates the economy is on solid footing; above 100 signals strong growth. Still, the monthly survey of consumers showed that consumers' current and short-term concerns about jobs and the overall economy are easing.
One component of the overall index, which assesses how consumers feel now about the economy, rose to 28.6 in April from 25.2 in March. The other component, which measures shoppers' outlook over the next six months, climbed to 77.4 from 70.4.
"Looking ahead, continued job growth will be key in sustaining positive momentum," said Lynn Franco, director for The Conference Board Consumer Research Center.
Economists believe confidence will remain relatively weak for at least another year because companies haven't begun to dramatically ramp up hiring.
"I think it is good to see the (confidence) numbers moving up again, but I don't call it a major change in confidence," said Gary Thayer, chief economist at Wells Fargo Advisors. "But it does reflect a more optimistic view in the job market."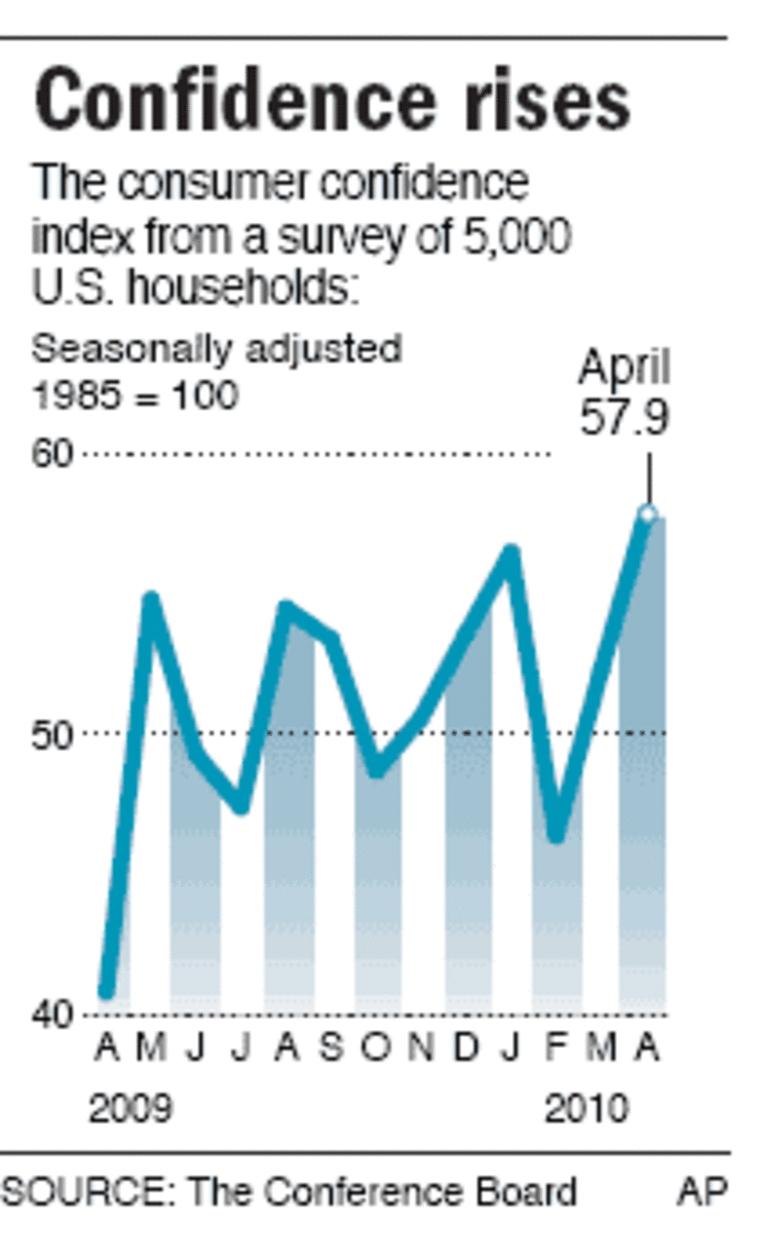 Thayer noted that he still expects an overall modest economic recovery citing both weak and strong pockets. Manufacturing may be showing signs of strengthening, but small businesses, which are typically a big source of hiring, are still struggling as they continue to have a hard time getting credit, he said.
According to the Standard & Poor's/Case-Shiller home price index, home prices in February posted a 0.6 percent increase on a non-seasonally adjusted basis from a year ago, but 11 of the 20 cities in the Standard & Poor's/Case-Shiller home price index showed declines.
"We have this divergence in the economy," Thayer said.
Employers are expected to add 175,000 jobs in April, but economists project unemployment will remain at 9.7 percent. The Labor Department is due to release monthly job figures May 7. Thayer said that companies need to add at least 250,000 jobs monthly in order to reduce the unemployment rate.
First-quarter earnings reports from big manufacturers including Caterpillar Inc. and Whirlpool along with Tuesday's upbeat forecast from UPS are underscoring that consumer demand is strengthening across all types of goods.
Against this economic background, signs of life in consumer spending are sprouting this spring, and stores are primping for a recovery by increasing inventories and re-evaluating their marketing.
Retailers reported a 9 percent increase in sales at stores open at least a year for March, the biggest gain since March 1999, though much of that was a result of an earlier Easter that pushed more spending into March. Sales at stores open at least a year are considered a key indicator of a retailer's health. March's performance marks the fourth consecutive month of sale gains.
The Conference Board survey — based on a random survey of consumers sent to 5,000 households from April 1-20 — showed worries about jobs were easing. Those saying that jobs are "plentiful" increased to 4.8 percent from 4.0 percent, while those saying jobs are "hard to get" decreased to 45.0 from 46.3.
Consumers were also more upbeat about the job outlook. The percentage of consumers anticipating more jobs in the months ahead increased to 18 percent from 14.1 percent,while those anticipating fewer jobs fell.