When Nick Clegg took to the stage for the first U.S-style TV election debate in British history three weeks ago, most voters would have struggled to recognize the politician if they'd bumped into him in the street.
What a difference 90 minutes made.
By the end of his battle of wits with Prime Minister Gordon Brown and Conservative challenger David Cameron, the relaxed and affable Clegg's strong performance saw him being hailed as "the Barack Obama of British politics." With nine million people watching the showdown, the popularity of his centrist Liberal Democrats almost doubled overnight. A star was born and what had widely been seen as a two-way battle was suddenly wide open. In the following days, Britain's feisty tabloids described the phenomenon as "Cleggmania."
Heading into Thursday night's third and final debate, Clegg's opponents now accept that the traditionally third-placed Lib Dems are a force to be reckoned with.
An avowed atheist who reportedly dabbled with transcendental meditation and famously declared that he has slept with "no more than 30 women," Clegg stunned his rivals with his ability to harness the power of the small screen to win over an audience deeply fed up with the status quo.
"For the rest of their lives Cameron and Brown will have nightmares about the debate," said political consultant and lobbyist Tom Ponton, who has strong links to the Conservatives and Lib Dems. "This is most exciting election I've ever seen."
Labour and the Conservatives have traded power since the 1930s, but polls suggest that no single party is likely to win a clear-cut majority of the 650 seats in the parliament when Britons go to the ballot box on May 6. The Conservatives appear likely to be the largest party, though Labour's solid blue-collar base is almost certain to prevent Cameron's party from gaining enough seats to form a government on its own. This would leave Clegg as a potential kingmaker who will decide which party to join in a coalition government.
'Three-horse race'
Clegg's party has jumped dramatically — to about 30 percent of potential votes in opinion polls — since the first debate on April 15. In early April, the Liberal Democrats were polling at 18 percent. Latest surveys show Cameron's party leads with about 33 percent and Brown's Labour sits third with 28 percent.
"It's a unique election in that we have not had a three-horse race in British politics since the 1920s," said Simon Hix, professor of European and comparative politics at the London School of Economics.
Cameron, the fresh-faced leader of the Conservative Party, was widely considered a shoo-in to be elected as the country's next premier when Brown called the election.
After 13 years of Labour rule, Cameron promised an Obama-like platform of "change." But during the first debate Cameron was beaten at his own game by Clegg, who branded the two traditionally larger parties "old and tired" and spoke confidently and passionately on a variety of topics.
Clegg, a 43-year-old father of three, also vowed to clean up politics and called for an overhaul of the first-past-the-post electoral system, replacing it with a form of proportional representation.
Ponton cited Clegg's "movie star looks and bright personality" for helping to win over the studio audience and voters watching at home.
Clegg also charmed viewers during the debate by referring to audience members who asked questions by name, in a style reminiscent of President Bill Clinton's.
A Populus poll for The Times newspaper taken immediately after the leaders' war of words showed 61 percent of the respondents gave Clegg the victory, with 22 percent for Cameron and 17 percent for Brown.
"Cameron had charisma until Nick Clegg came to town," Ponton said. "When he was on a level playing field it really showed the three options."
The unexpected result sent journalists clamoring to jump aboard the Liberal Democrats' yellow campaign bus, resulting in scrutinization of his family, beliefs and any skeletons from his past.
"His wife is Spanish, his mother Dutch, his father half-Russian and his spin doctor German. Is there ANYTHING British about Lib Dem leader Nick Clegg?" asked a front-page headline in the right-wing tabloid Daily Mail.
Clegg was born in Buckinghamshire, a prosperous rural county just north-west of London, and educated at the elite Westminster School and Cambridge University.
His "posh" upbringing, not unlike the multi-millionaire Cameron's, has not gone unnoticed by the tabloids.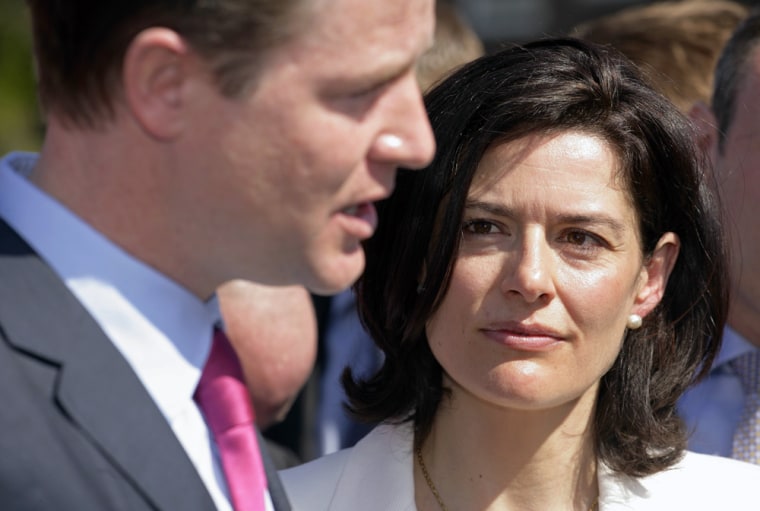 Fluent in five languages, Clegg studied social anthropology at Cambridge. He also earned graduate degrees from the University of Minnesota and the College of Europe in Belgium, where he met his wife, Miriam Gonzalez Durantez.
He worked as a ski instructor, journalist, trade negotiatior for the European Commission and lobbyist before becoming Lib Dem leader in December 2007, cutting his political teeth in the European Parliament in Brussels rather than in the rough-and-tumble of British politics.
Gonzalez Durantez earns a six-figure salary as an international lawyer and has taken a low-key role on the campaign trail, saying she is too busy with her career.
Their three sons — Antonio, Alberto and Miguel — speak both English and Spanish at home.
Clegg has said he is raising his children as Roman Catholics but reaffirmed his non-believer status in the second debate, saying "I'm not a man of faith." He later told the BBC that "I quite simply don't know whether God exists... I know it's obviously fashionable to say one does, but I don't."
Adding to his outside-the-box status, an opinion piece in the Conservative Party-supporting Telegraph newspaper called Clegg a "just gay enough" version of Cameron, suggesting that the Lib Dem leader's ability to be "in touch with his feminine side" appealed to female voters.
Until the debate, Clegg was arguably best-known for a bizarre interview with GQ magazine in March 2008.
Clegg told journalist Piers Morgan, who is now a judge on "America's Got Talent," that he was neither "particularly brilliant nor particularly bad" in bed.
He also has confessed to having "torched two greenhouses of cacti" that turned out to be "the private collection of Germany's foremost cacti collector" while on a high school exchange program. However, his former teacher recently said "he singed four or five, that was all."
He also raised eyebrows by saying that the place he would most like to live is "by a lake, somewhere in northwest America." Brown and Cameron chose the more voter-friendly answers of Scotland and England, respectively.
Nuclear missiles
Meanwhile, The Sun tabloid published an alleged blueprint of Clegg's debate strategy left in a taxi by one of his aides. The hand-written note advised Clegg to copy Cameron's style and "talk in the language of values," warned him against getting stuck on the Liberal Democrats' thorny policy to scrap Britain's Trident nuclear missile program and said he should try to characterize Brown as "weird."
Despite the party's apparent worries over its opposition to Trident, "the idea that 'we're not in the Cold War, so why are we spending money on it?' struck a chord with large sections of the public much more than I thought it would," the LSE academic Hix said.
Similarly, potentially contentious issues like giving amnesty to illegal immigrants already living in Britain and easing prison sentences have drawn both controversy and support.
Although Clegg has stunned pollsters, he is unlikely to become prime minister because Britain's constituency-based electoral system means parties must win the majority of districts — as opposed to the popular vote. This puts smaller and newer parties at a disadvantage.
In the wake of a scandal over lawmakers claiming public money for expenses including duck houses and moat maintenance, experts say Clegg has "tapped into what could be called an 'anti-politics' mood."
"Britons share the same characteristic with the American public that we are not trusting of politicians and have become less trusting," John Curtice, a politics professor at Glasgow's Strathclyde University, told msnbc.com. "He has captured the uncommitted, unaligned, and disaffected section of the public. By saying [the Liberal Democrats] are something different, he could argue that the others can't talk about reforming the system when they've been the backbone of it."
Coming into the final week of the election, Thursday's debate, which will focus on the economy, is crucial for Clegg as he aims to continue building momentum.
"I think this is going to be the trickiest one for him; this is one debate Brown could win," Hix said, noting that the public largely supports the Labour government's use of public money to combat the global recession. "Clegg will have to position himself that this is not about the past but about the future."