/ Source: The Associated Press
Former GOP darling Gov. Charlie Crist defected from the Republican Party on Thursday to run as an independent for U.S. Senate after months of being ripped by conservatives as too supportive of President Barack Obama.
"I don't have either party helping me. But I need you. I need you more than ever," the governor said, surrounded by cheering supporters carrying signs that included "Democrats for Crist."
Crist was the heavy favorite last year, and was even among the Republican names bandied about in the 2012 presidential race. But the primary campaign quickly became a lost cause as the tea party movement embraced another candidate, Marco Rubio, and held up the governor's literal embrace of Obama last year as evidence that Crist was too liberal.
Crist said the election is "not one club's decision or another club's decision, or one club within that club. ... We give you the chance to make that decision."
His chances of winning as an independent appear slim. He's burned bridges with Republicans, and Democrats see his announcement as an opportunity for their own likely nominee, U.S. Rep. Kendrick Meek.
Meek said after Crist's announcement that he is now in a "commanding position" to win the seat.
The Senate has two independents — Bernie Sanders of Vermont and Joe Lieberman of Connecticut — but neither had to fend off serious contenders from both parties in a general election.
Crist's outlook in the primary campaign, however, seemed even bleaker. One recent poll showed Crist more than 20 percentage points behind Rubio in the August primary, but Crist had a tiny lead when voters were asked who they would pick in a three-way race with Rubio and Meek.
"The odds are like a million percent better than if he were running as a Republican," said Brett Doster, a Republican political operative who managed Tom Gallagher's gubernatorial campaign against Crist in 2006. "Now he's free without any loyalty to any organization, party or ideology to just come out and be an absolute and total populist."
Crist said after the announcement in his hometown of St. Petersburg that he will change his voter registration from Republican to "no party affiliation." He claimed the middle ground during his short speech, saying politics had become too divisive.
"I haven't supported an idea because it's a Republican idea or a Democratic idea. I support ideas because I think they're good ideas for the people," he said.

Leaving the Republicans means it will be tougher for Crist to raise money, he'll lose nearly all his campaign staff and he won't have the advantage of a party infrastructure for resources like voter lists and volunteers. The party that helped propel him to power will now do anything to defeat him.

The main things Crist will be relying on are his charisma and likable personality. He has long had a reputation of trying to be all things to all people, and now he'll see if that's enough to put him ahead of Rubio and Meek.

Three confidants had said Wednesday that Crist told them he will run an independent campaign, but the governor denied that and did not reveal his plans until Thursday's announcement.

Just a year ago, it seemed Crist was the man to beat for the GOP nomination to run for the Senate seat Republican Mel Martinez was leaving early. But he has seen his poll numbers nose-dive as conservatives switched their support to Rubio, many driven away in part by Crist's support for Obama's $787 billion stimulus package. Rubio has frequently reminded voters that Crist hugged the president at a Florida appearance to support the bill.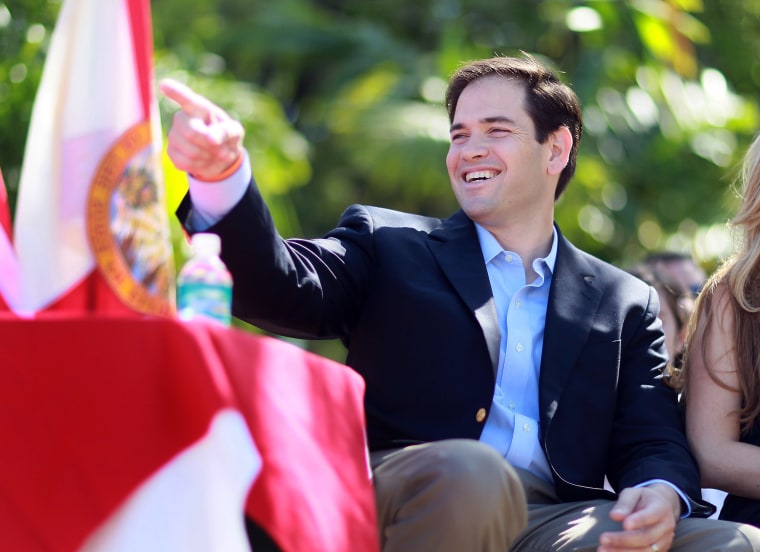 Rubio grinned widely at a campaign stop in Coral Gables on Thursday when asked about Crist.

"When I got in this race I knew I was running against people that supported the Obama agenda," he said. "I just didn't realize I would have to run against both of them at the same time."

Other Republicans were making it clear that if Crist abandons the party, they will abandon him — for good.

Sen. John Cornyn, R-Texas, head of the National Republican Senatorial Committee, said Thursday that Crist's future political aspirations would be "irreparably damaged" by an independent run. The committee plans to reverse itself Thursday and back Rubio for the general election.

"Once we get by this drama today, it'll be a general election campaign," Cornyn said, predicting: "People will begin focusing on Kendrick Meek."

Cornyn said he expects GOP donors to ask to have their contributions refunded and added: "I will request the money that I've donated to his campaign from my leadership PAC back." Cornyn gave Crist $10,000 when he recruited the governor to run for the Senate in 2009.

Crist has spent the past several years working closely with Democrats and embracing other causes not popular among conservatives.

Just two weeks ago, he alienated many powerful Republican and business interests by vetoing a measure that would have made it easier to fire teachers and linked their pay to student test scores. At the same time, he scored points with the influential teachers union and other traditionally Democratic constituents who won't have a say in the GOP primary.

Even on Thursday Crist was talking about Obama, saying he spoke with him about a massive oil spill in the Gulf of Mexico that could threaten Florida coastline.

"He went ahead and volunteered any assistance the federal government can do," Crist said. "He was very sincere in what he had to say without a doubt, but we're all going to have to pitch in, not only government agencies — local, state and federal — but the people too."

Meek predicted Crist's independent candidacy will be good news for him.
"I feel that I'm running against two Republicans," he said. "There's very little difference between Marco Rubio and Charlie Crist. They both agree on a number of issues and people are sick and tired of politicians flipping and flopping and changing with the wind."

Crist had $7 million in his campaign account at the end of last month and doesn't need to spend it introducing himself to voters because he is so well-known. Rubio had about half that amount, but his fundraising has increased tremendously and he can now ask Crist supporters for help.

Steve Schale, a Democratic strategist who ran Obama's Florida campaign, said he wouldn't count Crist out as an independent candidate.

"I think all three of them have a shot. I've been calling it a jump ball," Schale said.

Crist faces the problem of instantly losing his campaign structure in 67 counties, his turnout operation and his volunteers.

"He doesn't have any of that. It's working for somebody else — his opponent — and that's a tremendous obstacle," said David Johnson, a Tallahassee-based Republican strategist.

Still, he said it's uncertain who will benefit from the three-way race: "It's like trying to predict the winner of the World Series right now based on the first month of the season."