/ Source: The Associated Press
The Chevrolet Suburban, the roomy choice of hunters, law enforcement agencies and soccer moms, celebrated its 75th anniversary Monday as the longest continuously produced vehicle in the U.S.
The sport utility vehicle is only made at General Motors' Arlington plant, which showcased one of the first Suburbans ever produced — a boxy yellow version from 1936 with large round headlights and a spare tire on each side. The interior featured a big steering wheel and spacious tan and dark brown vinyl seats that could be removed for storage space.
Unveiled as the Suburban Carryall more than seven decades ago, it could seat eight people comfortably and offered whitewall tires, a radio and heater as options. Unlike other 1930s cars that had wood sides and canvas tops, the early Suburban was designed as a more durable truck-type vehicle with an all-steel wagon body.
Through the years, engineers increased the Suburban's towing capacity, revised the design and upgraded the interior. It reached the height of its popularity in the 1990s when SUVs became the rage.
"The Suburban is the longest-running nameplate in the country, and that's a significant accomplishment that shows its great heritage," plant manager Paul Graham said.
GM on Monday also debuted the new 75th Anniversary Diamond Edition Suburban, which will be available this summer. Only 2,750 will be made.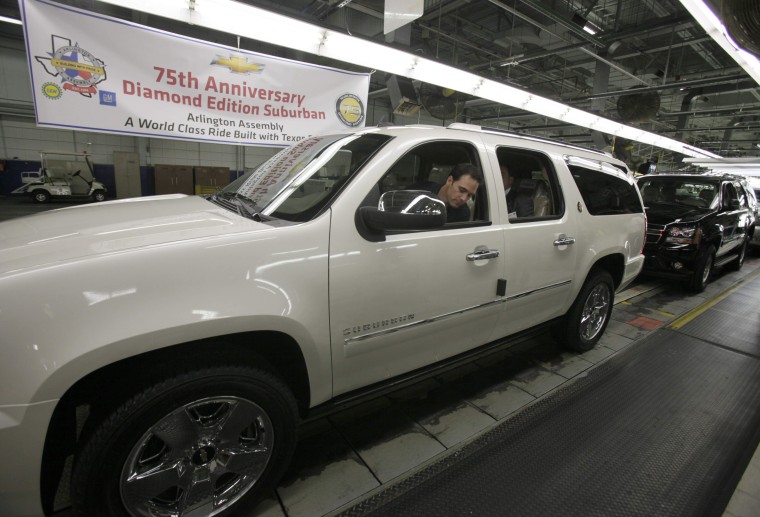 NASCAR's Jimmie Johnson, who races in Chevy cars, drove one of the limited-edition Suburbans on Monday and later signed some autographs for several plant employees.
The anniversary came as GM and other automakers who received billions in a federal bailout have begun reporting gains.
GM recently began airing TV ads announcing its repayment of a $6.7 billion government loan. The company later was criticized for not mentioning that most of the $52 billion in federal aid to GM was converted into a 61 percent government ownership stake.
"We understand that some people were against the support that we got," said Alan Batey, vice president of Chevy's sales and service. But he said the company has attracted new customers because "we can produce the world's best vehicles."
Batey also said GM has had seven consecutive months of increased sales.
The Texas plant, which has about 2,400 employees, has been on an overtime schedule to keep up with orders for the SUVs made there, Graham said. It's a major turnaround from last year, when GM closed 13 North American factories — including the Arlington plant — for two months to slash inventory.