/ Source: msnbc.com news services
Residents and volunteers in Nashville Wednesday dug through ruined possessions, mud and debris inundating flood-hit homes and businesses, with the recovery from deadly weekend storms hampered by power outages.
Nearly 1,000 people in Tennessee were living in emergency shelters, according to the Red Cross, and 10,000 were without power.
The overflowing Cumberland River and its tributaries were gradually retreating in Nashville, but flood waters that submerged part of downtown and forced evacuations across the region have caused billions of dollars in losses, officials said.
President Barack Obama granted the state's request for disaster relief in four counties, with more areas likely to receive federal help.
Nashville officials pleaded with residents to conserve water as the city was relying on a single water treatment plant that sandbags had barely spared from the flooding.
In parts of downtown, power was not expected back until Thursday at the earliest.
In some hard-hit neighborhoods along the river outside of downtown, residents who had frantically fled their homes returned to find mud-caked floors and soggy furniture.

Evelyn Pearl Bell was thumbing through water damaged items in her home in north Nashville before she got exhausted and had to take a break as temperatures reached 81 by midday. Since the storm flooded her home Sunday, she's had no running water, electricity or telephone service.

Bell said neighbors had to break through a window to get her out of her house and to safety as the waters crept higher and higher. Then they tied her up and dragged her through the water because she couldn't swim, she said.

"When it happened, the guys had to pull me through the water," Bell said.
Elsewhere in Nashville, the Country Music Hall of Fame closed and the Grand Ole Opry — the most famous country music show in the world — had to move its performances.
A scheduled performance Tuesday night at the Grand Ole Opry was moved to the downtown War Memorial Building, where Senator Lamar Alexander performed "Tennessee Waltz" on piano.
Among the country stars on hand was Jeannie Seely, who lost her home to the flood and had to borrow shoes.
"Well, you can laugh about it or cry and I don't want to cry," Seely told the audience.
The Cumberland River, which winds through the heart of the city, spilled over its banks as Nashville received more than 13 inches of pounding rain over the weekend. The flash floods were blamed in the deaths of at least 18 people in Tennessee alone, including nine in Nashville. Other deaths from the weekend storms were reported in Kentucky and Mississippi.
None of the deaths were in Nashville's entertainment district, a five-block square of honky-tonks and restaurants downtown where animated barkers often stand outside at night encouraging patrons to step inside. But some businesses had to shut down — a blow to Nashville's economy and reputation as a freewheeling town. The city has more than 11 million visitors annually.
The National Weather Service office in Nashville said Wednesday that the water level in the city had fallen about three feet from its crest of 12 feet above flood stage on Sunday night.
The water at the Country Music Hall of Fame was mostly confined to a mechanical room and did not get in the exhibit area where 112 of country's greatest stars are chronicled in down-home tributes.
At the Opry, five miles northeast of the entertainment district, performer Marty Stuart said he feared water had destroyed instruments, costumes, audio tapes, boots and "just everything that goes along with the Opry and Opry stars."
Singer Chris Young said the special Opry show Tuesday night at the War Memorial Auditorium was a welcome diversion for many residents. Hundreds of people turned out.
"A lot of people coming here have lost either their houses, their possessions or their cars in the storm," he said.
Gaylord Entertainment CEO Colin Reed says it will be at least three months before the massive entertainment complex that also includes the Opryland Hotel and the Opry Mills Mall has guests again.
Rita Helms, a customer service representative at the Opry, said some workers have been distraught.
"It's very sad for the employees and a few have even been in tears," she said.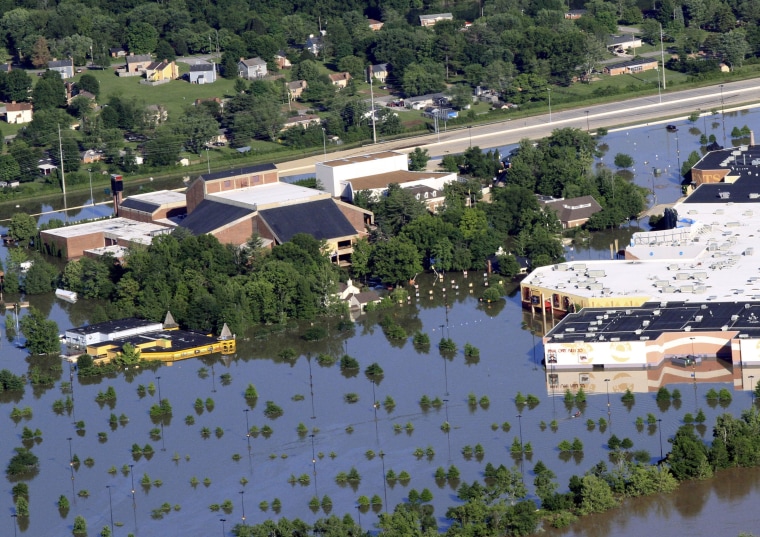 One of the downtown honky-tonks still open is Robert's Western World — "Nashville's undisputed home of traditional country music" as it proclaims on its website.
"There's not much that can shut us down," bartender Sammy Barrett said in a telephone interview as country music blared in the background.
The entertainment district is generally filled with a mix of tourists and locals — all out for a hand-clapping good time. Some people still milled around the area Tuesday.
"They like the vibe they get here," said Jimmy (The Governor) Hill, who works for a downtown bar and a restaurant. "The bands start playing at 10 in the morning; you don't have things like that in every town."
Mayor Karl Dean also was undeterred. "We will go on being a center of tourism and drawing people to our city," he said.
Some entertainment venues weren't damaged, including the former home of the Grand Ole Opry, the 118-year-old Ryman Auditorium. A Barenaked Ladies concert there next Monday is still scheduled.
On the other side of the river, LP Field, the home of the Tennessee Titans, was drying out: The Titans' logo could once again be seen from the air. A four-day country music festival will be at the stadium in five weeks.
The production of country music in the city also seems have survived unscathed from the more than 13.5 inches of rainfall that fell Saturday and Sunday. "Music Row" — an approximately four-square block area that houses recording studios, record labels, song publishing companies and others on the business side of the music industry — is a mile from the river and wasn't flooded.
The water swelled most of the area's lakes, minor rivers, creeks, streams and drainage systems far beyond capacity. Much of that water then drained into the Cumberland, which snakes through Nashville.
The weekend's storms that spawned tornadoes along with flash flooding also killed six people in Mississippi and four in Kentucky. One person was killed by a tornado in western Tennessee.