/ Source: The Associated Press
U.S. companies are running out of ways to increase productivity from leaner workforces, a sign that they may need to step up hiring in the months ahead.
That was the takeaway from reports released Thursday by the Labor Department.
Productivity grew at an annual rate of 3.6 percent in the first quarter, better than economists had expected. But it still declined sharply from growth that exceeded 6 percent for each of the previous three quarters.
The job market is improving, according to a second Labor report. Applications for unemployment benefits dropped for a third straight week, decreasing by 7,000 to 444,000.
Still, economists predict the April jobless number, which is to be released Friday, will show unemployment stuck at 9.7 percent for a fourth straight month.
The economy has been growing since last summer, though firms have been slow to hire back workers. Many have opted instead to push their slimmed-down workforces to produce more.
That has translated into a surge in productivity. It grew at annual rates of 7.6 percent, 7.8 percent and 6.3 percent in the second, third and fourth quarters of last year.
Nearing limits
Now, economists think companies are nearing the limits of how much they can expand output without hiring more workers.
"Companies addressed the post-Lehman collapse in the economy with a massive wave of layoffs. With demand now picking up ... they need to hire again," said Ian Shepherdson, chief U.S. economist at High Frequency Economics.
Adding to the picture of an improving economy were reports that major retail chains were busy in April. That confirms previously reports that consumers have been spending more freely, aiding the recovery.
But that wasn't enough to prevent further losses on Wall Street. Investors remained concerned with the debt crisis in Europe. The Dow Jones industrial average fell more than 90 points in midday trading.
Economists say the rehiring of workers will help sustain the recovery by boosting overall incomes. That would allow households to increase consumer spending, which accounts for 70 percent of economic activity. Unless incomes start rising, consumer spending may not rise enough to strengthen the recovery.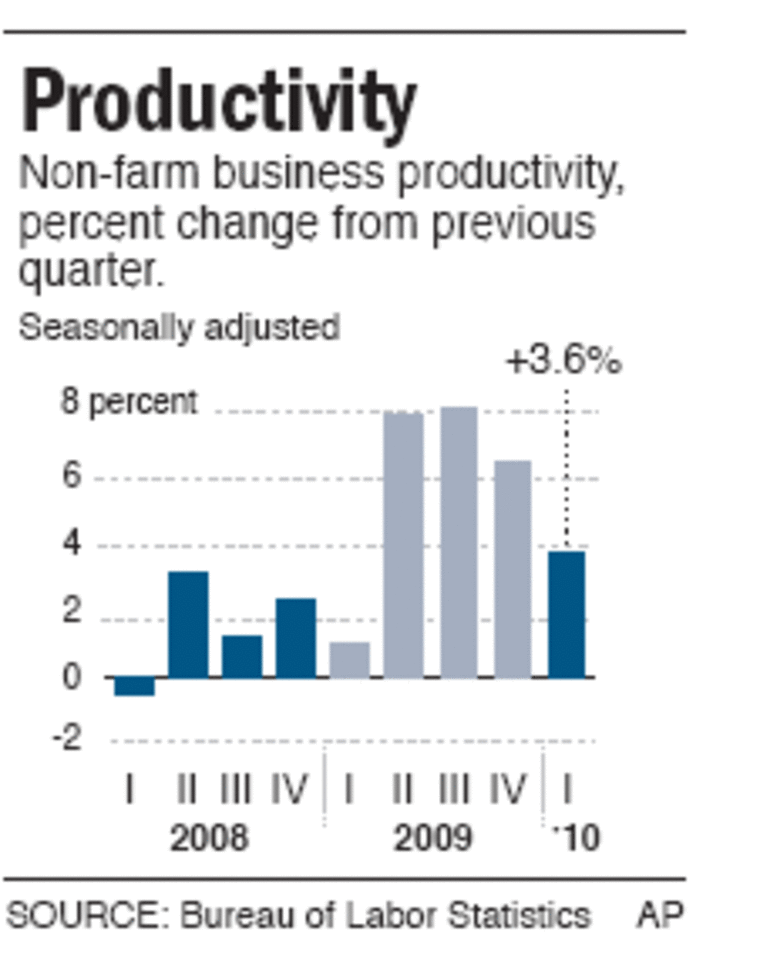 Companies' unit labor costs — which measures their hourly cost of production — fell 1.6 percent. That followed declines of 5.6 percent in the fourth quarter and 7.6 percent in the third quarter. The trend indicates wage pressures remain scant.
For all of 2009, productivity, the amount of output per hour of work, rose at a 3.7 percent rate, nearly double the 2 percent increase in 2008. It was the fastest annual increase in productivity in seven years.
The strong gains in productivity and falling unit labor costs have kept a lid on overall inflation. That has given the Federal Reserve leeway to keep a key interest rate at a record low level for more than a year and help jump-start economic growth.
In the first three months of this year, the overall economy, as measured by the gross domestic product, grew at an annual rate of 3.2 percent. It was led by the strongest growth in consumer spending in three years. But the worry is that consumer spending could falter in coming months unless unemployment is reduced and the rising support spending.