/ Source: Surfing Magazine
Snow, wind and slush hounded eastern commuters Wednesday as blizzard warnings from Baltimore to New York City heralded the second major storm in a region already blanketed by historic weekend snowfalls.
More than 10 inches of new snow fell before dawn in parts of Maryland that had received up to 30 inches just a few days earlier.
View images of wintry cold that rang in 2010 around the world – from the U.S. to Bangladesh.
Plows and salt spreaders fought heavy snow in Pennsylvania and New Jersey, where the flakes briefly turned to rain to make a slushy mix.
Areas hit hard by blizzard conditions:
Airports in Washington canceled all fights, while Philadelphia's airport had limited service.
In Chicago, airlines canceled more than 300 flights, mostly to East Coast destinations.
Airlines canceled hundreds of flights at New York-area airports, and the city school system's 1.1 million students enjoyed a snow day — only the third in six years.
Baltimore officials ordered all vehicles off roadways, except for ambulances, police, fire and snow plows to use roads.
In Pennsylvania, Gov. Ed Rendell shut down three major interstates due to blizzard conditions. Interstate 83, Interstate 81, and part of Interstate 78 were closed Wednesday.
Snow was falling from northern Virginia to Connecticut by early Wednesday after crawling out of the Midwest, where the storm canceled hundreds of flights and was blamed for three traffic deaths in Michigan. In Chicago, a pickup plowing snow backed into and killed a 71-year-old woman.
'Embarrassing'
In the Washington area, the storms have kept some workers and students home for the better part of a week. About 230,000 federal workers in Washington have been off since Friday afternoon, when the first storm began. The U.S. House announced it was scrapping the rest of its workweek. Several hearings and meetings in Congress and federal agencies were postponed, including one planned to address Toyota's massive recalls.
"It's embarrassing that the world's largest superpower closes from a few feet of snow," said Alex Krause, 23, of Los Angeles, who was stranded in Washington and visiting the National Mall. "The Kremlin must be laughing."
But the effects of the federal government's closure were negligible since about 85 percent of federal employees work outside the Washington region. An IRS spokeswoman said tax returns should not be affected.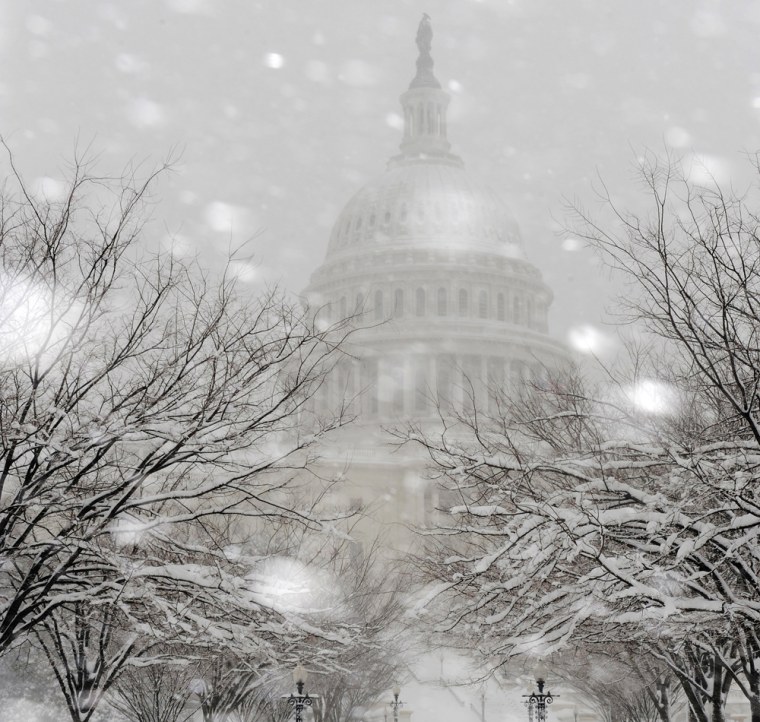 Thousands remained without power from the last storm in parts of western Pennsylvania, Maryland and other areas. Utilities said deep snow was hindering some crews trying to fix damaged power lines even before Tuesday's storm arrived.
James Allen, 25, of Northampton, England, arrived Sunday on the first flight to land at Baltimore's airport after its runway reopened from the last storm. He was visiting friend Julia Tracey, 25, a nurse at Johns Hopkins Hospital. The two were at a downtown grocery store searching in vain for fresh herbs for a recipe.
Allen had planned to stay in Baltimore for a few days, but "it's probably going to turn into a few weeks now."