/ Source: a href="http://www.travelandleisure.com/" linktype="External" target="_blank" resizable="true" status="true" scrollbars="true" fullscreen="false" location="true" menubars="true" titlebar="true" toolbar="true">Travel + Leisure</a
My favorite pancake story as a young girl was the one about Paul Bunyan. The mythical lumberjack was famous for eating "hungry man" stacks from a giant griddle greased by 20 cooks who skated across the surface wearing whole hams strapped to their feet.
Because of my fascination with this story, pancakes were the first thing I learned to make in the kitchen. I'd whip some up misshapen hot cakes every Saturday morning for my parents, who always ate every bite.
My story is hardly uncommon. Despite the global appeal of the pancake, Americans have given this simple treat — made with flour, eggs and milk — iconic status.
And different regions of the country have made the pancake their own, adding local ingredients and inspired touches. Today, sitting down to a plate of flapjacks often gives you an insider's look at some of those regional tastes.
Sure, America has also spawned national restaurant chains devoted to this iconic treat. The International House of Pancakes was founded in 1958, and remains a favorite of college students craving high carb-and-sugar doses during late-night cram sessions.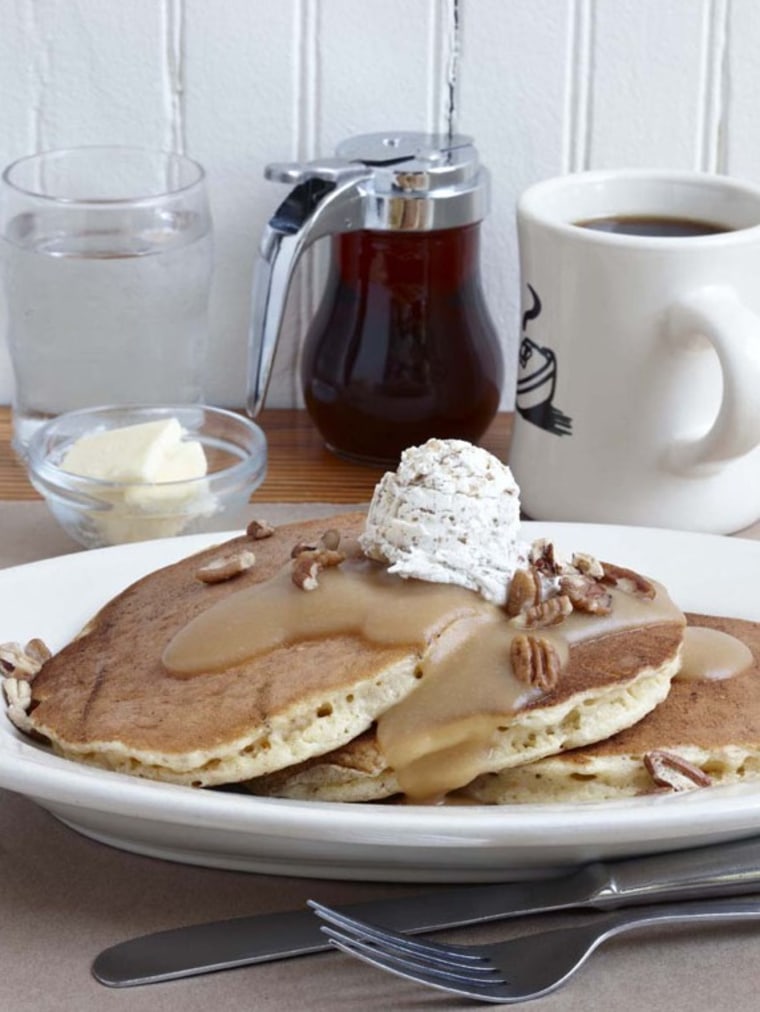 In Portland, Ore., the unrelated Original House of Pancakes, which first opened in 1953, was more recently designated a regional landmark by the James Beard Foundation. The famous food critic once called it one of the 10 best in America, and we still agree.
Travel + Leisure's favorite pancake houses were selected for their creative recipes and toppings, sugary or savory fillings, and regional sides. And we made sure the pitcher on the sideboard was filled with genuine maple syrup (or the regional equivalent).
Yes, you'd expect real syrup almost anywhere in Vermont, but at the Farmers Diner in Quechee, the pancakes are surprisingly delicious. Here, organic wheat flour and Cabot sweet cream butter are whisked into buttermilk pancakes with a mission. Owner Tod Murphy is known for his dedication to regional farmers and small-batch purveyors (honey, jam, syrup) from the Green Mountain state. That means every ingredient, from the free-range eggs to the maple-cured sausage, is delivered to this updated diner's door fresh every day.
But the northeast isn't the only region to find top cakes. On Hawaii's Big Island, the Hawaiian Style Café is famous for its platter-size pancakes. This homey joint with booths and counter service on the outskirts of Waimea is owned by Guy Kao'o, who has been mixing pancakes from scratch every day for the past 18 years. His are topped with a fried egg and served with side of fried Spam.
From the East Village to West Hollywood, cooks are flipping flapjacks, Johnny cakes, hot cakes, hoe cakes, or Dutch babies. Here, 10 spots across the U.S. where Paul Bunyan would be happily show up with Babe the Blue Ox for breakfast.