British artist Lennie Payne says he first thought about working with bread after making shapes with toast to entertain his daughter at breakfast.
That was 14 years ago, now the 46-year-old Payne is selling his portraits of famous faces such as Kate Moss and Barack Obama branded onto slices of bread for at least 5,000 pounds ($7,734) apiece.
Payne's artwork, some 28 paintings, will be on display through May 25 at the Maverik gallery in East London's Shoreditch at a show named "Where Is The Love?."
Payne views bread as an exciting, constantly changing medium and as a metaphor for "the basic human need for survival and a great way to look into the spirituality of every day life" he told Reuters while putting the finishing touches to the show.
Many of the works on display are portraits of rock musicians such as Ian Brown or Noel Gallagher but the show also features a Gandhi portrait as well as anonymous faces of starving people.
It is both a meditation on the obsession of the media with celebrity and an attempt to reveal the human being behind the famous face. There is for instance a striking black and white portrait of a haunted-looking Amy Winehouse.
Following a tough path to art
Born in 1964, in Hammersmith, London, Payne is no stranger to human sufferings. Adopted when he was a child by a very religious family, he was diagnosed with epilepsy during his teens. When the fits worsened, he sought refuge in drugs and alcohol. Prison and depression followed.
Through the ordeal, he said he kept a burning desire to create. Self-taught, he experimented with many mediums before turning to toast art.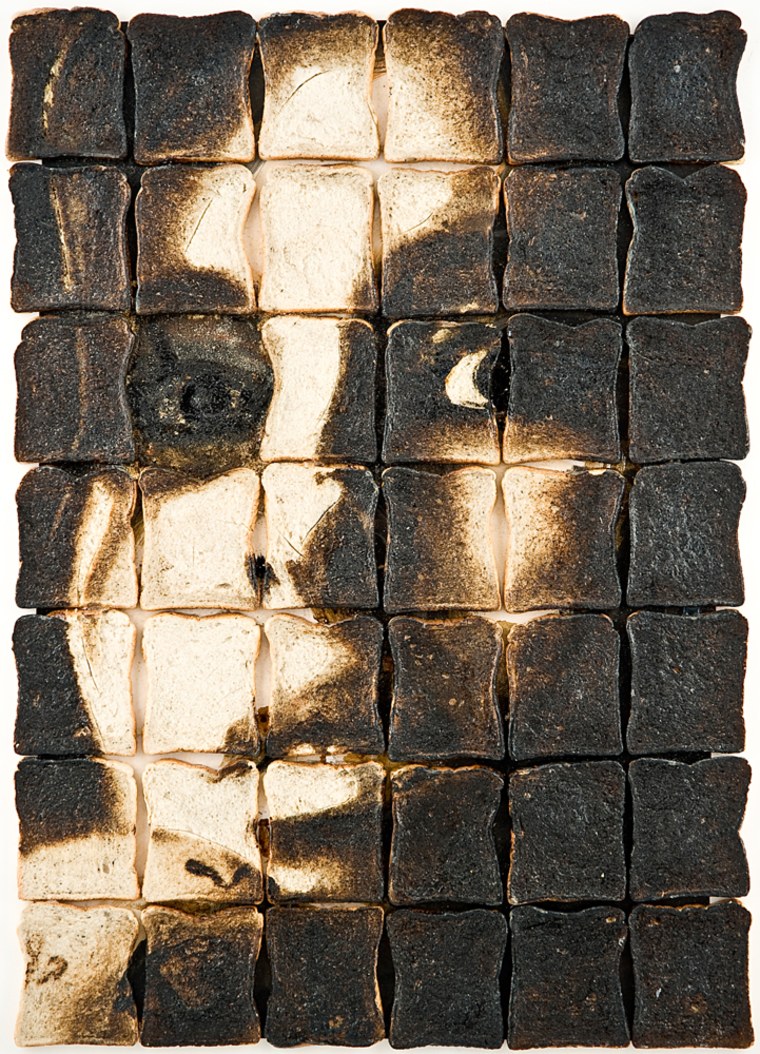 Considered as a founder of the discipline, he has built a reputation with critics and collectors. He recently hooked up with a patron, the Donnellys, founders of trendy British fashion label Gio Goi, who are branching out into art.
Payne said he likes working with toast because "you can get your hands on it. It's more like sculpture and it's constantly developing. Even now I come up with new ways."
Most of the time he uses a blowtorch to scorch the bread and turn it black, and then he scraps away the burnt bread to create different shades.
"If you burn it as it's fresh, which I like to do, you get a lot of dark and smoke effect. After, the bread needs to be flattened, it needs to shrink and obviously the picture changes," he said.
Then the bread is lacquered and a resin is soaked in.
Payne has been experimenting with resin and bread crumbs lately and the often stunning results can be seen at the show.
The next step will be to mix toast with other mediums, possibly objects, and start work on some installations, he said.
One downside to working with a food product, Payne discovered a few years ago was that his work attracted unwanted fans. When he sent a portrait of Ian Dury away to be framed for an exhibition, he received a phone call from the framer saying the mice had eaten part of the toast canvas.
Payne had to work frantically to replace the lost pieces to make his deadline.
"Now the paintings go to the framer already sealed," he said.